by David Russell

Discount retailer Fred's (NASDAQ:FRED) reports earnings before the bell Thursday, and some bears are already in the checkout line.

optionMONSTER's Depth Charge tracking system detected the purchase of 2,500 September 12.50 puts for $0.40, matched against the sale of 2,500 September 10 puts for $0.05. No open interest existed in either strike before the trades took place.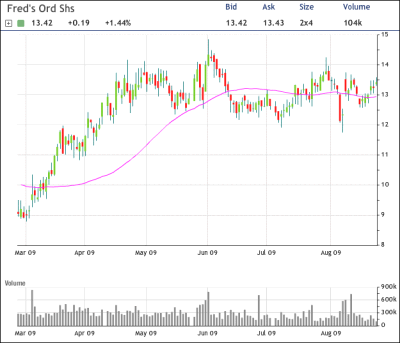 The bearish put spread cost a net $0.35 to implement and will earn a 1,328 percent profit if FRED closes at or below $10 by expiration.
FRED, which rose 1.44 percent to $13.42 in early afternoon trading, has fluctuated between $12 and $14 since early April. Tuesday was the second straight day of unusual and potentially bearish options action in FRED, which normally trades fewer than 100 contracts per session. Monday, an investor sold about 10,000 November 15 calls for $0.45 against open interest of only 1,528 contracts.

The company, which mainly serves low-income shoppers in the Southeast states, fell after its last earnings report on May 28 after a narrower gross margin made investors worry customers where shifting to less profitable items.

Overall options volume in FRED was eight times average Tuesday, with puts accounting for all the activity.

(Chart courtesy of tradeMONSTER)