Though both American and European banking stocks have been rallying for the past year, American banks are generally in much better shape than their European counterparts because they have been taking advantage of the Fed's loose monetary policy to recapitalize their balance sheets and have been selling off their auxiliary assets to comply with the new Basel banking standards. Consequently, all but two of the major 24 American banks listed in the KBW Bank Index (NYSEARCA:KBE) beat their expected second-quarter earnings. European banks still have not written down many of their troubled assets and risk becoming zombie banks, or banks with zero net worth that stay afloat solely because of their implicit government guarantees. When European banks inevitably restructure and sell off assets, large American banks will be perfectly positioned to take advantage and seize market power. Citigroup (NYSE:C), which has spent the last few years straightening out its finances while maintaining its large international presence, is extremely well poised to profit from this vacuum.
American Banks Are Well Positioned to Become Global Banking Leaders
When the banking industry showed signs of weakness in 2008, the American government coerced banks to recapitalize and sell off troubled assets. As a result the vast majority of American banks are now in strong financial positions. However, while American banks have been getting their houses in order, European banks have been maintaining vast amounts of hidden losses on their books and have been pushing off restructuring their debt obligations. Though economists have been calling for such reform ever since the financial crisis, European banks have still not taken these steps, perhaps because they have not had the same access to easy money that American banks enjoy. As the European banks begin to sell off foreign assets, American banks will be perfectly positioned to take command of crucial foreign markets.
Citigroup's Competitive Advantage
Citigroup struggled more than most other banks during the financial crisis considering that as much as 60% of the loans that it was buying were defective. As one of the "most aggressive" players in the CDO market and with nearly half of its assets exposed to the subprime market, Citigroup lost $23.8 billion by the end of 2007, far more than any company that survived the crisis. It had also aggressively expanded its business in the decade leading up to the financial crisis by merging with Travelers in 1998 and buying California Federal bank in 2002. Citigroup's vast 'unmanageable' size, poor risk management, and bad corporate management leading up to the crisis, gave it ample room to restructure properly, focus on growth strategies, and spin off unproductive assets. The government sold its stake in Citigroup for a profit in late 2010 paving the way for massive internal restructuring. Citigroup hired a new CEO, Michael Corbat, a Citigroup veteran with extensive knowledge of the inner workings of the company and experience in fostering international growth, rebuilding existing businesses, and dealing with bad assets. He has succeeded in selling off many of the bad assets left over from the financial crisis, such that Citigroup's total holdings have declined 31% year over year. He has also begun to sell off nonessential subsidiaries such as Citigroup's stake in the Turkish Akbank and its remaining stake in the Morgan Stanley (NYSE:MS) Smith Barney joint venture. Through such deals, Corbat has been steadily increasing Citigroup's Basel III Tier 1 Common ratio to 10%, a healthy percentage, in accordance with the international banking regulations. With its finances in order Citigroup is once again prepared to go on the offensive and expand its core business internationally. It already is the most international American bank, generating almost 60% of its revenue overseas with more than 50% year-over-year profit growth in Europe/Middle East/Africa. Corbat has stated that he believes that Citigroup is in the perfect position to enter markets such as Mexico, India, China, and Malaysia, which all have growing middle classes.
Citigroup's Innovation
Moreover, Citigroup has been aggressive about rebranding its image after the financial crisis and has taken a bolder approach than its competitors. Rather than spending millions of dollars on advertisements, Citigroup launched a successful bike-share program in New York City last month that has helped improve its image. Citigroup is the primary sponsor of Inside Out, a global event that promotes business in Colombia. Citigroup has made strong gestures that suggest it is interested in becoming the predominant bank in many emerging markets; it has invested much money in digitalizing its banking services to reach the growing number of smartphone users in distant countries. Citigroup has also opened up a data intelligence lab in Israel to research and develop the most advanced financial instruments to try to achieve a qualitative edge over its competitors. The lab will focus on big data analysis, but will also engage in advancing financial market mechanisms. In general, Citigroup has been aggressive not only in restructuring its finances, but also in paving the way for future growth.
Citigroup's Revenue and Profit Growth
Along with the other American banks, Citigroup's profits grew substantially during the last quarter, rising 42% since the second quarter of the previous year while its revenue grew 11% during the same period. Despite alleged problems with its image, Citicorp has increased deposits by 3%; and at the same time it has increased its loans by 3% despite the increasing interest rates. Its net credit losses have declined 25%; and though its legal expenses increased slightly, they are expected to decline drastically once Citigroup settles its remaining lawsuits relating to the financial crisis. Citigroup also settled its negotiations with Fannie Mae, finally ending the financial crisis chapter and allowing it to focus its energies on future growth. The book value per Citigroup share has increased by 1% since last quarter and its earnings per share increased by more than 41% since the second quarter of 2012. Unlike its competitors, Citigroup is still trading slightly below its book value. Additionally, after passing the latest round of stress tests, Citigroup has been given the go-ahead by U.S. regulators to begin share buyback programs and raise its paltry $0.01 dividend.
Looking Forward
American banks may be better positioned than European banks, but even among American banks, Citigroup is in the best position to capitalize on the international banking vacuum. JP Morgan (NYSE:JPM) recently released a report that predicted that the investment banking industry's average return on equity will fall from 15% to 9.6% in 2015 once the new banking regulations begin to take effect. It specifically singled out Goldman Sachs (NYSE:GS) and Deutsche Bank (NYSE:DB) as the most vulnerable do to their heavy reliance on investment banking. Although Citigroup also has a large investment banking division, it does not rely on investment banking for its overall success as heavily as other banks do as it is more diversified. In the second quarter of 2013, investment banking accounted for slightly more than a billion dollars in revenue, or about 5% of Citigroup's total revenue; whereas global consumer banking plays a much larger role. Additionally Citigroup has had much higher earning growth than the rest of the banking industry (Chart 1), while still maintaining a P/E ration lower than the rest of the industry (Chart 2).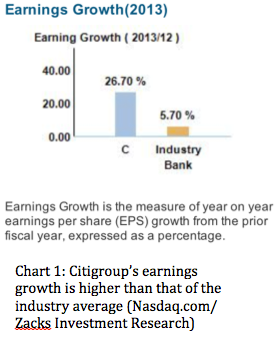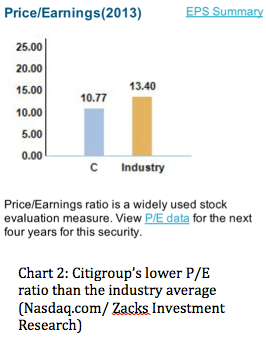 Algorithmic Prediction for Citigroup
Before investing, it is always important to heed a variety of opinions, especially those that are derived from analyzing different data sets, as a conclusion that is derived from multiple independent studies is far stronger than one that is based on a single study. Therefore, it would be appropriate to cite I Know First's algorithmic stock market prediction to bolster the aforementioned argument. In his October 2012 Seeking Alpha article, Dr. Lipa Roitman, co-founder of I Know First, correctly predicted, "Banking (BKX) will outshine them all," i.e. the banking industry would be the top performer of 2013. The algorithm analyzes how chaos, a non-linear evolving system, accounts for much of the movement in the stock market. Though chaos is not random, it is often counterintuitive and thus often misinterpreted. Quasi-deterministic chaos is responsible for creating waves in the market that are predictable and analyzable with processes developed in complex mathematics and quantum physics. Even though the Heisenberg Uncertainty Principle states that it is impossible to record precisely both the momentum and position of an electron at the same time, the properties of an agglomeration of multiple electrons, or waves, is well understood. Similarly, it is difficult to analyze individual transactions in the stock market (quanta), but it much easier to interpret long-term trends (waves). I Know First's market prediction algorithm uses artificial intelligence, machine learning, artificial neural networks, and genetic algorithms to track waves between the recent trajectory of a specific stock and the historical movement of an aggregate of other assets; and as the algorithm is self-learning, it constantly updates itself and improves its forecasts. The algorithm predicts the direction that stocks will move as well as the magnitude that they will move in that direction. The magnitude of the movement is measured by the "signal strength" - the higher the signal, the more upward potential for the stock. The dark green shade in Chart 3 indicates that the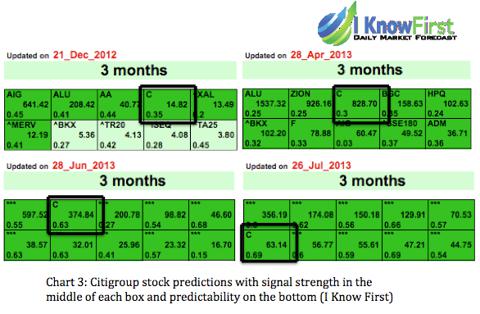 stock is expected to move drastically. The algorithm also calculates its ability to predict a stock's movement with a number ranging from -1 to 1. This statistic, called the predictability is the correlation between the current prediction and the actual asset movement for each discrete time period - the higher the predictability, the more likely it is that the stock will move in the predicted direction.
The I Know First algorithm began to predict that Citigroup would rise significantly on December 21, and has since consistently forecast strong short-term and long-term growth for Citigroup. In Chart 3, there are four 3-month prediction outputs that demonstrate I Know First's predictions for Citigroup: December 21, 2012, April 28, 2013, June 28, 2013, and July 26, 2013. The signal strengths were 15, 829, 375 and 63 respectively; the predictabilities were .35, .30, .63 and .69 respectively. The latest prediction from July 26, indicates that though the algorithm believes that Citigroup will continue to grow, the decreasing signal strength demonstrates that it will not grow as quickly as it has so far. However, the increasing predictability indicates that the algorithm is getting more confident in its ability to predict Citigroup's stock. Chart 4 shows Citigroup's actual stock movement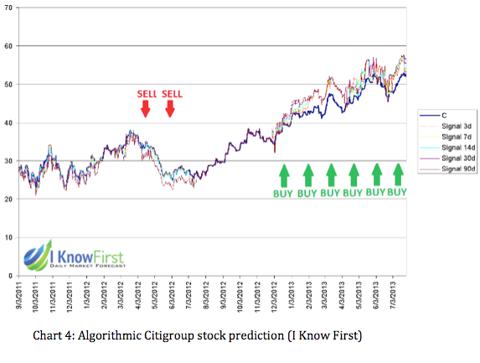 in dark blue and the algorithm's signals in the thinner colorful lines. Recently the signals have been relatively higher than the actual stock price indicating that the algorithm believes Citigroup's stock still has further to climb.
Conclusion
Though the banking sector has already rallied considerably over the past year, Citigroup remains undervalued relative to its competitors. Because it had been so badly devastated by the financial crisis, Citigroup was forced to restructure early on and has, therefore, already sold off most of its troubled assets and dispensable subsidiaries, settled most of its lawsuits (most significantly with Fannie Mae), and has made efforts to rebrand its image and invest in its future. Citigroup has the strongest international exposure and is perfectly positioned to take advantage of the banking vacuum in the developing world as competing banks sell their foreign subsidiaries to comply with the Basel III capital requirements. While investment banking will be hit over the next few years, it won't have too much of an impact on Citigroup because it is only a relatively minor source of revenue. Additionally, the I Know First algorithm still predicts that Citigroup's stock will rise, albeit more slowly than in the past year. All in all, Citigroup is a long-term buy because of its tremendous growth rate and many growth opportunities. Citigroup's stock still has a long way to go to return to its pre-crisis levels, but if it can maintain its current growth trajectory, who knows what can happen?
Disclosure: I have no positions in any stocks mentioned, and no plans to initiate any positions within the next 72 hours. I wrote this article myself, and it expresses my own opinions. I am not receiving compensation for it (other than from Seeking Alpha). I have no business relationship with any company whose stock is mentioned in this article.
Business relationship disclosure: I Know First Research is the analytic branch of I Know First, a financial startup company that specializes in quantitatively predicting the stock market. This article was written by Ethan Fried (Harvard College '16) one of our interns. We did not receive compensation for this article (other than from Seeking Alpha), and we have no business relationship with any company whose stock is mentioned in this article.