Editor's Note: This article covers a micro-cap stock. Please be aware of the risks associated with these stocks.
American Vanadium (OTC:AVCVF) is incorporated out of Vancouver, Canada and aims to become the first producer of vanadium in the United States, with its sole project (Gibellini Hill) located in Eureka County, Nevada. American Vanadium plans to rely on industry leading innovation and green energy to achieve this goal. The company is currently equity funded with no debt. A patent has been filed on their innovative purification process, which is designed to produce vanadium pentoxide (V2O5 ) for the steel and titanium industries while in the process producing vanadium electrolyte for use in lithium vanadium phosphate and vanadium redox batteries. These batteries have possible uses in the automotive and energy storage industries. SunCarrier series solar panels, WindCarrier series wind turbines and series of energy storage batteries, all designed and supplied by Gildemeister Energy Solutions (GIL.F) of Wuerzburg, Germany, will power the facility. As of May 22nd of the current year American Vanadium and Gildemeister Energy Solutions have entered into a master sales agreement, which makes American Vanadium the only master sales agent of Gildemeister's Cell Cube energy storage and distribution system in the United States. The Cell Cube is a vanadium redox flow battery. Until vanadium electrolyte can be produced at Gibellini Hill, American Vanadium will purchase vanadium electrolyte on the commercial market for use in the CellCube. This micro cap has potential but so do many and so many fail to live up to that potential. There are 2 possible situations, which could develop. Obviously one is a bullish scenario, the other is bearish.
Background Information
Vanadium as a Component to Power Sources
Lithium Ion:
A lithium ion battery is a general term for a class of batteries in which lithium ions move from the anode to the cathode while discharging and back when charging. Rechargeable Li-ion batteries use an interpolated lithium compound as the electrode material. Of the numerous variations of Li-Ion power sources the lithium vanadium phosphate has become of particular interest to numerous auto manufacturers. The standard power sources used in hybrid and electronic automobiles are lithium iron phosphate and lithium nickel manganese cobalt. The lithium vanadium phosphate battery is said to have an energy density 20 percent greater than the two aforementioned industry standards but cannot be produced at the same cost.
In October of 2010 an Audi A2, utilizing a lithium vanadium phosphate battery, completed the 370-mile trip from Munich to Berlin on a single charge. Upon arrival in Berlin the vehicle was reported to have 18% of its original charge remaining. Audi never took the A2 electric beyond the prototype stage. It's been reported that this was due to an underperforming European automobile market. Subaru opted for a lithium vanadium phosphate power source for is 2007 G4e prototype. The Warren Buffet backed electronic car manufacturer, BYD Automotive, is considering utilizing a lithium vanadium phosphate battery. Tesla Motors (NASDAQ:TSLA) also conducts research on vanadium as a component to lithium-ion power sources.
Vanadium Redox Flow:
Vanadium Redox Flow batteries, such as Gildemeister's CellCube, have a life span of approximately 35,000 charge/discharge cycles. They can be left completely discharged for long periods of time without damaging the battery. Electrolytes are stored in external storage tanks so the size of the battery can be determined by size of the external containers, which can be upgraded larger or downgraded smaller by replacing the containers. The battery can also be recharged by replacing containers filled with depleted electrolyte with charged electrolyte. There are two disadvantages to using a vanadium redox battery as a power source. The first being the energy density is relatively low when compared to other power sources but researchers claim the energy density can be increased when the temperature of the electrolyte is regulated. The second would obviously be the outside storage tanks cause the battery to be large and cumbersome; limiting its use to large scale energy storage. There are nearly fifty CellCube systems in use across the world.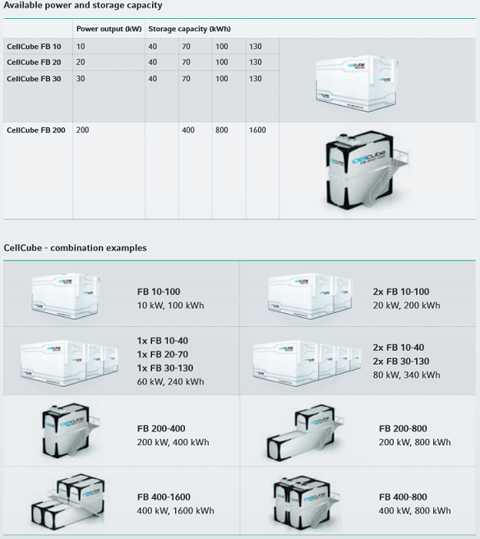 Source: Gildemeister Energy Solutions
The Bullish Scenario
Vanadium has various uses around the world. Today, much of the vanadium produced in the world is used industrially as an additive to steel, resulting in a building material, which is stronger and lighter. Due to changes in Chinese government policies regarding building codes Chinese exports are expected to be reduced dramatically. The "Chinese surplus" is blamed for the current price of vanadium being in the six dollar range. Chinese demand has increased significantly in the past 7 years. China currently demands 35 percent of global supply, up from 20 percent in 2006. Should other BRIC countries follow suit and mandate that vanadium be added to steel used in construction projects demand for vanadium will shoot through the roof. Now if vanadium also becomes a popular component to lithium batteries and if demand for vanadium redox flow batteries, such as Gildemeister's CellCube, continues to increase American Vanadium would be an a compelling buy provided the company had a solid balance sheet at that time.
The Bearish Scenario
Although, Chinese demand has increased and is expected to continue the trend, global supply is also expected to increase. In Q4 2013 Largo Resources (OTCPK:LGORF) is expected to begin production at the Maracas facility in Brazil. Largo Resources expects to produce approximately 7 percent of the global supply, at a grade nearly twice that of the industry average, and expects to increase production to 10 percent over time. American Vanadium has not announced a date on which production will begin but should begin producing 5 percent of the global supply, annually, in 12 to 18 months. Pacific Ore Mining Corp. sits on the world's second largest deposit, and should produce an additional 7-10 percent of global supply in 24 months. The point to be made is that the supply may outpace demand for vanadium for the next 2 or 3 years. Although the company has no debt and is currently equity financed. Debt of some kind is inevitable and the stipulations of the inevitable loan remain unknown. Anyway, the point here is it will cost American Vanadium $4.10 to produce one pound of V205. This cost does not include repayment of debt. Basically if the price per pound drops into the 5 dollar range profit margins could be non-existent and to suggest anything other than the automotive industry is merely interested in lithium vanadium phosphate power sources would be poor speculation. Many of the prototype vehicles utilizing the lithium vanadium phosphate battery were produced between 2007 and 2010. Those vehicles were never mass produced and are currently not planned to be mass produced. Either way, unless the automotive industry adopts the lithium vanadium phosphate battery and plans to construct and market those vehicles in America then American Vanadium will not profit directly.
Conclusion:
American Vanadium is an attractive, innovative, micro-cap. It's old school like the Carnegie Steel Company and new school like Tesla Motors all at the same time. American Vanadium clearly has potential. The corporate officers at the helm seem to have the vision and experience required to make their forward-looking statements become reality. However, the fate of American Vanadium is not entirely in their hands. The automotive industry doesn't seem to be as fascinated with vanadium as many "foreword thinkers" have thought it would be. Going concern depends on demand for V205, as well as demand for Gildemeister's CellCube. I wouldn't be surprised if there was an astonishing demand for the CellCube across the United States and Canada. Since American Vanadium plans on purchasing vanadium electrolyte until it can be procured from Gibellini Hill they may actually benefit from a strong supply and a weak demand in the short term. I'm not suggesting anyone add either stock to their portfolio by any means but both companies clearly deserve a fan base. There should be a place on every investor's watch list for American Vanadium and Gildemeister Energy Solutions.
What to Watch
1.Price of V205 (V205 is vanadium pentoxide not to be confused with ferrovanadium)
2.Chinese domestic demand and exports of V205
3.Initial sales of the CellCube in North America
4.American automotive manufacturers' interest in vanadium (not likely to benefit directly from foreign auto manufacturers' use of vanadium)
5.Look for American Vanadium to finance the remainder of the Gibellini Hill project
6.How much additional financing is necessary
7.Terms of the additional financing
8.Any uses for V205 or vanadium electrolyte not previously conceived
Disclosure: I have no positions in any stocks mentioned, and no plans to initiate any positions within the next 72 hours. I wrote this article myself, and it expresses my own opinions. I am not receiving compensation for it (other than from Seeking Alpha). I have no business relationship with any company whose stock is mentioned in this article.