By: Todd McDonald, Analyst
Overview
LinkedIn (NYSE:LNKD) is set to report 2Q 2013 earnings after the close of trading on Thursday, August 1. Results are typically released at 4:15 pm EST, followed by a conference call at 5:00 pm EST. LinkedIn is the premier social network for professionals around the globe.
Outliers And Strategy
Non-GAAP Earnings Per Share: LinkedIn typically reports a Non-GAAP earnings per share, which is comparable to estimates. Consensus estimates is for $0.31, with a range of $0.26 to $0.40. Results have beat estimates every quarter since the IPO.
Revenues: Revenues are seen coming in at $354.03 mln, with a range of $338 mln to $364.76 mln. Last quarter, the company issued revenues guidance for the 2Q 2013 period of $342 mln to $347 mln - in line with current estimates.
Revenue Guidance:
2Q 2013: Analysts currently expect 3Q 2013 revenues of $384.2 mln, with a range of $362 mln to $403.26 mln.
FY 2013: The consensus estimate for LinkedIn's FY 2013 is $1.5 bln. Last quarter, the company issued guidance for the FY2013 period of $1.43 bln to $1.46 bln. Any change in this guidance could impact the ensuing price action.
Registered User Base: Last quarter, LinkedIn reported a registered user base of 218 mln. According to

Zacks Invest

ment Research, consensus estimates are for a registered user base of 228.6 mln. In a press release regarding LinkedIn's new office in Brazil, the company indicated that it has "more than 225 million members worldwide."
Implied Volatility: A day after earnings are released, LinkedIn, on average, has an absolute move of 10.69%, while the options market is pricing in about a 10% move. It is also worth noting that LinkedIn has a high forward P/E and a relatively small float of about 100 mln shares, which is indicative of a volatile high-flyer. Short interest is approximately 4.25%.
Recent News
07/10: According to a post on Benzinga.com, Citigroup started coverage on LinkedIn with a Neutral rating. Analyst Mark May maintains a bullish view on the fundamentals of the business, but believes that the current valuation is already pricing in a significantly positive outlook.
07/08: Goldman Sachs reiterated its Buy rating and $210 price target on LinkedIn, according to a post on StreetInsider.com. The firm noted that Sales Navigator, LinkedIn's sales management tool, has been received positively by early adopters. Goldman Sachs believes that the addressable market is conservatively estimated to be about $6 bln.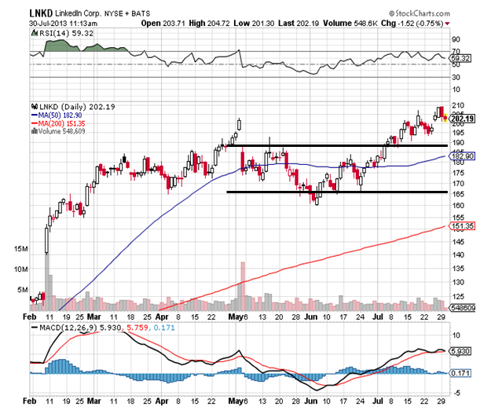 Click to enlarge
Technical Review
LinkedIn has been one of the top performing US stocks in 2013, rising over 75% YTD. The dip after 1Q earnings was bought aggressively in recent months, sending shares to a new all-time high of $209.39. If results are a positive surprise, upside may be somewhat limited, given that the RSI is approaching the overbought 70-level. If earnings results disappoint, support levels to watch are $188 (old resistance), the 50-day SMA near $183 and ultimately the $165 area. (Chart courtesy of StockCharts.com)
Summary
LinkedIn has been one of the top stocks of 2013, thanks in part to rapid user growth, increased content, emerging market opportunities, well-received strategic acquisitions and an improving job market. However, there are zero sell-ratings on the Street, the valuation is extreme, and the trade may be crowded at these levels. Note that last quarter, EPS and revenues beat estimates, and the stock fell dramatically. In order to push shares higher, earnings, revenues and revenue guidance all need to be near the high end of the range. Anything in-line or below consensus could have severe consequences for LinkedIn's share price.
DISCLAIMER: By using this report, you acknowledge that Selerity, Inc. is in no way liable for losses or gains arising out of commentary, analysis and or data in this report. Your investment decisions and recommendations are made entirely at your discretion. Selerity does not own securities in companies that it writes about, is not an investment adviser, and the content contained herein is not an endorsement to buy or sell any securities. No content published as part of this report constitutes a recommendation that any particular investment, security, portfolio of securities, transaction or investment strategy is suitable for any specific person.
Disclosure: I have no positions in any stocks mentioned, and no plans to initiate any positions within the next 72 hours. I wrote this article myself, and it expresses my own opinions. I am not receiving compensation for it (other than from Seeking Alpha). I have no business relationship with any company whose stock is mentioned in this article.