On July 19, we bought a starting position in Under Armour (NYSE:UA). We believe the stock is ready for a multi-year breakout as a result of strong sales coming through Europe and growth in the U.S. We remain bullish here and this article will explain why, showing both a fundamental and technical point of view.
The story
UA is an American sports clothing and accessories company. The company develops sportswear, casual apparel, footwear and a number of sport accessories. Global headquarters is in Baltimore whilst the European headquarters is in Amsterdam. Additional offices are in Toronto, China, Hong Kong and in Guangzhou, China.
The company was founded in 1996 by Kevin Plank. The company has grown significantly during that time and now also boasts a store in Edinburgh in Scotland. We believe the European growth is still at its infancy and this is what will proper UA stock and revenues higher.
The company also sponsors a number of high-level and profession athletes. These include Tom Brady, George St. Pierre, Michael Phelps, Carey Price, Mike Fisher, Michael Dawson and Heather Mitts. UA also sponsors a number of teams including the Toronto Maple Leafs, Tottenham Hotspurs FC, Japan National Basketball team and the Welsh Rugby Union.
Latest earnings report
On June 5, an investor meeting was held. Here are some key points that stuck us as stated by the management team:
"We said that we would double our revenues from 2010 to 2013. And in fact, we came in above that, with 2012 revenues reaching $1.8 billion and our forecast for 2013 taking us beyond the 2x milestone."
"From a financial perspective, our growth story has delivered for our shareholders. Since our IPO in 2005 through 2012, we've grown to the 31% CAGR in both top and bottom line, 31%.
2005 was also the 10th anniversary of our brand's existence and revenues were $281 million. 5 years later in 2010, we surpassed the $1 billion mark. And this year, we are blowing past the $2 billion mark."
"Moving from $54 million in 2005 to where we see it approaching again the $0.5 billion mark this year. It frankly is our biggest product opportunity and one of which we've never been better poised frankly to take advantage."
Impressive to say the least.
Earnings report
Now let's move to the latest earnings report.
Q2 was the 15th consecutive quarter where UA apparel grew at least 20% and the 13th straight quarter where total revenues grew more than 20%. Net revenues for Q2 2013 increased 23% to $455 million. Apparel grew 23% to $310 million from $253 million in 2012.
International net revenues increased 25% to $26 million.
Net income increased to $18 million compared with $7 million in the prior-year period. Second-quarter diluted earnings per share increased to $0.16 compared to $0.06 last year.
Total cash and cash equivalents at quarter end increased 57% to $224 million compared with $143 million at June 30, 2012. Revenue outlook for 2013 was once again increased to a range of $2.23 billion to $2.25 billion.
Technical analysis
After the latest earnings call, the stock jumped around 10%. The weekly chart shows a classic cup and handle breakout.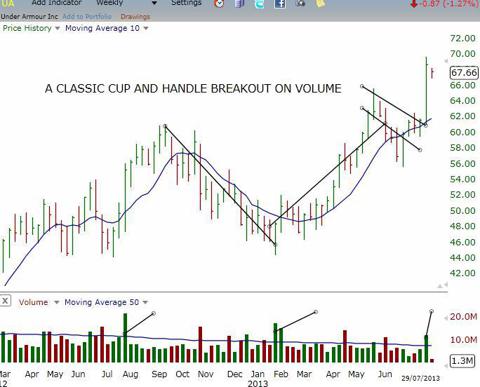 Click to enlarge
Conclusion
This statement by the CEO impressed me and I believe this is what will push UA to new highs in the next few years.
"We believe international will be our fastest-growing business in 2014."
I believe that UA is in a very strong position to continue expanding. With the strong cash position, innovative products and marketing strategies that are working, we continue to like UA and continue to add on every dip.
Disclosure: I am long UA. I wrote this article myself, and it expresses my own opinions. I am not receiving compensation for it (other than from Seeking Alpha). I have no business relationship with any company whose stock is mentioned in this article.