Joe's Jeans Inc. (NASDAQ:JOEZ) designs, produces and sells apparel and apparel-related products to the retail and premium markets under the Joe's® brand and related trademarks.
JOEZ TTM Earnings Growth rate is 15.4, higher than 83% of its competitors.
JOEZ TTM P/E is 8.2, so JOEZ isn't even priced as high as its growth rate, meaning it's severely undervalued (by almost 50%).
If JOEZ was priced fairly, it would have a PEG of 1 and would be priced at 1.0199 dollars. Guess where that is ... 1.0199 is almost exactly where the upper trendline on the monthly chart is ... so we know that, based on our fundamentals, we could certainly test that level again soon.
Average P/E for Industry: 21.0
JOEZ TTM P/E is uptrending for the first time since 2007. As this figure increases, so will the PPS.
JOEZ has zero debt and its cash flow is steadily increasing for the most part:
Q2 2008 - 2,551
Q3 2008 - 3,117
Q4 2008 - 3,465
Q1 2009 - 2,165
Q2 2009 - 6,760
JOEZ Price/Book ratio suggests JOEZ is undervalued:
JOEZ Price/Sales ratio suggests JOEZ is SEVERELY undervalued:
JOEZ: .60 Industry: 14.29
JOEZ Price/Cash Flow suggests JOEZ is undervalued
JOEZ: 7.50; Industry: 13.10
Lastly, JOEZ is sitting on a critical support level right now as its indicators begin to turn up from being oversold. JOEZ is a STRONG BUY.
Chart courtesy of StockCharts.com: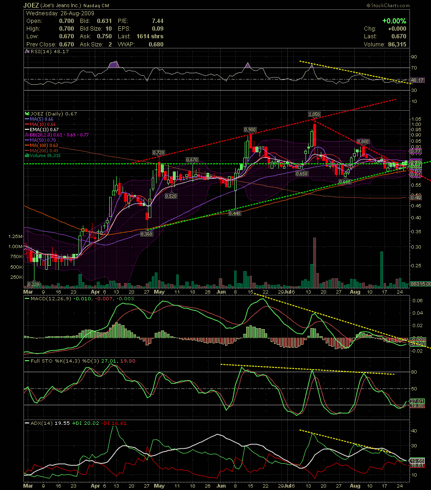 Click to enlarge
Full Disclosure: I own shares and am LONG on JOEZ.