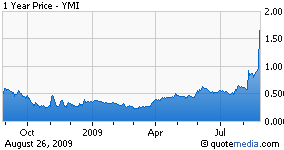 When I first responded to a reader inquiry about YM BioSciences (YMI) a few weeks ago, I called it a nice mid to long term speculative play that could quickly resume trading for over a dollar as speculative money starts coming back into the market.

The trip to over a buck was a quick one, as YMI spiked to over $1.70 during early trading on Wednesday, making many sub-$1 investors extremely happy.

I stand by my previous assessment that YMI is good speculative play, but I'd be a little bit more careful about getting in now, after the nice run, than before when I considered it a great buy for about sixty cents.

As long as the market holds up, this stock should be above a dollar for good and I'd treat it like Keryx Biopharmaceuticals (KERX) - buy the dips. If positive news is released to support the recent run, then the stock could be done trading for below $2, but if the run is just a case of YM trading to its potential, then dips to the low $1 range are likely and that would be a perfect time to add more shares.

I considered moving my EpiCept (EPCT) money into YMI earlier this month, but I never got around to doing that. Too bad, on my part - I missed the boat!

There's a lot of potential loaded into this stock.

Disclosure: No positions.