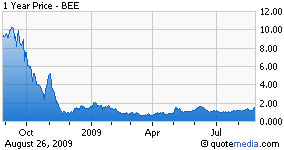 Strategic Hotels & Resorts (NYSE:BEE) continues to get beat down by the bad economy, and while I do believe that this stock - and other stocks like it - will eventually recover as people start spending money on luxury weekends and vacations again, I don't think that a recovery in this sector is imminent.

I think it'll be a long time before things 'return to normal' in that sector and these companies will merely survive for the time being.

That being said, a recovery should eventually take place in the sector and while I think that there are a lot of better places right now to put your money for more immediate growth - an investment in BEE with a long term outlook may not bee (bad joke) a bad idea.

Disclosure: No positions.