Since our initial post on 8/10/09, shares of Bidz (NASDAQ:BIDZ) are off approximately 35% compared to flat to slightly higher performance for the S&P 500, Blue Nile (NASDAQ:NILE), and Amazon (NASDAQ:AMZN):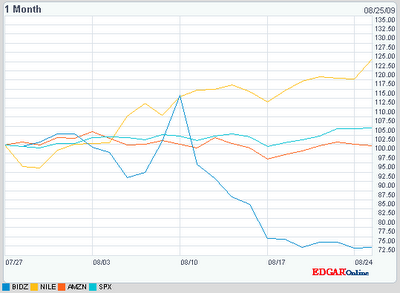 The decline follows lower-than-expected results the same day (after market close on 8/10/09). We previously commented on results and the overall retail sector. While still profitable, revenue was down 51% Y/Y as jewelry remains non-essential and low on the priority list for many consumers. Further, we believe Bidz's business is even more discretionary than the business of Blue Nile and other jewelry retailers that are helped by less discretionary engagement ring sales.
Bidz is not alone in its pain. We are aware of several other discretionary/luxury retailers that suffered large Y/Y revenue declines in the June quarter: Sotheby's (NYSE:BID) down 48%, Ethan Allen (NYSE:ETH) down 41% Y/Y, and Nutrisystem (NASDAQ:NTRI) down 32% Y/Y. We can even find meaningful Y/Y revenue declines outside of retail: Tyco Electronics (NYSE:TEL) down 34% Y/Y and Freeport-McMoRan Copper and Gold (NYSE:FCX) down 32% Y/Y.
We prefer to invest in companies trading a low multiples of earnings with current-year growth, yet sometimes venture outside of this requirement when we find what we believe to be a significant discount to the valuation that would be assigned to a business by an informed private market buyer.
In this case, despite limited short-term visibility and known hair on the story (please see our 8/14/9 post), our BIDZ thesis is focused on the durability and strength of the business model, which we believe warrants a higher valuation and provides a margin of safety at present levels. We believe shares are attractive for five key reasons we discuss in detail on our blog:
Jewelry retailing is a good business over time.
Difficult-to-replicate franchise with history of profitability and extremely high returns on invested capital.
Favorable long-term secular trends.
Shareholder-friendly management team.
Attractive absolute and relative valuation on current earnings and on normalized earnings power.
Let's again address valuation here (multiples as of 8/21/09):
Shares of Bidz are trading at six times 2008 earnings and fifteen times our downward revised 2009E earnings of $5.0 million ($0.20 per share) from $8.0 million.
Although difficult to foresee improved top-line performance and/or multiple expansion in the near-term, we believe BIDZ could fairly trade at 15 to 20 times earnings (5% to 7% yield) given the company's established, difficult-to-replicate, high-ROIC online franchise. Importantly, we believe an informed private market buyer would award a similar valuation.
In our initial post, we established a $5.25 - $7.00 (~$6.00 midpoint) fair value on depressed 2009E earnings, which no longer holds given reduced expectations for 2009. However, giving credit for a return to growth and normalized earnings of $12.0 million ($0.50 per share, still below 2007-08 levels) would imply $7.50 - $10.00 per share (~$9.00 midpoint).
On a relative basis, BIDZ is extremely inexpensive compared to Blue Nile, which trades at 77 times TTM earnings and 53 times consensus 2010E earnings. NILE trades at 42 times TTM EBITDA and 2.8 times sales, compared to 4.7 times and 0.5 times for BIDZ, respectively.
Blue Nile's TTM reported operating income of $16 million and 5.6% margin compare to Bidz's $14 million and 9.3% margin, respectively. On an earnings and free cash yield basis, NILE trades offers current investors only 1.3% and 2.9%, respectively, compared to BIDZ's 11.3% and 22.0%.
On a TTM operating income to enterprise value yield basis, NILE's yield is 2.3% compared to BIDZ's 20.3%. We prefer to buy companies offering at least a 10% EBIT/EV and FCF yield.
Even acknowledging lower forward yields and strained American consumers, we find a great level of comfort in BIDZ high TTM earnings/FCF yields (which already include three quarters of intense economic contraction). Although we like Blue Nile's business model and established franchise -- in our view -- NILE's valuation is currently supported by the greater fool theory (with evermore speculative buyers necessary to push shares higher).
As mentioned earlier, we see Blue Nile's business as less discretionary than that of Bidz, warranting at least some premium. However, we see no reason why the wide gap should persist over time, particularly if certain Bidz overhangs are removed. We expect NILE's valuation multiple to compress while BIDZ's multiple expands.
BIDZ also trades at a significant discount relative to Amazon and a number of other companies. Even shares of Zales (NYSE:ZLC) rallied markedly in recent months, yet unlike Bidz, the company carries a heavy debt burden with negative TTM earnings and free cash flow. We include a detailed comparable company analysis on our blog, but include a summary below (click to enlarge - price info as of 8/21/09):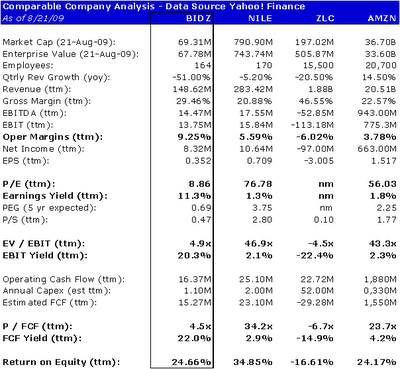 Finally, we have a recent comparable M&A transaction in the online retail space: Amazon's purchase of Zappos. Amazon management relayed on the company's earnings call that Zappos has approximately $635 million in 2008A sales with "a small profit". Amazon's cash/stock purchase price of $847 million implies a price to sales purchase multiple of 1.33 times. If we awarded the same multiple to Bidz, the implied share price would be $10.46, or 3.3 times current levels.
Conclusion
Our bet is that Bidz.com won't forever remain a castaway. Despite all of "the hair" on top of macroeconomic concerns (discussed here), we see an excellent entry point into a high return on capital business with a growing global franchise. Sooner or later, we expect the market will focus on the sustainability and earnings power of the company's business model, likely eliminating the margin of safety that exists for buyers today.
Disclosure: Long BIDZ.