GEO Group (NYSE:GEO) August 26, 2009: $17.95 /share
52-week range: $10.98 (Feb. 23, 2009) - $26.96 (September 19, 2008)
The GEO Group is a world leader in providing private corrections and detention management, health, and mental health services to federal, state and local government agencies. With operations in the US, Australia, Canada, Cuba, South Africa, and the United Kingdom; GEO offers a diversified array of turnkey services which include design, construction, financing, and operations. Our unique approach allows GEO to provide high-quality and cost-effective services with state-of-the-art designs, innovative programs and ground-breaking treatment approaches.
Their turnkey solutions include:
Facility Management
Facility Operation
Facility Maintenance
Facility Design
Infrastructure Financing
Construction Management
Residential/Special Needs Services
Secure Prisoner Escort
Court and Immigration Custody Services
Since its inception in 1984, GEO has become successfully established within the industry through our quality of service, innovative operational solutions, and efficient cost-effective operations.
To date, GEO manages 61 facilities encompassing approximately 60,000 beds world-wide. Their 13,000 professionals are dedicated to the safety and care of the 60,000 plus individuals assigned to our custody on behalf of federal, state, and local government agencies.
GEO has posted excellent long-term growth in providing for the outsourcing of detention services. Here are their per share numbers as reported by Value Line: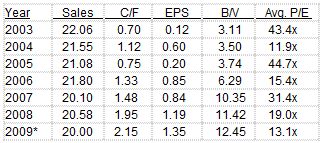 * 2009 numbers include Value Line estimates
Well-timed secondary offerings in both 2006 and 2007 were accretive to B/V while holding back Sales/Share and EPS growth initially. The extra capital has been paying off ever since as can be seen by the large jump in EPS in 2008 and into the first half of this year.
The shares look reasonably priced at today's $17.95 quote. That's right around 13.3x this year's and 12.4x 2010's estimates from both Value Line and Zacks. GEO's 10-year median P/E has been 16x and even a rebound to 14 times year-ahead expectations would bring GEO to a target price of $20.30 /share.
That's a very conservative goal considering GEO actually traded at $20.20 in 2006 on EPS of $0.85 and as high as $32.90 in 2007 when earnings came in at $0.84 /share. On numerous occasions GEO has traded for 2 - 3 times book value versus about 1.5x B/V currently.
Business trends look good with the last six quarters showing nice year-over-year growth. I don't see a low of downside here.
Here's a nice seven month play that allows for excellent returns even if GEO's share price does absolutely nothing.


If GEO shares merely remain about $17.50 through Mar. 18, 2010:
The $17.50 calls will be exercised.
You will sell your shares for $17,500.
The $17.50 puts will expire worthless.
You will have no further option obligations.
You will end up with no shares and $17,500 in cash.
That's a best-case scenario net profit of $4,250/$13,250 = 32% for a seven month holding period on shares that:
Went up.
Stayed unchanged.
Dipped slightly to no less than $17.50 /share.
What's the risk?
If GEO shares are < $17.50 on Mar. 18, 2010:
The $17.50 calls will expire worthless.
The $17.50 puts will be exercised.
You will be forced to buy another 1000 GEO shares.
You will need to lay out an additional $17,500 in cash.
You will have no further option obligations.
You will end up with 2000 GEO shares.
What's the break-even point on the whole trade?
On the original 1000 shares it's their $17.95 purchase price less the $2.60 /share call premium = $15.35 /share.
On the 'put' shares it's the $17.50 strike price less the $2.10 /share put premium = $15.60 /share.
Your overall break-even point would be $15.48 /share.
GEO shares could drop by as much as 13.7% without causing a loss on this trade.
Disclosure: Author is long GEO shares and short GEO options.