SmartHeat, Inc. (NASDAQ:HEAT) makes and sells standard plate heat exchangers (PHEs), custom PHE units, and heat meters. To learn more about HEAT and its products, investors should visit the company's site here.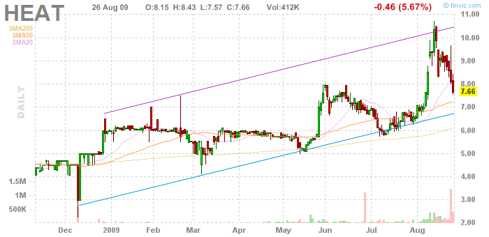 The company's products are designed to curb air pollution in China where coal is the primary, if not the only, energy source used for commercial and residential cooking and to heating. HEAT's standard and custom products help to (1) reduce heating costs significantly, (2) increase energy use, and (3) reduce air pollution.
Q2 2009
On August 11, 2009, HEAT reported that its revenues had increased 125% while EPS had jumped a whopping 267% from the same quarter a year ago.
The company also raised both the Q3 2009 guidance and full-year 2009 earnings guidance.
Note: Shares of HEAT were initially offered to the public in late April 2008.
RECENT TRADING
Over the past two weeks, HEAT's shares have taken a beating. After reaching an all-time high of $10.7199 on August 13, the company has trended down sharply. During Wednesday's session, HEAT fell another 5.67% to close at $7.66.
CONCLUSION
HEAT has all the markings of a hidden gem. After the recent, sharp downturn, HEAT might present investors with a good opportunity to diversify their existing positions and add an emerging market growth play.
From my view, shares are attractive and worth consideration at their current levels.
Disclosure: No positions at this time.