The glorified fertilizer elixir of the last eight years, nom de plume potash (aka potassium chloride), is back to being a lowly salt from whence it came.
And taking with it, billions of investor green(backs).
From its name (the ash of burned trees leached in iron pots) came visions of glory, but now it is no longer "pink gold."
Today's news from Russian leader Uralkali (OTC:URALL) were a surprise no doubt, that they gave disgruntled provincial player Belaruskali the jilt. So far it hasn't paid off for Uralkali shareholders.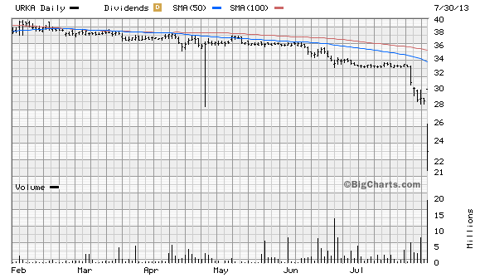 Click to enlarge
But the international potash market has been gurgling like a backed up sewer pipe for months now.
For those taken in by the compelling stories of food demand not satiated, here is the capacity of the potash producers we have estimated going forward.
Global muriate of potash capacity (million metric tons)
Year
2013
2015
2017
2023
Annual
Actual
Est
Est
Est
Capacity
Cap
Cap
Cap
Cap
PotashCorp
15.0
17.1
17.1
17.1
Uralkali
11.5
13.5
15.6
19.0
Mosaic
10.4
11.5
13.0
15.0
Belaruskali
9.0
9.0
9.0
9.0
K+S
7.0
7.5
7.5
10.4
ICL
6.0
6.0
6.0
6.0
SQM
2.0
2.5
2.5
2.5
Agrium
2.0
3.0
4.0
5.0
Intrepid
1.0
1.1
1.1
1.1
Vale
0.7
4.3
4.3
4.3
BHP
0.0
0.0
3.5
7.0
Total
64.6
75.5
83.6
96.4
Source: BCMI Research Copyright 2013
Compare this with the elusive 60 million ton consumption figure dangled in front of us by fertilizer CEOs for several years now, but still not met. Most producers feel 55-57 million tons is in the cards this year, arguably the best agricultural growing market in history.
No surprise to me the mineral is not nearly as rare as some thought.
We have avoided the biggest Canadian producers, PotashCorp (NYSE:POT) and Mosaic Company (MOS), for three years come the anniversary of the thwarted BHP Billiton (NYSE:BHP) $130 US bid.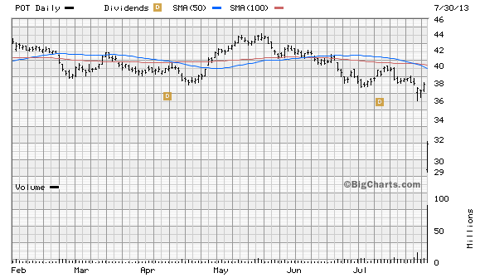 Click to enlarge
Where art thou, Prime Minister Stephen Harper and ex-Minister of Industry Tony Clement, to tell investors they were right to proclaim Canadian potash was a "strategic resource" and not for sale?
I'm sure BHP would have wooed investors with a sweetened $160 or even $180 per share bid ($60 post split) if pressed. And would be facing the misery investors are facing today.
Where are you Brad Wall, Premier of Saskatchewan, to tell us with throbbing heart, Saskatchewan says "NO" to BHP? Was there a bit of "pot" smoke in your lungs?
So the Canadian, US and international potash producer equities are down hard today, led by PotashCorp and Mosaic. But also Soquiem (NYSE:SQM), Kali+Selz and Israel Chemicals (OTCPK:ISCHY) were also hammered.
The price of international potash mineral will surely decline. A 20% decline in PotashCorp's realized prices would have caused its Q2 EPS to be 59 cents, not 74 cents as released July 25.
Reduced 2013 earnings guidance of $2.45-$2.70 would now be $1.95 to $2.15 adjusted if prices were down all year by the 20% indicated by Uralkali's threats.
And the P/E on those dwindling earnings is now a still rich 15.5 times.
Whiter the POT dividend yield, now calculated as 4.4%? Coverage of the $1.40 rate would still be 146% at the revised earnings level. Is POT a yield stock now?
Let no friend of the pink salt weep. Lower prices will stop new entrants to reconsider their plans.
Karnalyte (OTC:KRLTF), with the most promising new mine, has seen its stock down 50%. The hopes of funding its mine are fading in the Russian ill-wind.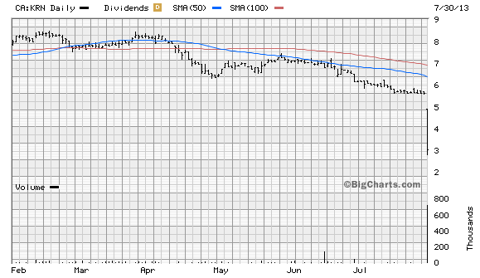 Click to enlarge
POT rallying from $28 US premarket to $31.75, on almost 100 million shares traded.
Where art thou, Bill Doyle, to spin more yarn of pink gold so easily sold? Narry a comment so far.
MOS rallying from less than $40 to $43.86.
Jim Prokopanko, where are those great fundamentals you so lovingly speak of just a few weeks ago? Back to Winnipeg with you!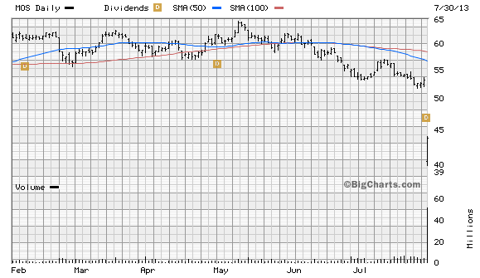 Click to enlarge
Where are the 7 billion hungry mouths to feed investor dreams?
Where are you Jana Partners? Why did Agrium (NYSE:AGU) expand its potash mine by 50% only to find the elusive mineral is no more?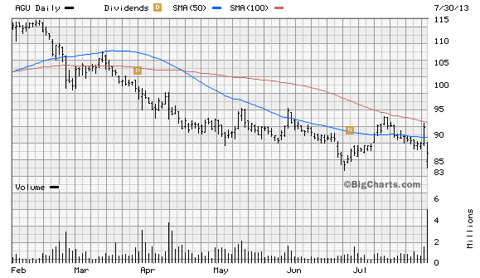 Click to enlarge
Yes, we bought PotashCorp and Mosaic today, for the dead cat bounce.
But the potash dream has been stolen.
Disclosure: I am long AGU, POT, MOS. I wrote this article myself, and it expresses my own opinions. I am not receiving compensation for it (other than from Seeking Alpha). I have no business relationship with any company whose stock is mentioned in this article.