Durata Therapeutics (DRTX) is developing Dalbavancin, a once a week, intravenous antibiotic product candidate, for the treatment of patients with acute bacterial skin and skin structure infections, or ABSSSI. The company is expected to file a NDA (New Drug Application) at any moment and MAA (Marketing Authorization Application) at the end of 2013.
Dalbavancin has many advantages which are listed below: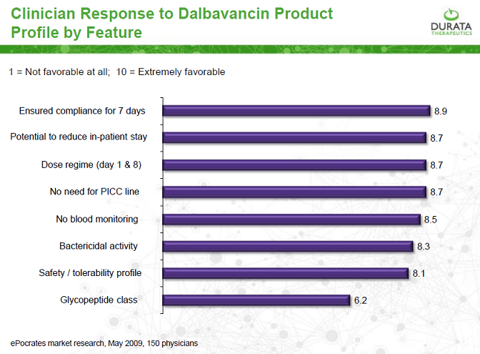 source:JMP Securities Healthcare Conference
The company expects a PDUFA (Prescription Drug User Fee Act) date and approval in the first half of 2014.
Dalbavancin used to belong to Pfizer, but was bought by Durata in 2009. Dalbavancin prolonged development, did not fit into Pfizer's strategic planning.
Pfizer's CRL (Complete Response Letter) on Dalbavancin:
"The FDA recently published a draft guidance on studies designed to show non-inferiority as a basis for approval of antibacterial drug products and has requested that Pfizer provide additional data with regard to dalbavancin. Pfizer is working with the FDA to respond to these new requirements. "
In other words, the main reason the FDA decided to give the company a CRL was because the FDA changed its guidance on non-inferiority trials, which was not in place when the previous Dalbavancin trials were designed. So, the FDA was asking for several new trials to prove non-inferiority, Pfizer gave up on it, and sold it.
Durata conducted two new phase 3 trials with SPA under new FDA guidance. Both trials met endpoints. See chart below: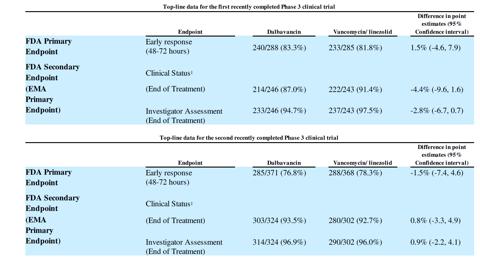 Analyst opinions
Wedbush made some very bullish statements:
Wedbush initiates coverage on Durata Therapeutics (NASDAQ: DRTX) with an Outperform. PT $20.00.

Analyst, Gregory R. Wade, said, "Durata's potent IV once-weekly gram-positive dalbavancin will, we believe, garner meaningful market share in patients with serious skin and skin structure infections (abSSSI) and osteomyelitis, a serious and growing, difficult-to-treat infection that requires multiple weeks of antibiotic therapy...We believe Dalbavancin is significantly risk-reduced having already successfully achieved non-inferiority in 3 Phase III clinical trials and completed a substantive review of an NDA at FDA...We believe dalbavancin, with similar potency to CUBICIN (Nasdaq: CBST), augmented by a convenient once-weekly administration schedule will further grow this segment of the marketplace."
Here are the current analyst price targets:
Rating
(Past)
PT
(Past)
Start $
End $
% Chg.
Details
6/25/2013
JMP Securities
New Coverage
Market Outperform
(N/A)
12.00
(N/A)
6.85
8.23
20.15%
Details
3/15/2013
Credit Suisse
New Coverage
Outperform
(N/A)
15.00
(N/A)
8.25
8.23
-0.24%
Details
9/10/2012
Wedbush
New Coverage
Outperform
(N/A)
20.00
(N/A)
9.86
8.23
-16.53%
Details
8/13/2012
BofA/Merrill Lynch
New Coverage
Buy
(N/A)
12.00
(N/A)
7.35
8.23
11.97%
Details
8/13/2012
RBC Capital
New Coverage
Outperform
(N/A)
15.00
(N/A)
7.35
8.23
11.97%
Details
The median price target is $16.50. That would represent a 100% from today's closing price.
Conclusion
U.S. hospitals treat 18 million patients annually for infections. ABSSSI account for 17% of these infection or 3.3 million patients. A round of Treatment with Dalbavancin costs around $2,500. If Durata could harness 10% of the market share, that would equal to 825 million in revenue.
Durata has 26,636,639 shares outstanding at a price per share of $8.23, giving a market capitalization of 220 million. (which is ridiculous considering the vast potential in the market they are entering).
Back on February 4th, I wrote an article regarding another antibiotic stock named Trius Therapeutics (TSRX). It was trading at $5.00 per share at the time, and I put a price per share prediction of $13.00. I also stated it was a takeover target. Yesterday, Cubist Pharmaceuticals bought Trius Therapeutics for $13.50 a share. You can read that article here.
I am giving Durata Pharmaceuticals a price per share target of $16.00 per share. I believe it will capture a large enough market share to warrant this share price. I also believe the company is a strong takeover target for other big player pharmaceutical companies looking to bolster their antibiotic pipeline.
Astute investors are urged to do further due diligence on DRTX, as the company will likely reward investors with substantial gains in the near future.
Disclosure: I am long DRTX. I wrote this article myself, and it expresses my own opinions. I am not receiving compensation for it (other than from Seeking Alpha). I have no business relationship with any company whose stock is mentioned in this article.