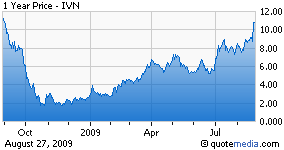 After years of delays, Ivanhoe Mines Ltd. (IVN) finally appears to be on the cusp of an investment agreement for its Oyu Tolgoi project in Mongolia.
Needless to say, analysts view this as a very positive development.
"The completion of an investment agreement should permit Ivanhoe shares to trade unencumbered of the political risk overhang and reflect its ownership in a premium copper development asset," BMO Capital Markets analyst John Hayes wrote in a note to clients.
Even after Wednesday's 24% run-up in the stock price, he rates it an "outperform." He calculated that it trades at a 39% discount to his 10% net asset value estimate of US$17.65 a share, using spot copper and gold prices. He estimated life-of-mine production at Oyu Tolgoi of 38 billion pounds of copper and 16.4 million ounces of gold, which are simply staggering numbers.
Desjardins Securities analyst John Redstone applauded the news as well. With Mongolia's notorious windfall profits tax canceled, he lowered his discount rate used to value Oyu Tolgoi to 7% (from 8%) and raised his price target on Ivanhoe to C$15.20 a share (from C$12.00). He rates the stock a "buy-speculative."
But there is one naysayer out there who has been negative on Ivanhoe for years: Raymond James analyst Tom Meyer. Despite the positive news from the company, he is still not a believer.
Mr. Meyer reiterated an "underperfom" rating on Ivanhoe and a price target of just C$5.00 a share. Put simply, he just thinks the stock is too expensive. He calculated that Ivanhoe shares trade at a price-to-net-asset-value multiple of 0.98 times, which he wrote is roughly double the valuations of Quadra Mining Ltd. (OTC:QADMF), Equinox Minerals Ltd. (OTC:EQMIF), and First Quantum Minerals Ltd. (FQVLF.P). And he wrote that it is almost five times the valuation of Northern Dynasty Minerals Ltd. (NYSEMKT:NAK).
"The harsh reality of capex and opex revisions, which may be published by Ivanhoe as soon as October, financing risks, and project execution risks/delays have yet to reflected in [Ivanhoe's] share price in our view," he wrote.
"In addition, the risk of U.S. dollar devaluation versus most Asian currencies would put the project at a disadvantage relative to those based on U.S. soil."