As someone who covers a lot of short ideas on this site, one of the most important items I follow is short interest data. One must always be aware of the short interest in a stock. A large short base could spark a short squeeze on good news, while low short interest could spark a huge drop on bad news. Every couple of weeks, we get an update from Nasdaq on short interest data, and I report on what I am seeing. Today, I'm here to discuss the middle of July numbers. Today, I'll discuss five names that short sellers are running away from, whether just recently or over the longer term.
BlackBerry (NASDAQ:BBRY):
Well, the day many were waiting for has finally come. Short interest in BlackBerry finally saw a sizable decline. In the first two weeks of July, short interest came down by more than 23.5 million shares, or 12.79%. As you can see from the chart below, this is the biggest move in short interest in quite some time, and puts short interest at its lowest level since late March. Don't get me wrong, nearly 161 million shares short (around 30% of the outstanding count) is still a lot, but this is a significant move for BlackBerry short interest.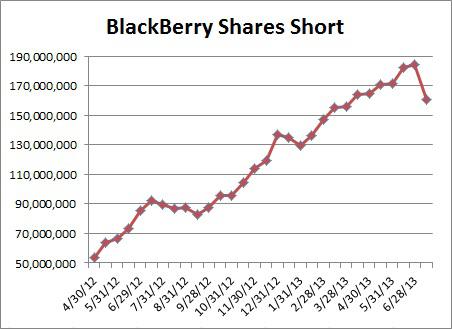 Unfortunately, the reduced short interest number is not helping investors. BlackBerry shares have continued to go lower since their earnings disappointment, and we've now fallen from $16 to less than $9 in three months. There may still be some hope if BB10 sales can pick up some speed. Investors have been hoping for a short squeeze in this name, but short interest coming down along with the stock going down reduces that possibility just a little. I do think we'll see some type of short squeeze in this name over the next few months, but we need some good news to do so. For BlackBerry, good news has been hard to find in recent years.
First Solar (NASDAQ:FSLR):
First Solar makes this list both for its latest update as well as the long-term trend. Another 2.35 million shares short were covered since the last update. In the past 11 months, more than 20.6 million shares have been covered, nearly 65% of the peak value. Short interest in First Solar is at its lowest point in a year and a half, as you can see from the chart below.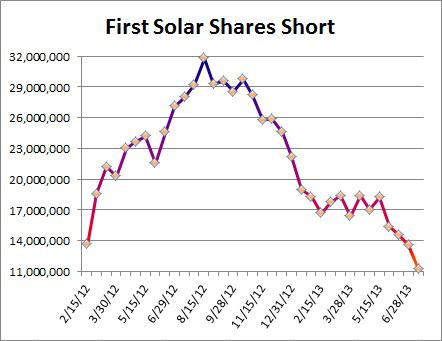 The latest downturn in short interest started after the company raised nearly $428 million from an equity offering last month. Despite nearly 10 million additional shares being added, shorts apparently are not worried about the dilution. In fact, they seem to be covering because the extra cash gives the company more capital for new products. That means more revenues, and could mean profits as well. First Solar will report on August 6th, and it will be a very interesting report. Revenues are expected to fall by 25% for the quarter, with earnings expected to plunge by 68%. This is a very seasonal business, so you will see these wild swings often. Also, the company might reduce their yearly EPS forecast at this report, only because of the extra dilution. First Solar set aggressive goals for the year a few months back, and shares have rallied strongly since then. Shorts have obviously ran for the exits, and this next earnings report will have a large impact on short interest.
Sirius XM (NASDAQ:SIRI):
More than 27 million shares of Sirius were covered early in July, continuing the recent downward trend, as seen below. Since short interest hit a high of more than 414 million in February, 88.4 million shares have been covered, more than 21%. Short interest in Sirius is at its lowest point in 8 months.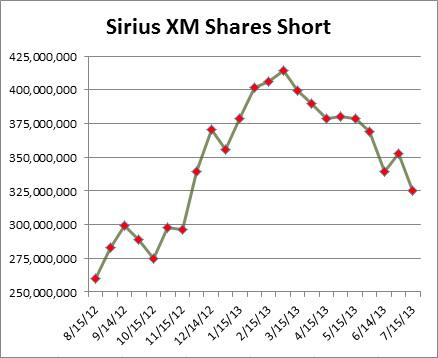 At the same time, shares in this name have continued rallying higher. A new 52-week high of $3.81 was hit last week, and that will be reflected in the next round of short interest data. The company just refinanced some debt at a lower rate, which will help cash flow and reduce interest expenses. Sirius appears to be on the right track, and shares are reflecting that. The company recently beat revenue estimates with its latest quarter, which has helped to push the stock to new highs.
Apple (NASDAQ:AAPL):
Apple makes this list for a couple of reasons. First, there was a decline of nearly 1.7 million shares short, a little more than 6%. Apple's short interest is still a bit elevated, as you can from the chart below. I think short interest will come down at the next update, as these numbers do not reflect the latest earnings report, which I'll discuss in a bit.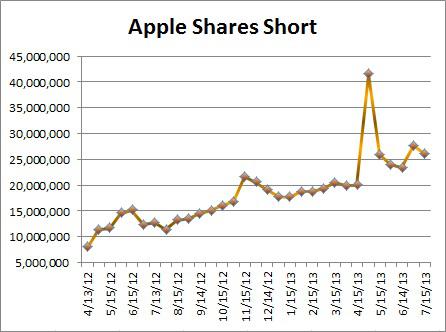 The bigger issue I see is one I've been discussing for a while, and that is the rising days to cover ratio. This ratio measures how long it would take for all shorts to cover their positions. In 15 months, this ratio has gone from 0.31 to 2.23, hitting another new high at this update, as you can see below. It's not just that short interest in Apple is up over this time last year. Volume is also down by 23% over the comparable year ago period. Even with Apple's share price down roughly 25% from this time last year, trading volumes are going lower. Investors are getting tired of Apple, and that is reflected in the data.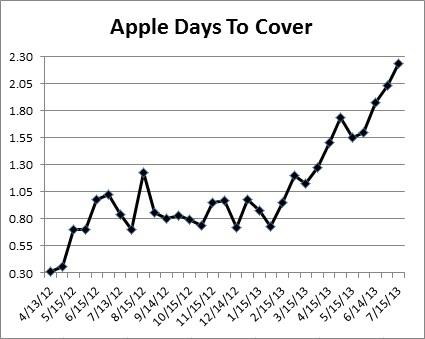 I believe that a number of shorts will have covered by the next update, as Apple's stock is back to the $453 area. Apple's latest earnings report was not spectacular, but it wasn't terrible either. Apple showed that the iPhone is still selling strong, and investors are now looking forward to product launches in the coming months. Shares are up about 8% since the earnings report, reflecting increased optimism in the stock. I don't think Apple will be back at $700 anytime soon, but given the decent dividend and huge buyback, I find it odd that short interest has more than doubled over the past year with a stock down 25%.
Tesla (NASDAQ:TSLA):
Tesla short interest hit another new low at the latest update, and is now under 18.5 million shares. In just four months, nearly 14 million shares, almost 43% of short sellers have covered, as you can see below. There obviously has been a sentiment change in the stock, and shorts are running for the exits.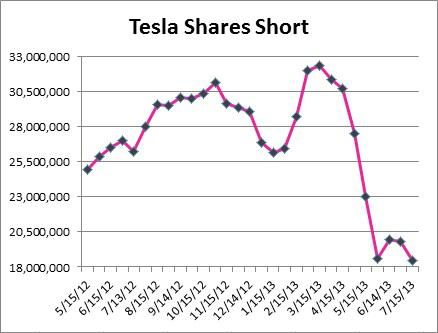 Tesla shares hit another new high on Tuesday at $137.49, so you might expect more shorts will have covered at the next update. This stock is up nearly $100 in just four months, an extraordinary gain for any name. Part of that can be contributed to short covering. Tesla now has a market cap of more than $15 billion, and is one of the most debated names in today's market. A year ago, the NASDAQ short interest page for Tesla had the average volume at just over 1 million shares. In the latest update, the average volume was nearly 8.7 million shares, and was as high as 15.75 million shares in May.
Final Thoughts:
All five of these names have seen significant declines in short interest, whether it be one single update or over the longer term. BlackBerry finally saw the short interest drop many were waiting for, although the stock has gone much lower as well. First Solar's short interest continues to go lower after the company's capital raise brings hope for new revenues. Sirius shorts continue to run, and the latest quarterly numbers and debt restructuring will only help the bull case. Apple fatigue has continued to set in, but short interest was down 6%, and the stock has rallied since the latest earnings report. Tesla has continued to new highs, while its short interest has dropped to new lows. I'll be back with the next round of numbers in a few weeks, and we'll see if any of the names make the list then.
Disclosure: I have no positions in any stocks mentioned, and no plans to initiate any positions within the next 72 hours. I wrote this article myself, and it expresses my own opinions. I am not receiving compensation for it (other than from Seeking Alpha). I have no business relationship with any company whose stock is mentioned in this article.
Additional disclosure: Investors are always reminded that before making any investment, you should do your own proper due diligence on any name directly or indirectly mentioned in this article. Investors should also consider seeking advice from a broker or financial adviser before making any investment decisions. Any material in this article should be considered general information, and not relied on as a formal investment recommendation.