For years, investing in Pitney Bowes (NYSE:PBI) was a losing proposition. While the stock did offer an above market yield, the share price only moved in one direction -- down. However, Pitney Bowes has clearly reversed this trend. In 2013, the company has done things it should have done ages ago. Early in the year, Pitney Bowes replaced its longtime CEO Murray D. Martin with 27-year IBM (NYSE:IBM) veteran Marc B. Lautenbach, and in April, Pitney Bowes lowered its dividend 50%, primarily to pay down debt. In addition, Pitney Bowes has posted back-to-back stronger-than-expected quarterly results. As a result, Pitney Bowes has seen its stock surge nearly 60% YTD. Pitney Bowes currently offers a $0.1875 quarterly dividend and yields around 4.50%.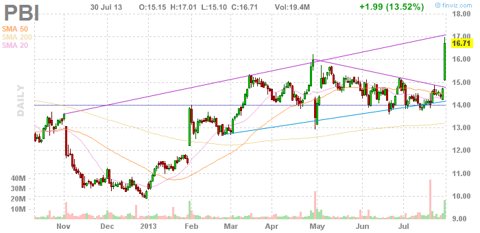 Q2 2013 Overview
Pitney Bowes posted a relatively strong Q2 2013. Adjusted EPS came in at $0.52, a slight improvement from Q2 2012 adjusted EPS of $0.51. Do note that Pitney Bowes's EPS was impacted by many one-time items, such as a goodwill impairment, restructuring costs, and losses from discontinued operations.

Revenues in the quarter were relatively flat, only declining 1% to $1.2B. While Pitney Bowes did see mild declines in revenues for most of its business segments, its production mail and mail service segments posted surprising revenue gains, up 18% and 10% respectively. Revenues in Pitney Bowes's core North America mailing segment declined 5% while International mailing only declined 1%.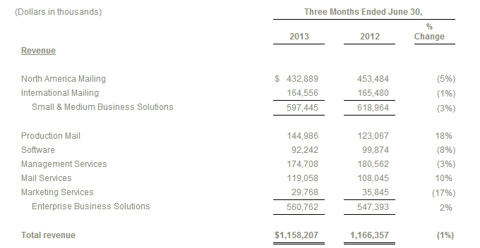 In the quarter, Pitney Bowes was able to generate decent cash flows. Operating cash flow came in at $147M while free cash flow, or FCF, came in at $124M. Pitney Bowes's FCF dividend payout ratio was a modest 38%, or $47M. Do note that Pitney Bowes did see its FCF levels decline around 60% from last year. However, Pitney Bowes's FCF benefited from certain one-time items in 2012 such as accelerated depreciation. In addition, taxes were actually a source of cash in Q2 2012.
Pitney Bowes also repaid $375M in notes that were due June 2013 from cash on hand. The company ended the quarter with $3.65B in long-term debt, which was $27M less than last year. Pitney Bowes's cash position stood at over $600M as of June 30.
To summarize Pitney Bowes's quarter, the company was able to stabilize revenue declines in its various business segments while also managing its debt and returning capital to shareholders. One has to remember that Pitney Bowes's core business is in secular decline as seen by falling mail volumes. Any revenue growth, as seen by the production mail and services segments, is an added bonus. In essence, Pitney Bowes is doing what it has to do to remain a viable business.
Apollo Management to Buy Pitney Bowes Management Services for $400M
Pitney Bowes also announced that Apollo Global Management (APO) will acquire Pitney Bowes Management Services, or PBMS, for $400M. This transaction is expected to close by Q4 2013. Pitney Bowes plans to use these proceeds almost entirely for debt reduction.
During the Q2 2013 conference call, Pitney Bowes mentioned that this transaction would allow it to streamline its operations and rationalize its portfolio:
Second, following a thorough evaluation of our strategy we included the PBMS business will be best served operating as a standalone company with greater opportunities to add value for its clients and employees. Third, we believe employees of both Pitney Bowes and PBMS will benefit from being part of a stronger and more focused companies that are committed to provide the greatest value for our clients and our shareholders.

Importantly, this move is a critical step in executing our strategy as we streamline our operations and rationalize our portfolio. It will give us the flexibility we need to focus on developing and delivering the highest value technology, innovative software and differentiated services in growth areas where we see the greatest opportunity lead.
Pitney Bowes's current market cap is about $3.34B and enterprise value is about $7B. Therefore, the $400M transaction would represent 12% of Pitney Bowes's market cap and 6% of its enterprise value. However, this segment represents only 5% of Pitney Bowes's EBIT and about 14% of its revenue YTD. Considering this is one of the segments with the lowest margins and is seeing declining revenues, I think Pitney Bowes achieved a fair price in disposing this asset.
Conclusion
It now appears that I was a tad early in taking profits in Pitney Bowes back in February. I probably should have seen this move to $16+ earlier, as Pitney Bowes had traded at around this level during much of 2012. While the Q2 2013 results were decent, they did not, IMO, warrant a 13%+ surge in the stock. Long-term holders of Pitney Bowes should be aware that today's rally in Pitney Bowes seems to be in part related to a short squeeze.
Inertia was clearly Pitney Bowes' worst enemy. Pitney Bowes's new CEO Marc Lautenbach has clearly made a major positive impact in this stock. Pitney Bowes's previous management would have probably kept the dividend in place, not have sold off any under-performing assets, and would continue its policy of near zero capital investment. This would have mostly likely led down the road to eventually insolvency as FCF dwindled. Do note that Pitney Bowes is still a high-risk stock and considering its YTD gains, some measure of profit taking may be in order.
Disclaimer: The opinions in this article are for informational purposes only and should not be construed as a recommendation to buy or sell the stocks mentioned. Please do your own due diligence before making any investment decision.
Disclosure: I have no positions in any stocks mentioned, and no plans to initiate any positions within the next 72 hours. I wrote this article myself, and it expresses my own opinions. I am not receiving compensation for it (other than from Seeking Alpha). I have no business relationship with any company whose stock is mentioned in this article.