"It should be obvious from simple arithmetic that population growth is on a direct collision course with increasingly scarce resources." - Jeremy Grantham
The notion of peak water probably sounds crazy to most people. The earth is 70% covered by water. The water cycle replenishes water on a continuous basis. The global warming enthusiasts tell us that glaciers are melting and oceans are rising. This should make water more plentiful. But, as they say in the real estate business – Location, Location, Location. Freshwater shortages in the wrong places could have calamitous consequences to those regions, worldwide commodity prices, the economic future of nations with water shortages and possible war. Regional water scarcity means water usage exceeds the annual natural replenishment from the water cycle. The impact of water scarcity can be far reaching. It can lead to food shortages, famine, and starvation. Many nations, regions and states have mismanaged their water resources, and they will have to suffer the long-term consequences.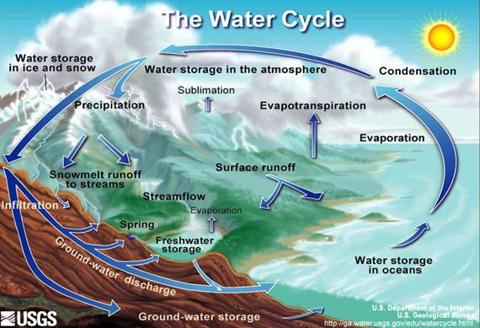 Source: Wikipedia
The peak oil debate gets a tremendous amount of press and generates heated disagreements on both sides. The focus on peak oil has permitted the future water crisis to stay under the radar. As usual, myopic, self-serving politicians have ignored resource issues for the last 30 years. These were 30 years of debt-financed good times with relatively low prices for all natural resources and commodities. The end of this period of low prices is nigh. The brilliant investment manager Jeremy Grantham lays out the future in his recent newsletter:
"We must prepare ourselves for waves of higher resource prices and periods of shortages unlike anything we have faced outside of wartime conditions. In fact, I believe we are already several years into this painful transition but are still mostly invested in denying it."
The following chart provides a useful comparison of oil and water as resources. While oil is non-renewable and limited, it is replaceable by other more costly alternatives. Water is renewable and relatively unlimited, but there is no substitute and it is only useful in the precise places. The Southwest region of the United States, our fastest growing region, has considerable freshwater constraints and could ultimately run out of water.
| | | |
| --- | --- | --- |
| CHARACTERISTIC | OIL | WATER |
| Quantity of resource | Finite | Literally finite; but practically unlimited at a cost |
| Renewable or Non-Renewable | Non-renewable resource | Renewable overall, but with locally non-renewable stocks |
| Flow | Only as withdrawals from fixed stocks | Water cycle renews natural flows |
| Transportability | Long-distance transport is economically viable | Long distance transport is not economically viable |
| Consumptive versus non-consumptive use | Almost all use of petroleum is consumptive, converting high-quality fuel into lower quality heat | Some uses of water are consumptive, but many are not. Overall, water is not "consumed" from the hydro-logic cycle |
| Substitutability | The energy provided by the combustion of oil can be provided by a wide range of alternatives | Water has no substitute for a wide range of functions and purposes |
| Prospects | Limited availability; substitution inevitable by a backstop renewable source | Locally limited, but globally unlimited after backstop source (e.g. desalination of oceans) is economically and environmentally developed |
| Source: Pacific Institute | | |
Facts & Figures
According to the United Nations, by 2020 water use is expected to increase by 40% to support the food requirements of a worldwide population that will grow from 6.7 billion people to 7.5 billion people. The U.N. estimate is that 1.8 billion people will be living in regions with extreme water scarcity. Even though 70% of the globe is covered by water, most of it is not useable because it is saltwater. Only 2% of the earth's water is considered freshwater. Most of the freshwater is locked up in glaciers, permanent snow cover and in deep groundwater. Desalinization is a process that can convert saltwater into freshwater, but it is only practically useful on the coastlines and it is 15 times more expensive. The middle of the United States is considered our breadbasket, where the majority of our food is grown. Drought and/or over-consumption of existing sources of water in this sensitive area would have worldwide implications, as the U.S. is a huge exporter of wheat, soybeans, rice and corn. The United States exported $115 billion of agricultural products in 2008 while importing $80 billion, according to the USDA. This is one of the few remaining businesses where the U.S. is a net exporter. Population growth and water shortages could change that equation.
One estimate of global water distribution:

Water source

Water volume, in cubic miles

Water volume, in cubic kilometers

Percent of fresh water

Percent of total water

Oceans, Seas, & Bays

321,000,000

1,338,000,000

--

96.5

Ice caps, Glaciers, & Permanent Snow

5,773,000

24,064,000

68.7

1.74

Groundwater

5,614,000

23,400,000

--

1.7

Fresh

2,526,000

10,530,000

30.1

0.76

Saline

3,088,000

12,870,000

--

0.94

Soil Moisture

3,959

16,500

0.05

0.001

Ground Ice & Permafrost

71,970

300,000

0.86

0.022

Lakes

42,320

176,400

--

0.013

Fresh

21,830

91,000

0.26

0.007

Saline

20,490

85,400

--

0.006

Atmosphere

3,095

12,900

0.04

0.001

Swamp Water

2,752

11,470

0.03

0.0008

Rivers

509

2,120

0.006

0.0002

Biological Water

269

1,120

0.003

0.0001

Total

332,600,000

1,386,000,000

-

100

Source: Igor Shiklomanov's chapter "World fresh water resources" in Peter H. Gleick (editor), 1993, Water in Crisis: A Guide to the World's Fresh Water Resources (Oxford University Press, New York).
The major challenges regarding freshwater are:
Tremendously uneven distribution of water on earth.

The economic and physical constraints of tapping water trapped in glaciers.

Human contamination of existing water supplies.

The high cost of moving water from one place to another.
Regional scarcity is not easily solved. Once the extraction of water exceeds the natural rate of replenishment, there are only a few options.
Reduce demand to sustainable levels.

Move the demand to an area where water is available.

Shift to increasingly expensive sources, such as desalinization.
None of these options is available for many areas in the Southwest U.S. The cities of Las Vegas, and Phoenix were built in the middle of the desert. The Hoover Dam, built on the Colorado River near Las Vegas during the Great Depression, created Lake Mead, the country's largest artificial body of water. The lake provides water to Arizona, California, Nevada and northern Mexico - but after several recent years of drought, on top of ever-growing demand, it's dangerously depleted. Housing developments on the outskirts of these towns have been stopped dead in their tracks by lack of water supply. The growth of these major U.S. metropolitan areas is in danger of going into reverse if their long-term water supplies are not secure.
Mike Shedlock noted the difficulties facing the Southwest in a white paper that he wrote on the subject of peak water:
"There is more water allocated to each user from the Colorado River than there is water to allocate. As long as some people are willing to sell their water, this isn't an immediate problem. Chevron's water rights for its DeBeque, Colo., shale oil project are leased, not sold, to the city of Las Vegas for drinking water. How will Las Vegas replace that in the future when Chevron won't extend the lease? Many areas are using ground water that will be used up entirely in just a few decades."