Many fertilizer stocks have been in consolidation phases or even downtrends over the last two years. Investors have been hoping that they would show some life. However, this has not happened; and the news June 30, 2013 may cause hope to die. Russia's Uralkali pulled out of a venture with Belarus. The breakup of the Belarus Potash Company (BPC) means the stranglehold that BPC and Canpotex have exerted on world potash prices has been broken. Uralkali expects that this may cause a 25% fall in world potash prices, which have recently been around $400/ton. Potash is now expected to fall below $300/ton in 2H 2013. The only good news is that this is expected to result in higher demand from price sensitive farmers in Asia. Still it means even North American potash prices will come under considerable pressure.
If the above wasn't bad enough, grain prices have been in relatively steady decline for the last year. CBOT corn futures have fallen from a recent high of $8.49/bushel on August 10, 2012 to $4.76/bushel currently on July 30, 2013. Wheat futures have fallen from $9.47/bushel on July 23, 2013 to $6.57/bushel currently on July 30, 2013. Soybean futures have fallen from a high of $17.26/bushel on September 4, 2012 to $12.06/bushel currently on July 30, 2013. I could go on. However, the downtrend is undeniable. If the Asian farmers are about to get cheaper fertilizer, this seems very likely to mean that near-term future Asian crops will likely be larger than recently expected. This should add to the downtrend in grain prices.
On top of this, the July 23, 2013 USDA crop report was very bearish for grain prices. 63% of the corn crop was reported to be in good to excellent condition. This was 39 percentage points higher than at this time last year. 63% of the soybean crop was reported to be in good to excellent condition. This was 34 percentage points higher than at this time last year. 81% of the winter wheat crop had been harvested by July 28, 2013. This was 5 percentage points behind last year, but it is still very respectable. Again I could go on, but the overall tenor of the report was bearish. In fact, some are suggesting the bumper corn crop will bring down gasoline prices due to the large amount of cheap corn available for ethanol manufacture. The World Agricultural Supply and Demand Estimates (WASDE) report of July 11, 2013 essentially confirms the above. The overall outlook is very bearish for grain prices. Hence it is bearish for fertilizer prices.
The latest potash news from Uralkali means the outlook for potash suppliers is too bleak to stay in potash supplying stocks for the near term, especially with many if not most world economies slowing. In fact, the IMF recently lowered its world economic growth estimate from 3.3% in April 2013 to 3.1% as of July 9, 2013. The IMF is by no means alone in this. The World Bank lowered its 2013 world economic growth forecast to 2.2% on June 12, 2013. I could go on; but the point is that world economic growth is currently trending downward. It is unlikely to suddenly reverse to stimulate grain prices. Rather it is likely to be a drag on world grain prices. This in turn will likely be a drag on the profits of companies producing fertilizers.
Further Uralkali, which produced 10.5 million tonnes of potash in 2013, said it plans to boost its potash production to 13 million tonnes in 2014 and 14 million tonnes in 2015. The chart below of the World Potash Fertilizer Consumption Growth indicates that this kind of production growth will flood the market.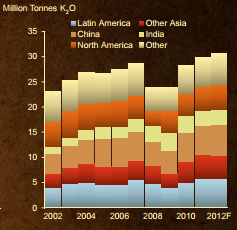 In the last ten years, world potash consumption has only grown by about 7 million tonnes. Yet Uralkali intends to push another 3.5 million tonnes onto the market by itself in just the next two years. This is without even taking into account any extra production from any of the other players in the market. It is also without taking into account the slowing world economic growth mentioned above. Look closely at the performance of world potash demand during the recession of 2008-2009. Potash demand actually decreased. Yet Uralkali is planning to dramatically increase its production during what may turn out to be a recessionary time for many of the world's economies. This will further depress potash prices (and fertilizer prices in general).
Some of the companies that will be hit hard by all of these bearish grain and fertilizer price trends are:
All of these companies had big stock price drops on the Uralkali announcement July 30, 2013. I am not sure you would want to sell them or short them immediately. They may rebound a bit in the next week.
Since they are already downtrodden, I am not sure you want to short them at all. However, I would not want to stay invested in these companies for the near term. They are too likely to see further downside in the near term. The fundamentals above are undeniable. Investors would be well off to sell these stocks soon, if they own them. The title says you should take profits; but even if there aren't any profits to take, you probably want to avoid further downside by selling them soon.
NOTE: Some of the fundamental financial information above is from Yahoo Finance.
Good Luck Trading.
Disclosure: I have no positions in any stocks mentioned, but may initiate a short position in POT, MOS, AGU, CF over the next 72 hours. I wrote this article myself, and it expresses my own opinions. I am not receiving compensation for it (other than from Seeking Alpha). I have no business relationship with any company whose stock is mentioned in this article.