The market did not treat shares of PulteGroup Inc. (NYSE:PHM) kindly following the release of their second quarter earnings. The stock gaped down on heavy selling volume (close to 32 million shares) to close lower by 10%. There were a number of "one-time" charges which the company incurred that depressed earnings per share, but the real issue appears to be in management's new "balanced approach". The company initiated a quarterly dividend of $0.05 per share (the first since 2008), increased the share repurchase program by $250 million to $352 million, retired $434 million worth of bonds and slowed the rate of unit sales to better control margins. While these may sound like prudent decisions by management, given current industry conditions, it left investors rather confused.
The housing market in this country is currently booming. And depending on which reports you follow, there are a multitude of factors which point to continued demand for homes over the coming years. In the chart below you can see the S&P Case-Shiller Home Price Index (left hand side), which shows a double digit pace of home price appreciation we are currently experiencing (the most recent release showed home prices increased by 12.2% year over year). The very low inventory levels (bottom right) show that supply is drastically lagging demand given historical levels. Additionally costs of home ownership now far outweigh renting (top right). A believer in reversion to the mean theory could make a compelling argument for this gap to be closing in the future (i.e. higher home prices). Given that every publicly traded homebuilding CEO has offered rosy outlooks for the future (including Pulte CEO Richard Dugas), one has to question why PulteGroup is returning capital to shareholders and paying down debt rather than reinvesting in the business.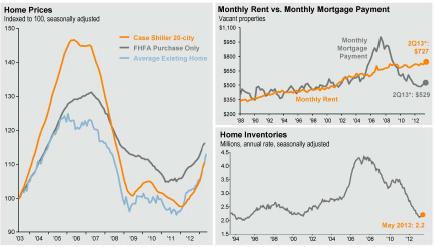 Source: J.P. Morgan Asset Management
Interest Rate Argument
The one headwind which continues to keep homebuilder stocks from climbing higher is the threat of higher interest rates. The argument appears logical, as higher interest payments can reduce a borrower's capacity to take out larger loans and thus alter consumer behavior. If consumers stop purchasing homes we will see home prices begin to stagnate and cut into the builders profit margins. However data shows us that there is no direct cause and effect relationship between home price increases and rising mortgage rates. A recent study by Standard and Poor's confirms this, over the past twelve and a half years there is no direct correlation between the two. Additionally, the general tone from management in the industry regarding rising rates appears quite promising.
We had a great test case for what a rising rate environment may look like a few months prior when Federal Reserve Chairman Ben Bernanke hinted at slowing down the asset purchase program and interest rates spiked 100bps (ten year treasury bond). Since this occurred during the second quarter of 2013, we are now getting a good idea from the homebuilding sector regarding how consumers responded. Below are a few quotes from management of various homebuilders regarding the increase in mortgage rates:
PulteGroup CEO Richard Dugas, "As I mentioned, with rates rising from such low levels and uptick can spur more buyers than it eliminates over the short term, although we have to see how this plays out going forward. We are in the camp that if higher rates reflect improving economic conditions, we would expect the housing recovery to remain on track. As an industry, we can sell more houses if people have jobs even with modestly higher rates."
Meritage Homes (NYSE:MTH) CEO Steven Hilton, "Despite the recent rise in interest rates and home prices, affordability remains excellent and demand for new homes continues to be strong in our markets, as evidenced by our pace of orders increasing over last quarter's pace and well above the second quarter of 2012."
Lennar Corporation (NYSE:LEN) CEO Stuart Miller, "Against the backdrop of recent investor concerns over mortgage rate increases, we believe that our second quarter results together with real time feedback from our field associates continue to point towards a solid housing recovery."
Toll Brothers (NYSE:TOL) recently told investors that the rise in rates is not effecting demand for new homes, but rather causing buyers to alter their purchasing behavior. Rather than purchase the 3,500 square foot home with $100k in upgrades, they are instead opting for the 3,200 square foot home with half the upgrades. Although this could put pressure on prices in the short term, the fact remains that new homes are still in demand and the under-supply in the market continues to provide profitable investments for builders. If you take time to logically think about rising rates and the Federal Reserve's position, it appears unlikely they will let rates move significantly higher without taking further action. And if rates do in fact move higher, then Mr. Dugas' comments above will likely play out as we see the economy strengthen sustainably on its own.
Why Isn't PulteGroup Participating?
Given the rising rates are not a significant headwind in the housing recovery, I struggled to understand why PulteGroup had such a new approach this quarter. If the large majority of homebuilders are taking on additional debt and acquiring raw land for what they believe is a sustainable recovery, why is Pulte all of a sudden changing direction? My initial thought was that management was afraid of another housing downturn. With the company's debt-to-capital ratio dropping to 47% (compared to 61% at the same period last year), and the net debt-to-capital (net of cash) ratio at just 26% percent, it appears PulteGroup is moving against the herd and into a more conservative position.
During the first quarter of 2013 the company increased its budget for land spending to $1.4 billion through 2013-2014. My thoughts from a prior article on PulteGroup were that we would see further borrowing (at low interest rates) and rapid land acquisition. As you can see in the chart below that did not occur this quarter. Inventory did not increase significantly, and the majority of cash was used to pay down debt rather than acquire land. Although the company bumped up the amount spent on land from $206 million in Q1 to $332 million in Q2, it was not enough to keep up with the heightened demand. New orders in Q2 dropped to 4,885 from 5,200 in Q1. In the second chart below you can see the breakdown of inventory levels over the past three reporting periods. Although the mix of inventory has changed, the overall level has not. Note: I included capitalized interest as a way to remove intangible assets from the level reported on the balance sheet.

Click to enlarge
(Click to enlarge)
Source: PulteGroup SEC Filings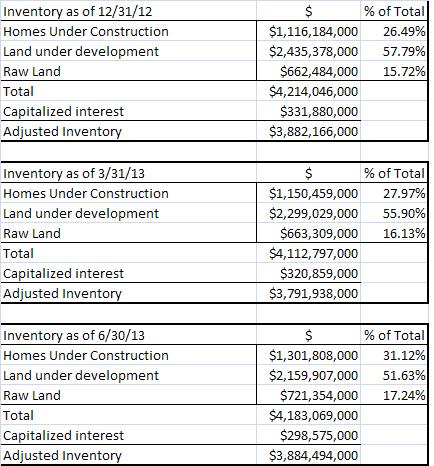 Source: PulteGroup SEC Filings
Another issue during the quarter was PulteGroup's failure to open new communities (likely why new orders fell). When asked by an analyst during the earnings call when we would see the community count grow, Mr. Dugas indicated further drops before bottoming out some point in 2014. We are not expected to receive guidance for new community openings until the fourth quarter of this year. Mr. Dugas also tried to calm investors by letting them know that, "we can grow earnings without relying strictly on unit growth … And we've done a nice job with that with margins. And as I indicated, we think there's more in that tank, to go." He also went on to say, "unit metrics got us in trouble in the last cycle by paying too much attention to that and trying to chase volume. We weren't making as good a land decision. So I feel very good about our ability to grow earnings and grow returns from here."
While I applaud the company for making prudent decisions, it appears this is the wrong time to be playing it safe. While I am not implying that Pulte should go on a raw land buying spree, it appears a more aggressive approach in the current environment is warranted. Although purely speculation, I wonder if the change in corporate headquarters from Bloomfield Hills, Michigan to Atlanta, Georgia is causing a distraction. The move strategically seems logical, but what effect is it having on the business? Pulte's competitors that are scooping up land at today's price levels appear better situated to have stronger margins down the road. Given the extremely low interest rate environment, opportunistic purchases, even if held for a few years still have the potential to offer substantial ROI. Considering the debt maturity profile for the company, the ability to take on additional debt at intervals between 2020-2030 would be very attractive at current rates.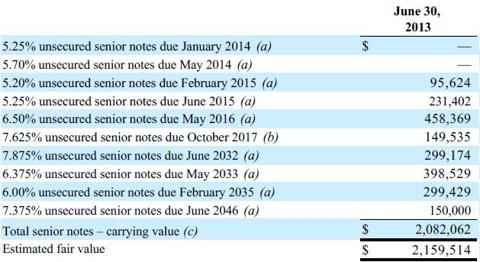 Click to enlarge
(Click to enlarge)
Source: PulteGroup SEC Filings
Valuations
Given that Pulte does not appear to be growing at the same rate as its competitors, one would assume that shares would be trading at significantly lower valuation levels. Depending on the metric you evaluate, this condition is not holding out to be true. In the chart below you see the price-to-book value ratio for PulteGroup and a handful of competitors. Even with the significant drop in share price, PHM is still the most expensive company in the group based upon this valuation.
PHM Price / Book Value data by YCharts
Evaluating the company utilizing a price-to-sales ratio shows shares of PulteGroup trading near the low end of its peer group. Given the outlook for lower community count, we are likely to see revenue at Pulte grow at a slower rate than its competitors. Shares appear to be fairly valued utilizing this valuation approach.
PHM Price / Sales Ratio TTM data by YCharts
Conclusion
While I was once bullish on PulteHomes given its diversified product mix (first time homebuyers in the Centex Brand, active adult communities in the Del Webb brand, and move up buyers in the Pulte Homes brand), I am changing my views on this company to one of caution. Given my robust expectations for a housing recovery, I still anticipate PulteGroup participating in the rally. However I expect them to lag many of the other publicly traded homebuilders. Taking a "balanced approach" during the early innings of a housing recovery is not likely to add value to shareholders in the long term. And although the backlog is rather strong (see table below), it could be much more robust if the company decides to increase the number of units it offers for sale.

Click to enlarge
(Click to enlarge)
Source: PulteGroup SEC Filings
If you are a believer in the economic data regarding a housing rebound then I would urge you to consider other homebuilders in the space. My top choice would be Toll Brothers, however there are many competitors who are located in faster growing geographic markets if you are looking towards a specific region. Consider your investment goals and objectives before initiating a position in PulteGroup and remember that the value of investments in equity securities, like PHM, will fluctuate in response to general economic conditions and to changes in the prospects of particular companies and/or sectors in the economy. Given the "balanced approach" by management, I would suggest investors look elsewhere to play the housing rebound.
Note: All data reported and graphed is pulled directly from PulteGroup SEC Filings, Investor Presentations, and Press Releases.
Disclosure: I have no positions in any stocks mentioned, and no plans to initiate any positions within the next 72 hours. I wrote this article myself, and it expresses my own opinions. I am not receiving compensation for it (other than from Seeking Alpha). I have no business relationship with any company whose stock is mentioned in this article.