If you're looking for growth in the auto-parts industry, which auto-parts company should you invest in? Should you invest in AutoZone to reap solid benefits in the future? Or do you think you should bet on other peers in this industry? In this article, I aim to deliver a clearer picture on where AutoZone and its peers stand. Our argument makes a largely statistical case for suggesting whether this stock is a smart bet for your profits.
AutoZone (NYSE:AZO) is one of the largest U.S. automotive parts and accessories retailers. The company has exceeded expected profits as the prolonged winter is now over and that's when U.S. customers repair their cars.
A year ago the demand was not high because of the warm weather and less wear and tear on vehicles. Because of the climate effect, the company currently shows a noticeable improvement in its performance. The U.S. Northeast and Midwest particularly look favorable with respect to overall performance for the last four weeks of the quarter compared to last year.
Tracking Financials
According to AutoZone, the second half of the fiscal year is expected be a faster growing period for the company because a severe winter has been predicted. Gross margin rose to 51.8% from 51.6% last year in the third quarter. The graph below depicts the change.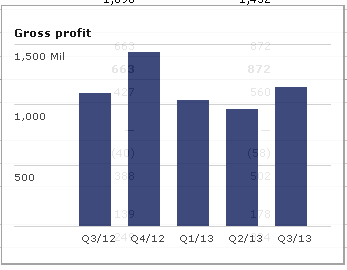 Since 2008 there is an upward trend in the revenues of AutoZone. The operating income has moved up parallel with the revenue and it reached 19.25% from 17.23% in 2008. Because of increases in revenue and operating income, the EPS shows constant growth. The ending cash flow from the last few quarters either remains stagnant or shows slight ups and downs.

In order to evaluate the financial position of AutoZone, it is better to perform a comparative analysis of the company with its competitors to know about the differences and similarities. The comparison will enable us to know about the company's actual financial standing.
Competition and Stock Performance
The strong peers in the auto-parts industry are Advance Auto Parts (NYSE:AAP) and O'Reilly Automotive (NASDAQ:ORLY). The sales for AutoZone rose 4.5% and reached $2.21 billion as per expectations. The competitor's sales fell by 0.1%. Similarly, net income rose to $265.6 million or $7.27 per share in the third quarter from $248.6 million or $6.28 per share a year ago.
Indicator

Price/Earnings ttm

16.9

16.3

24.8

Price/Book

-10.2

4.7

6.6

Net Income Growth (3Yr Avg.)

12.3

12.8

24.0

Revenue Growth

(3 Yr Avg.)

8.1

4.7

8.5

Dividend Yield, %

-

0.29

-

Return on Equity

-62.30

33.4

24.0

Current Price

440.73

82.33

123.57
Data from Morningstar on 30 July, 2013
AutoZone's net income growth is below the competitors' over the last three years. Revenue is growing at 8.1% per year over last three years. With P/E at 16.9, AutoZone is the highest priced Stock when compared to Advance Auto Parts and O'Reilly Automotive. Being a growth company, AutoZone plans to reinvest in the company for the near term rather than offer dividend payments to shareholders.
Every investor would probably go for a stock that performs well in the market for an extended period of time. Investors generally look for two things: minimum risk and maximum return. Below, the graphical representation of AutoZone along with its competitors reveals facts about the company. A five-year (annual based) and one-year (monthly based) performance is graphed. A consistent increase in the price of the stock signifies AutoZone's struggle and as a result, it has not yet succeeded in beating the market.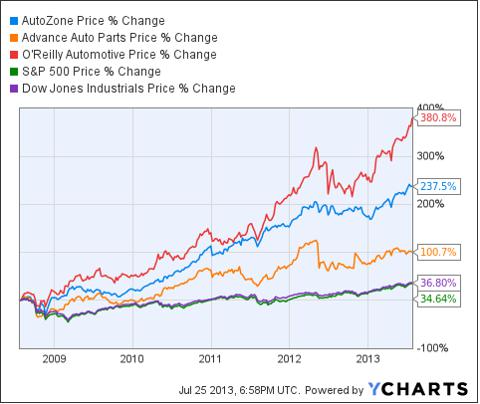 The company maintained its consistent growth after the great recession. From 2009 onward the company has been growing continuously because of budget minded customers. These economical customers focused on repairing old vehicles instead of buying new ones. If economic conditions remain tight, then AutoZone will enjoy a brighter future because of the fact that consumer demand for spare parts and other accessories will rise, and less will be spent on buying new cars.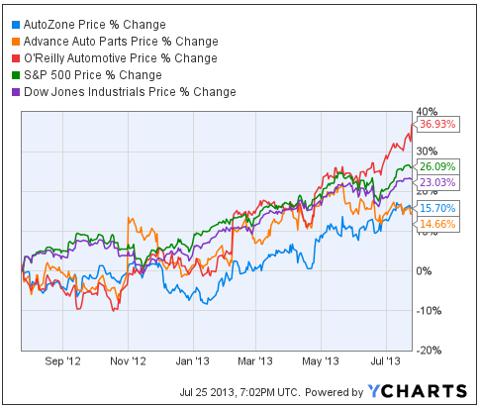 The company performed well after the prolonged winter and shows an upward trend in the final quarter of the year. AutoZone is optimistic for the second half of the year, too, because of the severe winter expectation that will definitely drive up auto repairs.
Make or Break for Investors
After making a careful analysis, AutoZone seems not an attractive call to investors building a healthy portfolio, when compared to O'Reilly Automotive. At the same time, AutoZone stock has performed satisfactorily because stagnation or slow economic growth induced the economic minded customer to opt for repairing their vehicles instead of replacing or buying new ones.
AutoZone is one of those rare companies that normally performs better at a time when the economy is not performing up to expectations. If we go back to the period of the last recession, automakers like Ford (NYSE:F) and General Motors (NYSE:GM) saw their sales drastically go down for new vehicles. People were still in need of vehicles so the better option was to repair the existing vehicles and that's why AutoZone has benefited.
AutoZone stock remains near its highs at the time when the economy is moving toward a recovery. The recent correction measures gave birth to certain speculation and raised the doubts of a double-dip recession occurring, which once again favors the aftermarket automotive parts and accessories retailers. It basically reawakens the vehicle-maintenance cycle and brings down the sales of new vehicles.
In the last few years AutoZone's earnings are healthy and its beta stands at 0.30%, which shows a comparatively better performance. The shareholder equity is negative, which may raise apprehensions but the reason is the massive share buybacks, which is a part of its policy to return cash to shareholders instead of paying them with dividends. The company finances these buybacks through debt, which makes the AutoZone's balance sheet uglier than its competitors.
Bottom Line
AutoZone's stock is closely tied to economic conditions. If economic conditions remain tight and tough, then there is a good chance that AutoZone will get another boost due to higher consumer demand. But if a true economic recovery takes place, then AutoZone might not be the better choice for investors in the foreseeable future. AutoZone stock will perform the best if the economy worsens.
Disclosure: I have no positions in any stocks mentioned, and no plans to initiate any positions within the next 72 hours. I wrote this article myself, and it expresses my own opinions. I am not receiving compensation for it (other than from Seeking Alpha). I have no business relationship with any company whose stock is mentioned in this article.