With consumer spending sapped over the past year by a sinking economy, massive layoffs, and tanking home prices, investors have been concerned with the financial health of retail stores. At the start of the second quarter earnings report season, conventional wisdom believed that off-price retailers would fare well while luxury retailers would be hit as consumers focused on price and necessities.
Second Quarter Report Card
Most retailers have now reported their fiscal second quarter earnings. Much to the relief of investors,
earnings have not been as bad as feared.
Offsetting steep declines in sales with store closures, inventory cuts, and other cost reduction measures most retail stores beat second quarter earnings forecasts.
While industry profits declined for the ninth straight quarter, the 8% decline in year-over-year second quarter earnings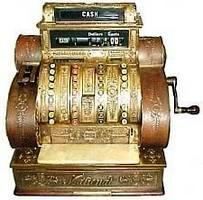 was less than half the magnitude estimated at the depth of the recession in late March.
There were some surprises too.
Discounter Wal-Mart (NYSE:WMT) reported ho-hum results while competitor Target (NYSE:TGT) exceeded analysts' forecast by nearly 20%. In high-end retailing, Nordstrom (NYSE:JWN) reported profits in line with analysts' forecast while Saks (NYSE:SKS) lost less than feared.
Among building materials retail stores, Lowe's (NYSE:LOW) disappointed while Home Depot (NYSE:HD) did not. In department stores, Kohl's (NYSE:KSS) reported a profitable quarter while J. C. Penney's (NYSE:JCP) results broke-even. Dillard's (NYSE:DDS) bled red ink at a lower rate than forecasts as the same-store sales declined for the 12th straight quarter.
What's Ahead for Retailers and Retail Stocks
Retailing industry revenues appear to have stabilized albeit at a low level.
Retail stocks as measured by the S&P Retail Index (RLX) are up nearly 24% since Jan. 2 outpacing the S&P 500's 12% gain.

click to enlarge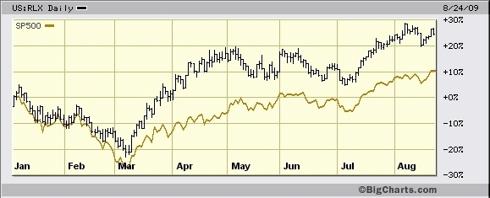 Many retail industry chiefs are cautious in their outlook.
There are few signs that consumers will quickly increase their discretionary spending. Unlike previous recessions, consumers are not relying on credit cards to finance their spending. For one, consumers are de-leveraging and saving more of their income. Second, financial institutions have raised lending standards and lowered credit limits.
The back-to-school shopping season has been relatively subdued so far. There may be some hope here however as several states go on a 'tax holiday' this weekend.
On the brighter side, retail shares also have a few factors going for them.
Year-over-year sales comparisons for retailers stand to become easier in the months ahead. Retailers will not have to measure up against sales boosted by last summer's stimulus checks. Further, the steep fall in retail sales cratered during last year's fourth quarter should help comparisons.
Following positive earnings surprises in second quarter, analysts have been raising their full-year earnings forecasts for many retailers.
Investors with a healthy dose of risk appetite can find some attractive opportunities in the retailing landscape.
Mutual fund investors can look at no load funds from Fidelity Investments and Rydex Investments.
Fidelity Select Retailing (FSRPX)
with nearly $145 million in assets has an expense ratio of 1.06%. In comparison,
Rydex Retailing (RYRIX)
has nearly $115 million in assets and sports a 1.32% expense ratio.
In the ETF space,
SPDR S&P Retail (NYSEARCA:XRT)
is a popular choice for investors. XRT is an equal-weighted ETF that holds positions in about 50 to 60 retailer shares. With over $360 million in assets, XRT has an expense ratio of 0.35%.

PowerShares Dynamic Retail (NYSEARCA:PMR)
uses a selection algorithm that chooses securities based on their fundamental growth, valuation, investment timeliness and risk factors. PMR has nearly $60 million in assets and a 0.60% expense ratio.

Merrill Lynch Retail HOLDRS (NYSEARCA:RTH)
is an exchange-traded investment vehicle that focuses on the retailing sector. The HOLDRS is a unit trust. RTH has invested its assets of $394 million in 18 retail names.
Investors looking for stocks ideas can consider furniture retailer
Kirkland's (NASDAQ:KIRK)
and discount retailer
99 Cents Only Stores (NYSE:NDN)
. Both companies that have put together an impressive string of positive earnings surprises in a challenging retail environment. KIRK and NDN are retailers that make it through Zack's stock screen for 'Two in a Row 10% or more Positive Surprises'. KIRK trades at a forward P/E of about 15 while the less-volatile NDN shares change hands at a 19X forward P/E.