CME Group Inc. (NASDAQ:CME) is not far from the level it was at on May 14th when ZachStocks recommended a purchase. Since that time, the CFTC has stepped in with proposals to limit position sizes for commodity trading – certainly a negative for companies like CME who rely on active speculators who need CME's execution and clearing services. But while the potentially negative news drove the stock lower for a few weeks, it now appears that investors are regaining confidence and supporting the current stock price.
CME has been very active in launching new products as I count nine different press releases which unveil the new products in this quarter alone. One of the benefits of having a robust execution and clearing platform is that additional products are able to be rolled out without much in the way of fixed costs – the platform has already been built and funded. Marginal costs for new products are very low and so the financial risk for the company is minimal even if the new products fail to attract trading volume from market participants. It only takes one or two successful deals to make many attempts worthwhile.
The last 18 months have proven just how important it is for financial products to be cleared. The clearance process simply involves a third party (CME in this instance) to act as a guarantor between buyer and seller – so that both parties of the transaction have faith that the terms of the contract will be met. Lehman Brothers and AIG (NYSE:AIG) showed the world what can happen when large financial institutions are unable to meet the terms of their agreements with counterparties.
Essentially CME's clearance arrangement requires both the buyer and seller to put up margin capital which is a buffer to cover any losses for either party as a contract moves within its trading range. Positions are "marked to market" periodically and the margin is shifted between buyer and seller to represent the unrealized gain or loss on the transaction. If the margin account drops to a pre-determined low point for the losing party, he will be asked to put up more capital to cover the trade. If this is not done in a timely manner, CME will close out the position automatically thus covering their own risk in the event that the losing party would not be able to cover the losses.
In this business, the important thing for CME is to accurately measure the risk in each trade which is a function of the volatility of the contracts as well as the correlation between many contracts traded by single customers. The process is much more complicated than the outline above, but for those who are new to this sector, I thought the explanation would be helpful. Essentially, as CME is able to properly manage their risk, the profits in this business can be very lucrative. And as more large trading contracts are required by regulatory bodies to be cleared, there is more business for CME to capture.
Currently the stock is trading at about 21 times expected earnings for this year. However, this year should represent a trough in earnings with a 15% increase next year. Analysts are likely offering conservative guidance for the next few quarters as volatility in markets has increased risk assumptions but it appears analysts are skeptical that CME will be able to develop more business through its new contract offerings. Management, however, appears to have a positive outlook on business trends.
Going forward, we anticipate that gradual economic improvement will provide further opportunities to serve existing and new customers around the world with our product mix, which covers all major asset classes, as well as with our superb clearing services and technological resources.

~Terry Duffy, CEO
Currently, CME pays a healthy dividend of $1.15 per quarter. This translates to a dividend yield of 1.67% which is not necessarily a good reason to buy the stock, but it does show financial strength as the company would likely be retaining cash if it were not confident in its long-term profitability. The balance sheet currently has long-term debt at $2.7 billion which sounds large, but is adequately covered by the company's assets. Aggressive cost cutting has allowed the firm to remain lean and profitable and will likely lead to even greater earnings growth once the effect of improving markets and new products kicks in.
I would consider buying CME up to a price of $300. Technical traders may wish to wait for the stock to break out of its current holding pattern which would mean buying just above $290. Options traders may want to consider selling the December 300 calls against the position which are currently offered for roughly $15 per share. Keep in mind that if this contract is close to being in the money when the dividend is paid, you will likely be exercised early so that the call buyer can collect the dividend. This simply speeds up the trade and allows you to re-invest the proceeds from the exercise in your next opportunity.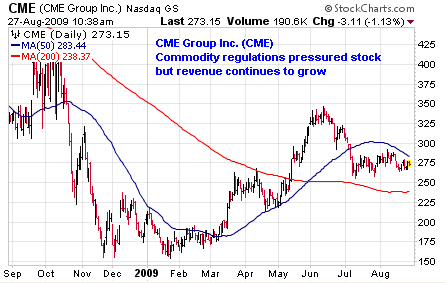 Disclosure: Author does not have a position in CME.