Apple (NASDAQ:AAPL) is not only the world's second most valued company, but also has the world's best balance sheet in terms of the absolute amount of cash and investments. The company's cash + short-term investments + long-term investments total a gargantuan ~$130 billion. To give you some perspective regarding the size of this cash pile, AAPL could buy the world's biggest semiconductor stock Intel (NASDAQ:INTC) outright (current market cap of ~$115 billion) and still have a large amount of cash left over.
Apple's stock has been stagnant in the last six months, despite the company announcing the biggest stock buyback in history. The company has been hurt by the rising competition in its core smartphone and tablet markets. Samsung (OTC:SSNLF) has managed to increase its smartphone market share even as Apple's share has come down. The iPad is also facing huge pressures from cheap Android tablets. The new Google (NASDAQ:GOOG) Nexus 7 tablet also seems equal if not superior to the iPad Mini, and costs considerably less by around ~$100.
I have been positive on Apple's stock given that its valuation is quite low and that the company is ready to embark on a major product refresh. However, I think that Apple is being a bit too slow, especially compared to its rivals, which seem to be running circles around the company. I continue to remain positive on the stock at the current moment, but will watch carefully on the timing and quality of the new product launches.
What Is Pressurizing Apple's Stock
1. Falling smartphone market share: Apple's smartphone market share has declined by almost three percentage points to 13.6% in the current quarter, according to Strategy Analytics, as its rivals both big and small capture market share from the company. Although it managed to sell more smartphones than expected this quarter at 31 million, the lower-margin iPhone 4 contributed a lot to these increased shipment numbers. According to CNBC:
Samsung's operating profit for its handset division stood at $5.2 billion in the second quarter of 2013, according to research firm Strategy Analytics, compared to Apple's estimated iPhone operating profit of $4.6 billion. It marks the first time the Korean firm has overtaken its U.S. rival.
2. Even sharper fall in iPad market share: I think that Apple's tablet market share is going to fall sharply in 2013, from the 50%-plus global market share in 2012. Google has managed to improve its Android tablets quite rapidly over the last year. The new Nexus 7 beats the iPad Mini both in terms of display and processing power. Though Android does not provide as good an experience as iOS, it is rapidly catching up. Google's advantage over Apple is that Google does not really focus too much on hardware margins, and its Nexus 4 smartphone was sold at cost. Apple sold only 14.6 million iPads in the current quarter compared to last year's 17 million shipments. Although some of the decrease was attributed to inventory adjustment, it is still a negative surprise given that global tablet shipments are increasing by more than 50% year on year. According to CNET:
Without getting too technical, the second-gen Nexus 7 uses a display technology (called low-temperature polysilicon, for those keeping score) from Japan Display that has been used, to date, only on phones like, ironically, Apple's iPhone 5 (which has a pixel density of 326, just slightly more than the new Nexus 7). ... Whatever the case, you can pick up the new Nexus 7 for $230 at some Best Buy stores as of Friday. That's about $100 less than Apple's cheapest Mini (which I also own) but with a much better screen and a faster (quad-core) processor.
3. Competitors are innovating faster in shorter product cycles: Apple traditionally follows the one-year cycle in introducing the new versions of its blockbuster products. However, competitors are following shorter product cycles to create a buzz around their brands. Microsoft (NASDAQ:MSFT) and Nokia (NYSE:NOK) too have considerably shortened their product cycles. MSFT is set to launch the new Windows 8.1 soon. Competitors are also coming out with new products and putting more pressure on Apple, which has traditionally created entire new multibillion-dollar product categories. Google has already introduced a beta version of Google Glass and has raised the stakes in TV competition by launching the super cheap Chromecast device at just $35.
Waiting for iGodot
Apple is set to launch the new versions of its iPad and iPhone products by the end of the year during the crucial holiday season. There are also rumors of new product launches in the form of an Apple TV and an iWatch. Apple's investment case rests on how quickly it can launch these products and the differentiation they create in the market from "me too" Android products. Apple has huge brand loyalty and its products get a large premium over other similar technology products. However, to maintain that edge Apple will have to bring better and newer features. The stock has been hammered over the last year as the company has not launched any new products.
CEO Tim Cook has indicated that the company will introduce a wave of new products by the end of this year. This should help the stock price go up as the media chatter about the new products will create excitement about the stock price. During the recent quarterly conference call, Apple's management was evasive about the new products and their launch dates -- though the company recognizes that Apple's position as the No.1 technology company will depend on creating new products that will wow users rather than through incremental updates. As noted in the earnings transcript:
Well, from a growth point of view for Apple, our key catalysts will be -- always will be -- new products and new services, and these are above in existing categories that we're in and in new categories.
What Could Make Apple's Stock Shoot Up
I don't think that Apple's revenue or profit numbers are going to grow meaningfully with the newer versions of the iPad and iPhone. The company obviously needs to introduce new features and better hardware as competitors have caught up and even jumped ahead of iPhone in 2013. The major catalysts for the stock will be in the form of the following:
iPhone Lite: I think this product will be Apple's most crucial product launch for the next two years. The tradeoff that Apple makes with margins, cost, and phone features will be extremely crucial for the company's top and bottom lines. I have absolutely no doubt that Apple will have to focus considerably on the mid to low end of the smartphone market. This market has become huge and many small companies have become billion-dollar players by focusing exclusively on this segment. Apple will have to play in this segment, otherwise its rivals will attain the scale and size to directly challenge Apple in its core Western markets.
iWatch: Apple has not really introduced something groundbreaking in the last few years after the iPad introduction. The iWatch will be a new technology gadget, and given Apple's past history it's not difficult to see Apple creating another billion-dollar product in a few quarters. Apple has been working hard on creating this new product and it remains crucial to maintain the company's reputation as a technology innovator. Google has been stealing Apple's thunder recently with the launch of Google Glass and Chromecast. While iWatch may not be as material to Apple's top line as the iPhone Lite, it might help the stock more.
Stock Performance and Valuation
Apple's market capitalization of ~$400 billion is not high considering that the company generated nearly $40 billion in FCF last year and has nearly ~$130 billion of net cash on its balance sheet. The stock has a forward P/E of just 10x, which would become just 6.5x if you exclude the cash on the balance sheet. The stock went up by nearly 5% as the company's Q2 2013 results were better than expectations. The revenues climbed up slightly year on year, even as the net profits came down sharply due to lower gross margin.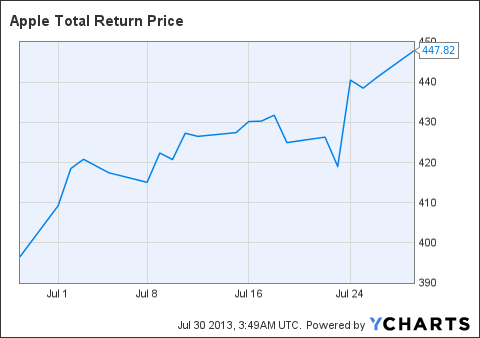 Summary
Apple has managed to stem the decline in its top line, even as the bottom line declined due to lower margins. Apple's stock is in wait-and-watch mode and is stuck in the $400-$450 range. The company's future stock performance is heavily dependent on new product launches at of the year. The investment case for Apple lies primarily on buying the stock before the start of a major new product cycle.
The recent product launches of the new MacBook Pro and new iOS were not major and did not affect the stock price. Like Intel, Apple cannot afford to miss on the timing and quality of the new products. The stock's valuation is quite low and currently does not seem to be discounting the possibility of Apple being able to launch major new category creators.
Disclosure: I have no positions in any stocks mentioned, and no plans to initiate any positions within the next 72 hours. I wrote this article myself, and it expresses my own opinions. I am not receiving compensation for it (other than from Seeking Alpha). I have no business relationship with any company whose stock is mentioned in this article.