Chesapeake Energy (NYSE:CHK) is a 24-year-old oil and gas company, specializing in discovering and developing unconventional natural gas and oil fields onshore in the U.S. The company operates in three distinguishable and reportable segments: natural gas, oil and NGL, marketing, and oilfield services. Revenues from the first segment have been sluggish due to depressed natural gas prices, but the other two segments have been catching up:
Click to enlarge images.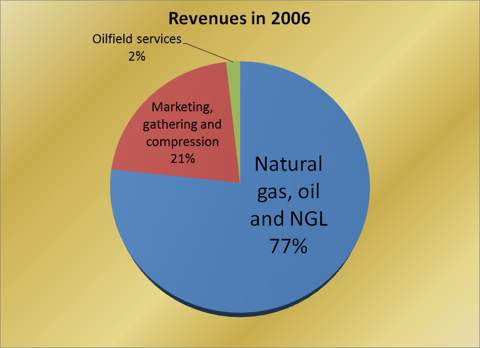 Click to enlarge
Vs.: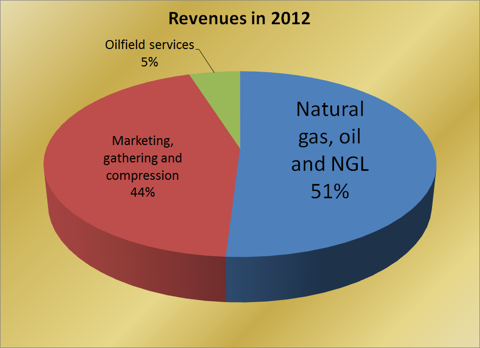 Click to enlarge
As one can see, the company started to diversify its operations to hedge its business risks to some extent. Here is Chesapeake Energy's stock performance over the past five years compared to the broad S&P 500 Index: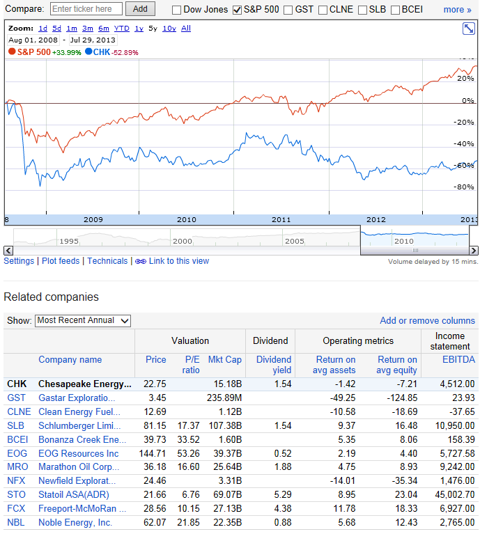 The share price was hit hard in 2008, and the stock fell by almost 80% within months. It has yet to recover, while the S&P 500 benchmark is trading 20% above those levels (and about 8% higher than the record of October 2007). The negative returns on assets and equity arises from Google Finance's inability to factor out one-time shocks and non-cash expenses: Chesapeake Energy was hit hard in 2009 and 2012 with impairment charges of $11.2B and $3.4B, respectively. Over the past five years the company wrote off approximately $17B of assets, a huge blow, compared to the current figure of about $38B in net PP&E.
After looking through the company's financials I outlined for myself five things that I do not like about Chesapeake Energy:
Enormous Debt
Weak Interest Coverage
Negative Free Cash Flow
Negative Working Capital
Dilution
Since I have a mania towards models (mostly financial ones), I have also enclosed a quasi-DCF version, which quite well reconciles the current stock price to the fair value of the company's equity.
Enormous Debt
Chesapeake's major pitfall has been its propensity to issue debt to acquire assets. In spite of the recent property sales aimed to reduce debt burden, Chesapeake Energy had approximately $13.5B of long-term debt on its books, compared to the total equity figure of almost $16B and market cap of $15.2B as of Monday, July 29, 2013, close. For the past 10 years the liability side of the company has looked like this: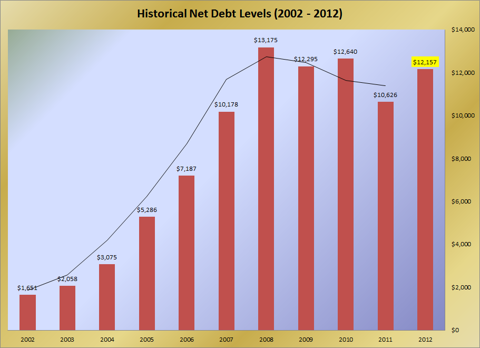 Click to enlarge
Long-term debt increased eight-fold in just seven years before it peaked in 2008. Since then it has been on a slide -- or has it? Let us focus for a moment on the Contractual Obligations section in the most recent 10-K: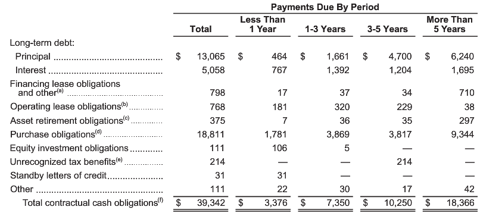 Click to enlarge
Here the picture looks radically different: the total financial debt (including future interest) is above $18B. On top of that, Chesapeake Energy has another ~$1.5B in leases, $375M in AROs, and whopping ~$19B purchase obligations. Now compare that figure of ~$39B to a mere $15.2B in market capitalization: the company's equity really resembles more a bond with a call option. The good thing about that rather large purchase obligations figure is that it does not bear interest and adds nothing to the expense section of the Income Statement. Even so, Chesapeake's long-term debt exceeds the company's market cap by a decent margin.
To holders of Chesapeake Energy's shares: I am not trying to convince you to get rid of the stock, but I encourage you to look at what happened to the price of shares when the market had began to tumble in 2008. I believe one of the major reasons for that free fall was the high levels of financial debt on the company's balance sheet.
Weak Interest Coverage
The figures on the income statement show that interest expense in 2012 was a mere $77M compared to adjusted for impairment Operating Income of $1.7B. Of course, this is more than sufficient to cover such "small" interest charges. However, be patient: the full picture opens up here:

Click to enlarge
Interest expense on all three types of loans added up to $975M in 2012. It floated between about $700M and $800 in the two previous years. The numbers are significant but Chesapeake pulled out a trick with Capitalized Interest, a very important term to understand. Essentially, capitalized interest is interest added to the cost of a project, which was largely financed by debt. In other words, in some cases if a company finances building of a project with debt, it can add interest incurred on top of the overall cost of the property, thus inflating the cost basis of PP&E. Of course, this is a valid practice but do investors recognize its effect on the company's cash flows?
Even if Chesapeake Energy has not paid interest on these debt instruments yet, it will surely bring forward the cash to pay for these loans in the future. Otherwise, these figures have hit the cash flow statement and showed the true state of affairs. Suddenly, the Interest Coverage multiple drops from 20s to about 2X. To be more accurate, let us use the operating cash flow figure of $2.8B: at ~3X it is still not that great. To sum up, pay attention, read the Notes, and run numbers if necessary. This may help you explain why certain stocks look "cheap."
Negative Free Cash Flows
For a business to deliver true returns to its owners it must generate free cash flows. This is partially the reason why investors love companies like Coca-Cola (NYSE:KO), Exxon Mobil (NYSE:XOM), and other blue chips. Now, let's turn to Chesapeake Energy:

Click to enlarge
I performed two similar calculations on free cash flows in order to get a more accurate picture. The first method is classic: EBIT(1-Tax Rate) + Depreciation and Amortization - Change in Net Working Capital - Capital Expenditure. Here I only excepted "Change in Net Working Capital" as I did not feel it was necessary to include (next topic explains why).
The second method is simple: subtract Cash Flows from Investing Activities from Cash Flows from Operations. In both cases it is vivid that Chesapeake has been having troubles with delivering FCFs. What does it mean to investors? It is not necessarily bad because Chesapeake Energy is by all standards a new company and needs to make investments in order to expand and succeed. Things to watch out for:
Can these investments generate returns high enough to cover this "gap" in the long run (considering price per MMBTU of ~$3.45)?
Problem of dilution arises when the company cannot finance new projects and acquire new properties with debt infinitely.
Negative Working Capital
I have looked into books of Chesapeake Energy's competitors, such as EOG Resources (NYSE:EOG) and Marathon Oil (NYSE:MRO) (comparable by absolute EBITDA) and found out that some companies in this sector tend to have current liabilities larger than current assets (Marathon Oil is an example). If it is an industry thing, it may not raise red flags for stakeholders, but it certainly does not add comfort. This is especially true when it happens year after year (year 2012 on the left):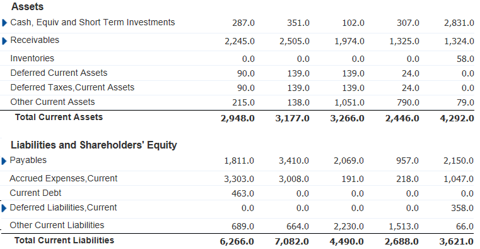 We can certainly see that Acid-Test ratios are out of the picture: Cash levels have been quite alarming for the past four years. On the other hand, the company managed to survive with such parsimony. This brings me to a conclusion that this is a matter of risk management for investors rather than an indicator of potential bankruptcy.
Dilution
Issuance of shares trumps the bottom line: if you are a type of "ratios investor," please spend some time in a company's cash flow statement. People who love P/Es must know that there are two sides to EPS, and that an increase on the top is no good if the bottom expands. Chesapeake Energy, due to its young age, is exactly this sort of a company: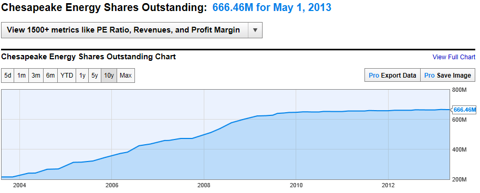 Click to enlarge
The number of shares outstanding increased at least threefold in the last 10 years. On top of it, the actual number of fully-diluted shares outstanding is 763M. The reader can see that share dilution plateaued in 2010. Now consider the possibility of further dilution at current debt levels: who knows, the management may want to combine current asset sales with issuance of some common shares in the not-so-current future. This definitely will not help the weak EPS figures we have seen so far.
Valuation
Before I present my numbers I would like to say words of encouragement to stockholders of Chesapeake Energy's shares. First, the company's two other businesses, marketing and oilfield services, have done remarkably well: The former has been growing at a CAGR of 23% since 2006, while the latter has been expanding revenues at a CAGR of ~38% since the same time. Although these businesses have been low-margin so far, their operating figures are a lot less volatile than the core natural gas segment. Second, production in the natural gas segment has been growing at a CAGR of ~19% since 2004. This is a praiseworthy result.
The calculations are available in the downloadable workbook. I'll post only the output of the model: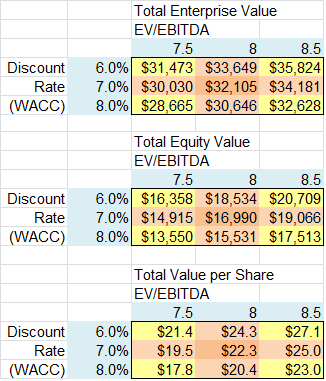 Graham Number
Given LTM EPS of $1.15 and Q1 2013 book value per share of $20.58, I have calculated the Graham Number to be ~$23.1 per share.
Summary
Chesapeake Energy has had a lot of troubles caused by the crisis of 2008-09, including depressed prices on natural gas. It still has serious financial issues in terms of debt levels, stability of cash flows, low cash levels, and other items. On the other hand, the company progressed well in operations: It has notably increased production over the last decade and has been growing two other segments at double-digit rates. This is a long-term play for current investors, and should definitely become an item on the watch list for active players.
Conclusion
Numbers suggest that Chesapeake Energy is trading at or slightly below its fair value. I do not suggest adding new positions at this point, especially since the stock is trading at its 52-week high ($22.97), and issue a "Hold" recommendation here. Personally, I do not like companies with excessive debt and negative free cash flows. However, those who like to take risks should take a closer look. After all, there is a significant upside potential in this company -- it has been lagging the Index for long enough.
Disclosure: I have no positions in any stocks mentioned, and no plans to initiate any positions within the next 72 hours. I wrote this article myself, and it expresses my own opinions. I am not receiving compensation for it (other than from Seeking Alpha). I have no business relationship with any company whose stock is mentioned in this article.