Tata Motors, Ltd. (NYSE:TTM) is based in India and it makes affordable cars, which are popular in that country, but it also owns premium brands like Jaguar and Land Rover. This company bought those brands from Ford (NYSE:F) just after the 2008 financial crisis in what has turned out to be a great deal for Tata Motors. Many investors may not know that it owns these premium brands, but that could change over time. Tata Motors is one of the largest companies in India and a recent drop in equity prices in that country (and other emerging market countries) has led to a significant buying opportunity in Tata Motors, which appears dirt-cheap when compared to other global auto stocks. Let's take a closer look the reasons why this stock was recently added to the Goldman Sachs "conviction buy" list, and why it looks like a great bargain now: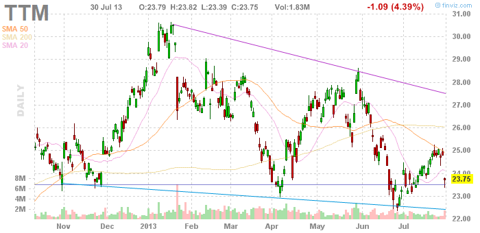 As the chart above shows, this stock was recently trading for $25, and even over $28 per share in late May. However, the stock has come under some undeserved selling pressure due to the sell-off in emerging countries, like India. On July 30, a Barron's article pointed out that the Reserve Bank of India left its benchmark interest rate unchanged, and this sparked a pullback in many stocks based in that country. This is providing investors with a great buying opportunity as Tata Motors is a global automaker that is far less tied to the local economy in India than many investors may realize. The chart above also shows that this stock has often rebounded whenever it traded around the current level of $23.75, and this is just one more reason to buy on this pullback.
As a global automaker, Tata Motors shares are likely to shake off the pullback that was caused by the interest rates being left unchanged in India in the coming days, and that could put the shares back to around $25 or more. Another recent positive that could fuel this rebound is the fact that analysts at Goldman Sachs upgraded this stock on July 29, by adding it to its "conviction buy" list. An article details the bullish view that Goldman Sachs has for rising revenues, improved cash flow, and higher profits at Jaguar and Land Rover or "JLR" by stating:
We believe JLR is in a decisive phase of its multi-year product cycle, as its average model age converges with European rivals over FY14E-FY15E (currently 40% older), and its strongest brands get repositioned on an innovative new aluminum platform. Our recent visit to its plants further reinforced our view of a company which is rapidly transforming its operations to support the step up in its product cycle.
Jaguar and Land Rover sales should continue to benefit from the introduction of new models, including a new "Discovery" and the new Range Rover. The company is also focused on improving delivery times to England and China where these brands are popular and seeing strong growth.
Investors who view Tata Motors as just another company from India, or as one that makes more affordable cars are missing out on the big picture and major upside potential. This company is a global player with some of the most coveted premium brands in the auto industry. Furthermore, in 2012 only about one-third of its annual revenues were derived from India, so this stock dropping by over $1 because of a general sell-off in the Indian equity markets is unfounded. I believe that the Jaguar and Land Rover brands are almost hidden assets when you compare the valuation of this company to other auto stocks. This undervaluation is not likely to last indefinitely and some investors and analysts believe that Tata Motors might ultimately spin off these brands in an IPO. One Barron's article points out another very simple way to unlock hidden value from this stock and that could be by changing the name from Tata Motors to Jaguar Land Rover. The article goes on to point out that this stock is cheap and that the company is seeing explosive growth in China, it states:
For starters, at an enterprise value to Ebitda of 3.5 times for the entire firm, the stock is cheaper than larger rivals BMW and Daimler (DAI.Germany), which trade for closer to eight or nine times. Tata doesn't have the breadth and scale of these rivals, but it deserves more credit for its strong sales. It also has more room than its peers to broaden its distribution and move into new markets, says Eric Turner, global analyst at Turner Investments. Global Jaguar Land Rover sales rose 30%, to 357,773 vehicles, last year. And sales in China jumped 74% in the past 10 months, as that market overtook the United Kingdom as Jaguar Land Rover's largest market.
Investors should consider potential foreign currency exchange risks, and of course management execution risks. The biggest potential risk for investors to consider would appear to be a major global recession that could impact luxury car sales. However, that risk appears quite limited at this time. In fact, the global economy could be getting better by next year. The economy in Europe appears to be stable and many analysts believe that auto sales in that region are poised to rebound in the coming months. While the economy in China has seen slower growth in recent months, officials in that country are still targeting growth of over 7% annually. When you see a 74% jump for Jaguar and Land Rover sales in China, (as mentioned above), being bearish now seems plain silly. Tata Motors has a solid balance sheet with about $5.41 billion in cash, which is equivalent to $8.47 per share. This financial strength reduces risks for investors.
Shares of Tata Motors have underperformed Ford and other car makers but it could be poised to play catch up. I have been bullish on Ford for awhile but I recently took profits due to a strong run in the stock and have invested those funds in Tata Motors. Just take a look at the chart of the company that used to own Jaguar and Land Rover below: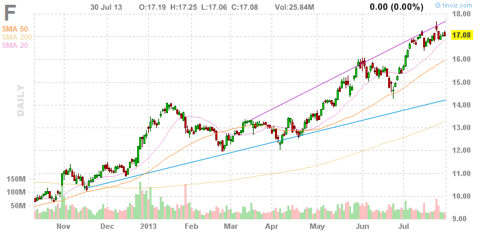 Ford and many other auto stocks that are not based in an emerging market country have soared to new 52-week highs. This has created a major valuation gap that investors should take advantage of now. With Ford trading around $17 and Tata Motors trading for about $24, you can buy a share of Tata for just a few dollars more, and yet you are getting a stock that is expected to earn twice as much per share as Ford. For example, Tata Motors is expected to earn $3.25 for this year and $4.03 per share next year. That means the stock is trading for just about 6 times next year's earnings. By contrast, Ford is expected to earn $1.52 this year and $1.75 per share in 2014. That implies a price-to-earnings ratio of about 10-12 times. Based on that valuation, Tata Motors shares could be worth as much as $48. I don't expect it to trade at that level soon, but the stock does appear to be dirt-cheap based on its earnings per share potential and the future possibility for a name change or spinoff of Jaguar and Land Rover. With the charts showing that Tata Motors shares have strong support around current levels, and with the stock looking very cheap in terms of fundamentals, the current pullback is a buying opportunity that should not be missed.
Here are some key points for TTM:
Current share price: $23.75
The 52 week range is $19.75 to $30.85
Earnings estimates for 2014 (fiscal year): $3.25
Earnings estimates for 2015 (fiscal year): $4.03
Annual dividend: 18 cents per share, which yields about .7%
Data sourced from Yahoo Finance. No guarantees or representations are made.
Disclosure: I am long TTM. I wrote this article myself, and it expresses my own opinions. I am not receiving compensation for it (other than from Seeking Alpha). I have no business relationship with any company whose stock is mentioned in this article.
Disclaimer: Hawkinvest is not a registered investment advisor and does not provide specific investment advice. The information is for informational purposes only. You should always consult a financial advisor.