By David Goodboy
I am usually not much fun at parties or other social situations.
I'm not dour or unfriendly by any means, but most consider my interests and passions uninteresting at best and mind-numbingly boring at worst. Rather than keeping up with the Kardashians or Kanye West, I prefer to read magazines like The Economist, Forbes and Institutional Investor. I also attend investing seminars, conferences and other business-oriented events instead of college football games. I generally try to avoid situations and events that don't strike my fancy.
But I was recently roped into a fundraising party for a local politico. Joining a conversation with several environmentalist types gave me an investment idea that's more powerful and relevant than I have gleaned in a very long time from my traditional sources.
The environmentalists were discussing how computers have actually increased the global use of paper. Back in the 1980s, computers were lauded for their potential to create a paperless office. But the truth is, global paper consumption has increased by 50% since the '80s. Each year, the average American uses the equivalent of nearly six 40-foot trees in paper form, according to The Economist.
My environmentalist friends were upset about these facts as the hope of a paperless society continues to fade. This led me to think about the increasing demand and steadily escalating pressure on the supply, which makes the paper business sounds like a lucrative investing opportunity.
As soon as I returned home, I ran technical scans on publicly traded paper companies. One company's stock performance and fundamental picture was absolutely stunning. So with a nod to the environmentalists who inadvertently inspired this capitalist, here's a close look at this nearly perfect company.
The company I'm talking about is Neenah Paper (NP).
This paper company has been tearing higher this month. Take a look at the chart below.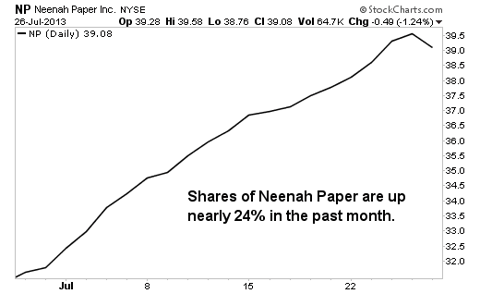 Click to enlarge
(Click to enlarge)
The powerful technical picture is what first sparked my interest in the company. The stock has surged from the $31 range to nearly $39 in just the month of July. That's a stunning uptrend in anyone's book. However, as of July 26, the price has fallen back from the high. This potentially sets up a solid buying opportunity.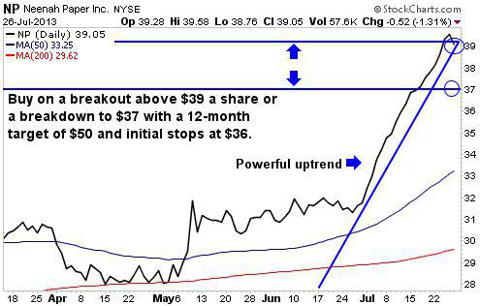 Click to enlarge
(Click to enlarge)
The company, which has a market cap of more than $500 million, is broken into two segments, fine paper and technical products. Its products are sold globally in more than 70 nations with its revenue split close to even between the two operating segments. The technical segment makes goods such as oil and air filters, specialty tape, medical packaging, wallpaper and other similar paper products. The fine paper division makes premium writing paper, invitations, bright paper and other types of commercial-printing paper.
Fueling the advance, Neenah recently purchased premium business paper brands from Southworth. Sold in major business supply stores, these brands provide Neenah another established avenue for distribution. In addition, the company just signed a strategic partnership with Gruppo Cordenons, an Italian maker of fine paper. This deal will allow Neenah to market and distribute Cordenons' products in the United States and Canada. It's a win-win situation for both firms as Neenah will profit from another successful product line and Cordenons will gain additional exposure for its high-end paper.
In its most recent quarter, Neenah's revenue increased 8% from the same period last year, to $213 million. Growth in the fine paper segment and increased sales volume from the newly acquired brands is credited with the improved results.
The company also recently increased its quarterly dividend to 20 cents a share from 15 cents, representing a 33% increase. This increase comes after a hike of 25% during the first quarter. With the increase, the company is now yielding about 2.1% annually.
Perhaps more exciting for investors, Neenah has recently announced a $10 million stock repurchase program. It plans on buying back its stock over the next 52-week period. This plan replaces the previous plan in which the company purchased around $4 million of shares during the preceding 12 months. There is no set schedule for the buybacks, and the program may be discontinued at anytime. However, despite this caveat, with only slightly less than 16 million shares outstanding, this buyback has the potential of being a powerful upside catalyst.
Risks to Consider: Despite Neenah appearing very strong across multiple metrics, anything can happen in the financial markets. Always be certain to use stop-loss orders, diversification and position size based on your capital levels and investment goals.
I love this stock on a breakout close above $39. However, a breakdown to the $37 level will also attract my buying interest. An initial stop level at $36 and a 12-month target price of $50 is a solid forecast.
Disclosure: I have no positions in any stocks mentioned, and no plans to initiate any positions within the next 72 hours. I wrote this article myself, and it expresses my own opinions. I am not receiving compensation for it. I have no business relationship with any company whose stock is mentioned in this article.