With the bond market in turmoil, the 2013 second quarter was a tough period for any fixed income investment strategies and the portfolio of American Capital Agency Corp. (NASDAQ:AGNC) did not fare well during the quarter - book value dropped by almost 12%.
After going through the results posted in the Q2 earnings release - and I commend AGNC on the openness of its reports, even when things do not look so good - what I see is a portfolio built for a falling rate/rising MBS prices environment that was hit by the opposite type of market. The hedges put in place to protect if that market reverses were not up to the task of covering for the losses when the market suddenly reversed directions. According to the earnings release conference call discussion, the company made significant efforts during the quarter to change the make-up of the portfolio to counter rising interest rates. However, it takes time to turn around a $90 billion MBS portfolio.
Selected Q2 Financial Facts
There are a lot of numbers in the earnings report, primarily because what American Capital Agency does is complicated. Here is a list of numbers with past result comparisons of what I think are pertinent:
There were $2.8 billion or $6.98 per share of other comprehensive losses - basically MBS portfolio losses - offset by an other income gain of $1.5 billion or $3.69 per share, gains primarily from assets held to hedge the portfolio.
The difference between the figures just noted account for the bulk of the $3.42 or 11.8% loss of book value, down to $25.51 per share. For reference, American Capital Agency book value stood at $31.64 at the end of 2012 resulting in a 2013 first half book value drop of 19.4%.
Spread and dollar roll income of $1.15 per share handily covered the $1.05 dividend paid for the quarter. Dollar roll earnings accounted for $0.49 of the income and "includes $0.14 per common share of estimated "catch -up" premium amortization benefit due to change in projected constant prepayment rate ("CPR") estimates," which means the long-term holdings generated $0.52 per share of actual spread income.
Estimated taxable income of $1.05 per share closely matched the dividend payout, leaving $1.07 of undistributed taxable income on the books. More on this in a moment.
End of the quarter interest rate spread of $1.24% or 1.59% including dollar roll income, compared to 1.43% and 1.71% at the end of Q1. Lower yields were the result of shifting more of the portfolio to 15-year MBS from 30-year mortgage securities and increased hedging costs as the company increased the term coverage of hedges.
Going Conservative to Save Book Value
During the earnings conference call, much of the discussion concerned the steps that American Capital Agency management took during the second quarter and continue to implement to maintain the book value of the company. While President and Chief Investment Officer Gary Kain stated that he has a positive outlook for the future of MBS markets he understands the worries of investors as indicated by the large drop in the share price to well below the end-of-quarter book value. A fact that I noticed during the conference call was the number of different risks American Capital Agency must try to mitigate with its hedging practices. Here is a list:
Interest rate risk
Pay-ups risk
Prepayment risk
Duration risk
Extension risk
Spread risk
Some of these risks offset each other, but the unique nature of MBS makes hedging for potential changes in rates and prices an extreme challenge and even if you guess right on interest rates, risks like extension and spread risk can still result in losses. Here are the tools American Capital Agency uses to hedge risks:
Interest rate swaps
Interest rate swaptions
Short Treasury positions
Short Treasury futures
Remember that the more American Capital Pays for hedging protection, the less net income is produced to pay dividends. Also, the potential for MBS rate spreads and duration to shift dramatically as rates change makes hedging with products based on Treasury interest rates often less than precise.
Where To From Here?
The agency MBS market is in a state of high uncertainty. The Fed's QE3 policy continues to buy a large amount of new-issue MBS while production is shrinking due to lower refinance volumes as rates rise. On the flip side, interest rates jump every time the market thinks the Fed will set a date to start to taper the bond purchases. American Capital Agency has gone defensive, which will probably result in lower net interest income earnings. Finally, a share price below book value is not worth much if book value continues to decline.
As noted above, the taxable income for Q2 closely matched the $1.05 declared dividend. During the conference call, management stated that taxable income will probably be lower for Q3 and when pressed on whether the company will maintain the $1.05 dividend rate, the answer was very, very noncommittal. My personal opinion is that the probability for a lower dividend for the third quarter is greater than 50%. I make this judgment from reading between the lines of what I heard on the conference call.
In my opinion, the rate environment and AGNC share price - $21.85 - are not yet signaling a time to go bottom fishing for American Capital Agency. I believe a long term trend to higher mortgage rates is in effect. This can be good for the agency MBS REITs if the rate increases are slow and steady, and AGNC will be a much safer investment after the company shows a stabilized book value and growing net interest spread.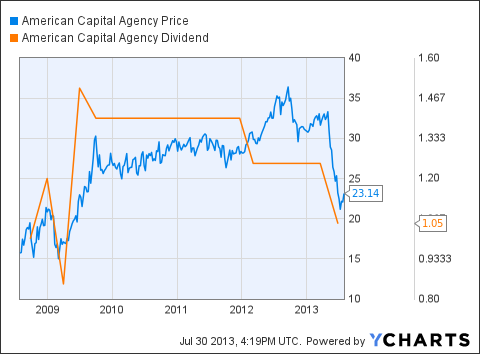 Disclosure: I have no positions in any stocks mentioned, and no plans to initiate any positions within the next 72 hours. I wrote this article myself, and it expresses my own opinions. I am not receiving compensation for it (other than from Seeking Alpha). I have no business relationship with any company whose stock is mentioned in this article.