Microsoft (NASDAQ:MSFT) shares sported a nice gain on Tuesday, but that's of little comfort to investors who owned this stock through the recent earnings report. Microsoft's latest quarterly miss sent the stock tumbling off its recent 52-week high. About half of the 2013 rally was wiped out, and investors seem a bit frustrated. Microsoft is no longer the jewel of the technology sector, and it hasn't been for some time. After the latest fall in the stock, it is time for the company to take action. Today, I'll briefly cover the latest quarter. My larger goal will be to discuss some items the company needs to focus on right now, primarily the dividend and buyback. It's time for Microsoft to wake up.
Fourth Quarter Results:
There isn't a lot to say that hasn't already been discussed, so I'll stick to the headlines. When Microsoft reported fourth quarter results, revenues of $19.896 billion widely missed analyst expectations for $20.73 billion. Analysts were looking for 14.8% growth, and Microsoft came in at 10.2%. Earnings per share of $0.66 missed analyst estimates for $0.75.
Obviously, Microsoft has been hurt by a weak PC market. The company's push into the tablet market has not gone very well, resulting in a $900 million charge on Surface RT inventory. Analysts have been out in full force since, with a number of negative notes. Goldman (sell rating) thinks lower Windows price points for smaller devices and emerging markets piracy will lead Windows sales growth to lag already weak PC shipment growth. As you can most likely expect after such a disappointing revenue and earnings quarter, a number of analyst downgrades have followed the report.
The day following earnings, Microsoft shares declined by $4.04, or 11.4%, to $31.40. It was the lowest close for the stock in nearly three months. With almost 250 million shares traded, it was the highest volume day for Microsoft in the past year, with volume that was 80% higher than the next highest day. The fall of 11.4% was more than two and a half times the next largest down day of 4.43%. Since then, shares have rebounded slightly, but the 45-cent bounce back still leaves a lot of investors sitting on huge losses.
How about the dividend?
One area where Microsoft could certainly make itself more attractive is the dividend. While the 2.89% yield as of Tuesday's close is almost 30 basis points more annually than a 10-Year US Treasury, it isn't a spectacular yield when compared to others in the space. I put together a chart, seen below, that compares Microsoft against three other tech giants. Intel (NASDAQ:INTC) still has a nearly 100 basis point advantage on Microsoft. Microsoft leads Apple (NASDAQ:AAPL) and Cisco Systems (NASDAQ:CSCO) by 20 and 24 basis points, respectively. However, before Microsoft's fall, Microsoft trailed both of these names. Apple has also rallied 8% since its latest report, pushing its yield further down.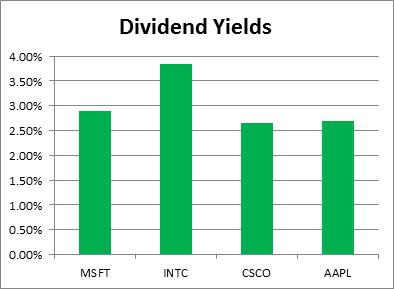 Microsoft is expected to increase its dividend in the next few months, and the question is by how much? Last month, I previewed the upcoming dividend raise, but the latest earnings fall has slightly changed my opinion. If and when Microsoft announces a raise, one option I am thinking is possible is a fairly sizable raise. At this point, I think they have to start at $1.00 (annually) and go from there. This yield needs to get back over 3.00%, and this name needs to separate itself from the pack. I'm not arguing for Microsoft to take on Intel and make a run for 4.00%, but they can't be just 20 basis points above Apple, a company most still think is a growth name.
The buyback, is it working?
According to their just filed 10-K report (page 41), Microsoft bought back $4.6 billion worth of stock during the fiscal year. To many, that is an extraordinary amount, and many companies don't even have a market cap of $4.6 billion! However, is the buyback really working? I would argue that it really isn't. Look at the following table, which shows the change in each name's diluted share count in their most recently reported quarters. I am using the diluted share count instead of the outstanding share count because the diluted count is used to determine earnings per share.

*Cisco has not reported their quarter yet, which they will do in a couple of weeks. This figure is from their previous quarter, fiscal Q3.
Of the four names, Microsoft was the only name to show a year over year increase in the diluted share count for that quarterly period. Now to be fair, for the full fiscal year, Microsoft was able to reduce the diluted share count from 8.506 billion to 8.470 billion. However, that is a decrease of just 0.42%. Intel in the first six months of this year has its six-month count down by 2%, Cisco's nine-month count is down by more than one percent, and Apple's nine-month count is down by 0.56%. Don't forget, Apple is involved in a tremendous buyback program, part of which was accelerated during its latest quarter. By the time Apple, as well as Cisco and Intel, report their fiscal years, all of their share counts will be down by a much greater amount than Microsoft. Despite spending $4.6 billion on the buyback, Microsoft only improved its earnings per share by one penny to $2.58. That is not a meaningful impact.
Also in that 10-K, Microsoft stated that as of the end of the quarter (June 30th), they had $3.6 billion left on their $40 billion repurchase program. At the rate they are buying back stock, it means they have about three quarters roughly until they finish the current program. I will be looking to see if and when they announce a new program, and they might choose to combine this announcement with a potential dividend raise. I also think it might be a good idea to either announce or execute an accelerated repurchase program. I mentioned above that Apple is in the process of an accelerated program, and Intuitive Surgical (NASDAQ:ISRG) just announced an accelerated repurchase as well. An accelerated repurchase program seems to be the "now" thing in the market, and Microsoft might wish to think about the idea.
How do we accomplish this?
To pay out more dividends or buy back more stock, there is one crucial item that you need, and that is cash. Microsoft's cash pile, which includes cash and equivalents, along with short-term investments, rose from $63.0 billion at the end of the previous fiscal year to $77.0 billion at the end of this fiscal year. However, like many large technology companies, a lot of that cash is outside the US, unable to be used for dividends and buybacks. As stated in the 10-K, Microsoft had $69.6 billion located outside the US, which would be subject to repatriation taxes. That means just $7.4 billion is located inside the US, down from $9.0 billion a year ago. This is not an uncommon practice, as we all know Apple has about 2/3 of its cash parked overseas. However, the percentage of domestic cash for Microsoft is a lot lower than Apple, and many other names.
Unlike Apple, Microsoft is not starting from scratch with debt, but that doesn't mean that Microsoft can't add new debt. Microsoft had $15.665 billion in debt at the end of the fiscal year, but just $5.5 billion of that is due within the next 4 years. In fact, nearly $5 billion of that debt isn't due for another 20 years or more. There is plenty of room for the company to add debt, and it makes sense to do so while rates are low. Microsoft can easily get debt with rates low enough where they can retire shares yielding 2.89% and improve their cash flow. Don't forget, this company produced almost $29 billion in operating cash flow during the fiscal year. It's not like they are struggling to produce cash. Debt seems like the way to go here.
So which way should Microsoft go? A large dividend increase or a sizable buyback increase? I'm actually interested in what everyone thinks, so I look forward to a good discussion in the comments below. In my personal opinion, I think shareholders might be better served with a buyback. I think Microsoft needs to get the share count down a little, which will help with stagnant earnings per share. A larger dividend would be nice, but you also have to consider the tax implications for investors. A buyback would also signal that the company believes its stock is undervalued, while a dividend says that the company doesn't have a better place to use its money.
Final Thoughts:
After the recent earnings fall, Microsoft needs to shake things up a bit. The company isn't a growth company anymore, so it needs to provide some sort of value to shareholders. The company's dividend isn't tremendously better than its peers, and the buyback program isn't doing a spectacular job. Microsoft needs to either raise the dividend significantly, or maybe try a larger buyback. A decent rally in 2013 has been cut in half, and this stock needs a wakeup call. It's time for Microsoft to act.
Disclosure: I have no positions in any stocks mentioned, and no plans to initiate any positions within the next 72 hours. I wrote this article myself, and it expresses my own opinions. I am not receiving compensation for it (other than from Seeking Alpha). I have no business relationship with any company whose stock is mentioned in this article.
Additional disclosure: Investors are always reminded that before making any investment, you should do your own proper due diligence on any name directly or indirectly mentioned in this article. Investors should also consider seeking advice from a broker or financial adviser before making any investment decisions. Any material in this article should be considered general information, and not relied on as a formal investment recommendation.