With patent stocks being all the rage in 2012, the recent deal for Spherix (NASDAQ:SPEX) to purchase a bunch of patents created by the Harris Corporation has basically gone unnoticed. Possibly because the company was mostly unknown prior to this pending deal or possibly the leading patent stocks of VirnetX Holding (NYSEMKT:VHC) and Vringo (VRNG) have struggled this year thereby lessening investor appetite. The recent news on quickly closing another patent deal with Rockstar has again jumpstarted the stock after the original news had faded sending the stock to new lows.
Spherix is in the process of launching a broad IP monetization initiative adding to its drug development and patenting expertise. The company has identified a couple of undervalued IP assets that it plans to generate value for shareholders through licensing and enforcement.
While the company doesn't appear to have much on first review, it has already attracted some investments from several heavy hitters in the industry. This alone should be enough to grab investor attention, not to mention the patent monetization history of the incoming CEO. The stock initially surged on the patent deals, but as typical of patent stocks it had settled down back to the original price range just above $6 before this week's news. History of stocks such as VirnetX and Vringo suggest that the stocks don't rally until patent results become clearer.
Corporate Setup
Spherix is in the middle of what could be called a restructuring as it eliminates administrative staff, hires a new CEO and purchases a couple sets of patents all while having limited cash.
The plan is for a wholly-owned subsidiary, Nuta Technologies Corp., to acquire and monetize patents while an existing business, Biospherics, works to license or sell technology surrounding research on dietary supplements. With the focus on the new patent deals, most investors will rightfully focus on the developments in Nuta Technologies.
Major Patent Deal
The company filed with the SEC that it had entered into a Letter of Intent to purchase North South Holdings, the owner of various patents covering wireless communications. A subsidiary called Nuta Technologies will issue 12 million shares of the Parent's common stock in order to acquire 100% of North South.
On July 1, the company sold 100,000 shares at $5 in a private placement to raise $500,000 for expenses related to the acquisition of North South. More importantly, the press release provided more details on the acquisition.
The deal adds 222 patents in wireless communications, antennae technology and pharmaceutical distribution. The portfolio includes patents principally developed by Harris Corp (NYSE:HRS), a pioneer in wireless communications. The release suggests the patents are applicable in numerous areas including military and homeland security, satellite communications, Wi-Fi, cellular transmission and solar concentrator technologies.
Basically the deal covers a vast area of wireless communications that were worthy of a significant purchase price of 12 million shares. With the stock soaring to near $10, the deal value is now worth over $100 million to the sellers. The deal should be completed by the end of August.
Rockstar Consortium
Though not providing much in the way of details, Spherix recently entered into an agreement with Rockstar Consortium to acquire a suite of patents. The deal was closed on July 29 and shot the stock up 26% as it provides the company with some potentially significant patents and solidifies the company as a future force in the IP monetization field. The announcement lists the seven patents as four families of mobile communications.
Rockstar is well known for being an IP licensing company that holds the Nortel Networks portfolio that covers over 4,000 patents. The patents cover virtually all telecom and high tech services and devices. The consortium of investors in Rockstar include Apple (NASDAQ:AAPL), Microsoft (NASDAQ:MSFT), Blackberry (NASDAQ:BBRY), Ericsson (NASDAQ:ERIC) and Sony (NYSE:SNE) in a deal with a price tag of $4.5 billion.
Spherix will issue 176,991 shares at $5.65 or worth $1 million plus Rockstar will receive a percentage of future profits after recovery of patent monetization costs. The company has a lockup period of 6 months unless the stock meets certain requirements including trading above $13 for a period of time.
These patents could work nicely with the telecommunications and wireless ones originally issued to Harris Corporation that Spherix is working on completing the purchase. Not to mention, Rockstar has a sizable portfolio that Spherix could obtain further access if the company were to be successful at unlocking value.
Promising CEO
A major reason for investing in this new patent play is the incoming CEO in Anthony Hayes that will join the firm after completing the deal for North South. Anthony is an attorney with vast legal experience especially in the area of monetizing patents via a wide variety of methods.
He earned is Juris Doctor from Tulane University School of Law in 1995 and his B.A. in Economics from Mary Washington College in 1990. He has bar memberships in New York, Florida, South Carolina and Washington, D.C. He was a partner at Nelson Mullins Riley & Scarborough LLP, an AMLaw 100 firm. During his tenure at the firm, Anthony focused on litigation and patent commercialization including several successful deals.
He co-founded JaNSOME IP Management to provide consulting and advisory services to individuals and companies seeking to maximize returns on IP assets. While at JaNSOME, he led several successful deals that provided significant returns for investors.
History Of Huge Returns
On the JaNSOME website, the company documents several successful cases of monetizing patents including via arbitrage, licensing and stock price appreciation. Below are summaries of the cases:
Patent Arbitrage - JaNSOME management created a "special investment vehicle" to purchase patent assets prior to bankruptcy for $625,000. With $200,000 borrowed to arrange a group of experts to sale the 70+ patents related to cosmetic lasers, management was able to secure a sale within nine months for $5,000,000.
Patent Licensing - Management identified undervalued IP assets in the DSL communications sector that were being spun out by a company divesting that business line. By choosing to litigate against corporations violating the patents, JaNSOME was able to generate a gross return of 495% over a two year period.
Stock Price Appreciation - In possibly the most impressive example, the management team was retained by a cloud computing firm to monetize IP assets. JaNSOME was able to restructure the firm with new management that resulted in the sale of the IP assets for $3,900,000. The stock that was trading for $0.07 on fears of a bankruptcy shot up to as high as $0.50 while shareholders received a $0.34 dividend.
These are three highly successful cases where JaNSOME management including the incoming CEO of Spherix were able to take IP assets and use different alternatives to attract the most value for investors.
Patent Plans
The incoming CEO has plans to monetize the patents via other opportunities than just pursuing litigation. Hayes lists numerous monetization plans including the following list:
Patent litigation
Consulting
Brokering patent sales between buyers and sellers
Patent price arbitrage
Targeted, negotiated licensing
Mass licensing
Investing in other companies that own patents
The ability and willingness to use the best method available not only increases the likeliness of acquiring undervalued assets, but it increases the possibility of enhancing shareholder values instead of only waiting on the binary results of litigation.
Stock Action
As mentioned in the start of the article, the stock originally surged to nearly $15, but it has now settled back down to around the value prior to the big patent purchase. Apparently investors quickly lost interest in the potential before it has even started. Clearly this is the path that the typical patent stock takes as detailed in How Does Document Security Systems Compare To Other Patent Stocks?
That article highlighted how VirnetX and Vringo struggled to generate stock gains on the initial announcements of patent deals, but both eventually soared after actual progress in patent cases.
In the case of VirnetX, the stock languished mostly under the stock offering price of $1.50 until after a positive Markman ruling against a large technology firm. This occurred several years after the initial lawsuit and massive IP valuation by a consultant. The stock didn't appreciate until that positive ruling pushed the stock up to $3. The stock eventually soared to over $40 on other positive patent related developments.
In the case of Vringo, the stock struggled and hit new lows even as the company successfully obtained approval of several patents throughout 2010 and 2011. The stock didn't surge from $1 to above $4 until it merged with Innovate/Protect that had ongoing patent lawsuits with major tech firms regarding assets acquired from a Lycos portfolio based on critical search technologies. A positive verdict against Google (NASDAQ:GOOG) sent the stock to highs above $5.50, but the stock has crashed back to around $3 as questions mount to whether the company will receive the expected proceeds in that case.
See the chart below for the price action of Spherix over the last year: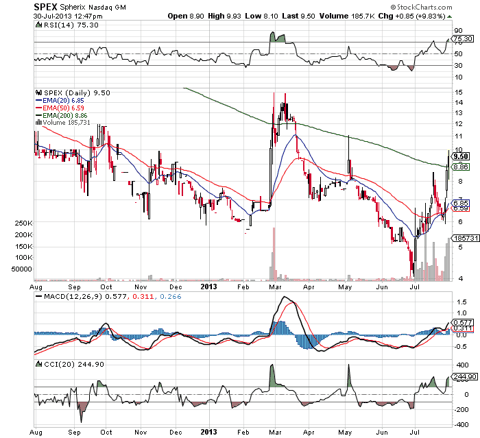 Major Investors
For any investor concerned that the news on Spherix is only fluff needs to look no further than the large purchases of Hudson Bay Capital Management and Iroquois Capital considering both firms were initial investors in Vringo. Hudson Bay owns 51,653 shares for a 7.47% ownership stake. Iroquois Capital owns a 6.8% position.
Naturally these stakes will be greatly diluted due to the patent deals and issuances of stock, but it appears these firms stand to benefit substantially from getting into this stock prior to those deals.
Conclusion
Spherix offers an interesting opportunity to invest in a developing IP monetization machine even before the CEO officially joins the company. The investment offers a high risk, high return scenario as the company has limited cash and is reliant on monetizing patents where limited details have been provided to the public. In fact, the company just announced a patent settlement and license agreement for a CompuFill patent that isn't even a major focus of the investment thesis in North South.
For investors confident that this company will follow the path of VirnetX, the stock should be bought on dips as the company works to finalize the North South acquisition and Anthony Hayes joins the firm as the CEO. Not to mention, past experience in patent firms shows limited gains take place until actual progress occurs in litigation cases. Investors need to be careful with the limited float, but he market cap will jump to over $100 million as the North South deal is finalized. That substantial patent portfolio could provide significant opportunities for an experienced CEO to create shareholder value.
Disclosure: I am long AAPL. I wrote this article myself, and it expresses my own opinions. I am not receiving compensation for it (other than from Seeking Alpha). I have no business relationship with any company whose stock is mentioned in this article.
Additional disclosure: The information contained herein is for informational purposes only. Nothing in this article should be taken as a solicitation to purchase or sell securities. Before buying or selling any stock you should do your own research and reach your own conclusion or consult a financial advisor. Investing includes risks, including loss of principal.