The deep recession continues to take a toll on newspaper ad revenues. The Newspaper Association of America (NAA) reported yesterday that ad revenue for U. S. newspaper publishers declined 29% during the second quarter. Ad revenue declined from $9.6 billion a year ago to $6.8 billion. This comes on the heels of a 28% year-over-year decline in ad revenues in the first quarter.
Industrywide ad revenue in the larger print segment declined 30% to $6.2 billion in the second quarter. Even the smaller online-only segment has not been immune to the recession. According to the NAA, online-only ad revenue fell 16% to about $650 million.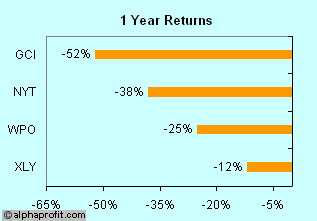 Against the backdrop of shrinking demand for products and services, employers grew reluctant to increasing head count. Job recruitment ad revenue declined 66%, the highest among classified categories. Ads in troubled sectors like real estate and autos fell 46% and 43%, respectively.
Newspaper publishers such as
Gannett (NYSE:GCI)
and
New York Times (NYSE:NYT)
derive more than 50% of their sales from ad revenue.
Washington Post (WPO)
too is exposed to ad sales. WPO is however better diversified, as 50% of the company's revenue comes from educational services provided by its Kaplan unit.
Against this miserable advertising scenario, it is hardly a surprise that newspaper stocks have suffered massive declines. GCI and NYT shares have seen nearly 52% and 38% of their value wiped out over the past year while WPO shares are down 25%. These stocks have underperformed shares in the consumer discretionary sector, where the
Consumer Discretionary Select Sector SPDR (NYSEARCA:XLY)
is down 12%.
With the economy showing signs of leveling off and providing hopes of recovery, newspaper publishers can hardly wait longer for better times. However, the second quarter data from the NAA has a silver lining. With the exception of real estate, classified ad sales declined less in each category during the second quarter compared to the first.

Disclosure: I do not have long or short positions in any of the securities discussed.