When compared with its last quarter, Phillips 66's (NYSE:PSX) Q2 2013 would seem like a disappointment. The company posted earnings well below what analysts were predicting. However, the stock has had a mostly muted reaction to this news. Phillips 66's Q2 2013 was operationally sound, with the company lower debt increasing refining capacity and returning larges amounts of capital to its shareholders via dividends and share buybacks. Phillips 66 currently offers a $0.3125 quarterly dividend and yields around 2.15%.
Q2 2013 Overview
On July 31, Phillips 66 reported its Q2 2013 results. Phillips 66 posted adjusted earnings of about $935M, or $1.50 per share, down 35% from the $1.4B reported last year. The biggest factor for this decline came from Phillips 66's refining segment, which saw adjusted earnings decline 45% to $885M.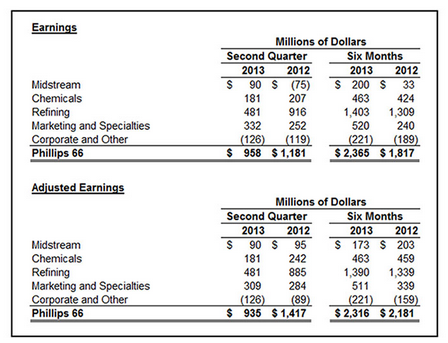 Refining Segment
Phillips 66 saw much lower refining margins in the Central Corridor and the Gulf Coast regions, which was partly offset by higher volumes. These lower margins were caused by lower crack spreads and tighter crude oil price differentials. In particular, the spread between WSC and WTS to WTI narrowed greatly in the quarter. Phillips 66's refining utilization was 94%. This would increased 5% if not for unplanned downtime at several refineries. In the crucial Central Corridor, Phillips 66's utilization rate ran at about 100% in the quarter.
It should be noted that Phillips 66 continued to increase the percentage of US sourced crude oil, from 58% to 68%. Phillips 66 is now processing an extra 132,000 BBLs per day of shale oil. In addition, the company is also increasing its use of heavy oil, or thermal oil, from Western Canadian producers.
Chemicals and Midstream
In the quarter, Phillips 66's Chemicals segment saw adjusted earnings decline 25% to $181M. This decline was almost entirely due to unplanned power outages at its Sweeny Complex and an extended 91-day turnaround at its Port Arthur Facility. As a result, production fell which greatly impacted margins. A bright spot was Phillips 66's joint venture CPChem, which saw pre tax earnings of $85M, 20%, or $15M higher than last year.
Phillips 66's Midstream segment saw its adjusted earnings come in at $90M, down $5M, or 6%, from last year. Phillips 66's transportation business generated earnings of $50M, nearly double from the $24M posted last year. This increase was due to higher fees and greatly increased volumes. During the quarter, Phillips 66's equity investment in DCP Midstream (NYSE:DPM) saw earnings decline $12M, or 29% to $30M. This decline was due to the impact of a large asset dropdown earlier in the quarter. Phillips 66 NGL operations and other midstream earnings were $10M, down from the $29M last year. This decline was due to lower volumes related to inventory draws last year.
Marketing and Specialties
Phillips 66's Marketing and Specialties segment, or M&S, saw adjusted earnings of $309M, up $25M, or 9% from last year. This segment saw margins increase due to lower costs, partially offset by lower volumes. Phillips 66 was able to increase its RINs values due to its renewable fuel blending activities.
Cash Flow, Share Buybacks, Dividend Payments and Debt
Phillips 66 generated about $968M in operating cash flows in the quarter, down 33% from last year. However, when excluding working capital adjustments, operating cash flow was $1.2B, down 15% from last year. Phillips 66's free cash flow, or FCF, came in at $600M, down 50% from last year. When adjusting for working capital, FCF was down only 30% to $800M.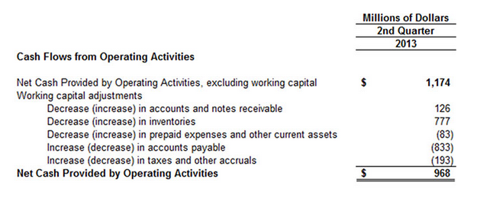 Phillips 66 greatly increased its share repurchases in the quarter. The company bought back about $546M, or 8.6M shares. This compares to zero repurchases for Q2 2012 and $382M, or 6.4M shares, in Q1 2013. In total, Phillips 66 returned $738M of capital to its shareholders for a shareholder return (dividend payments plus share buybacks) annualized yield of about 7%. Do note that Phillips 66 also approved an additional $1B for future share buybacks.
Phillips 66 paid out nearly $192M in dividends this quarter. This would imply a dividend payout ratio of 20% using earnings, 32% using FCF, and 24% using FCF adjusted for working capital.
During the quarter, Phillips 66 repaid $500M in debt. Phillips 66's total debt is now about $6.5B, down from $8.0B last year. Phillips 66's net debt, which adjusts for cash, was $2.3B in the quarter, down from the $4.9B in net debt last year. In the quarter, Phillips 66 was able to lower its debt to capital ratio to 23%, from 30% last year and 25% last quarter.
Potential Catalyst: PSXP IPO
On July 23, Phillips 66 Partners (NYSE:PSXP) had a wildly successful IPO. Not only did the units price well above estimates, but the stock has gained nearly 40% since. Phillips 66 stands to benefit enormously from its MLP as it owns nearly 75% of the limited partner interests as well as its 2% GP stake and IDRs. The impact of having its midstream assets in the tax-advantaged MLP structures has, in my opinion, not been fully appreciated by the market.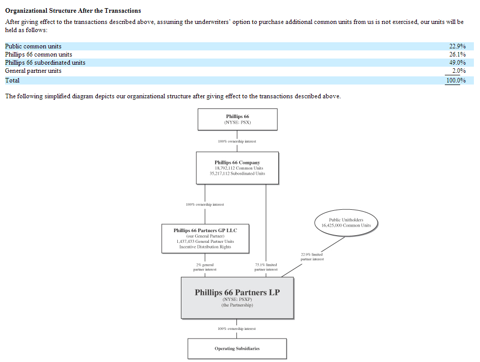 Conclusion
There is little doubt that Phillips 66 experienced a much weaker second quarter. But one has to remember that refiners are often cyclical in nature. Profits in earlier quarters were outsized due to abnormally high oil price differentials. Phillips 66 core businesses are still rock solid. Also note that Phillips 66 is still a very cheap stock, with a P/E ratio of less than 10X. The company will also be a cash flow machine while also returning a large amount of capital to its shareholders via dividends and share buybacks. When you add to this the successful IPO of its midstream assets, Phillips 66 is a stock I would hold for the long-term.
Disclaimer: The opinions in this article are for informational purposes only and should not be construed as a recommendation to buy or sell the stocks mentioned. Please do your own due diligence before making any investment decision.
Disclosure: I am long PSX. I wrote this article myself, and it expresses my own opinions. I am not receiving compensation for it (other than from Seeking Alpha). I have no business relationship with any company whose stock is mentioned in this article.
Additional disclosure: I am also long COP.