By Todd McDonald, Analyst
Summary
Automakers are seen posting another month of solid sales, with strength attributed to improvements in the housing and stock market, along with increased consumer confidence. According to Kelley Blue Book, sales are expected to increase about 16% over July 2012, with demand approaching pre-recession levels. TrueCar.com estimates that this month will be the best July since 2006, rising an estimated 15.3% over the year-ago period. TrueCar.com notes that consumers are primarily buying compact vehicles and crossovers, while small businesses have been purchasing pickup trucks. Edmunds.com predicts that industry sales will increase 15.2% over July 2012.
Ford Motors: Expected Release Time -- 9:30 a.m. ET
Overview
Ford Motors (NYSE:F) recently reported better-than-expected second-quarter earnings of $0.45 per share vs. $0.37 expected. Revenues also surpassed expectations, posting $38.1 billion vs. a consensus estimate of $34.9 billion. One of the notable items in Ford's earnings release was the improvement in profits in Asia, which were a record $177 million.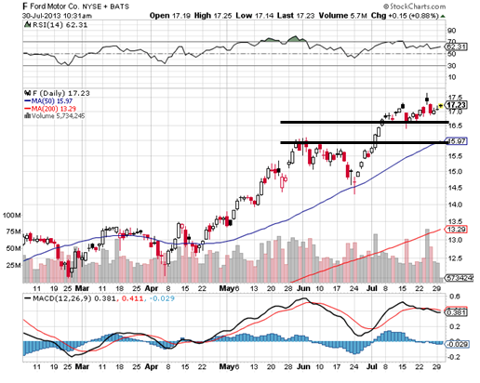 Technical Review
Ford Motors shares have had a great 2013 thus far, rising almost 34%. In late June, the shares showed a lot of strength by bouncing off of the 50-day SMA convincingly. If sales results disappoint, downside should be somewhat limited with support near $16.65 followed by the $16 level, which also coincides with the 50-day SMA.
Estimates Vs. July 2012
TrueCar.com: 17.5%
Kelley Blue Book: 15.9%
Edmunds.com: 11.8%
General Motors: Expected Release Time -- 10:30 a.m. ET
Overview
General Motors (NYSE:GM) reported better-than-expected earnings, but profits slowed, with international losses overshadowing a strong North American performance. However, it is expected to have a very impressive July, posting big year-over-year increases. According to Kelley Blue Book, GM is slated to lead the way for the industry this month.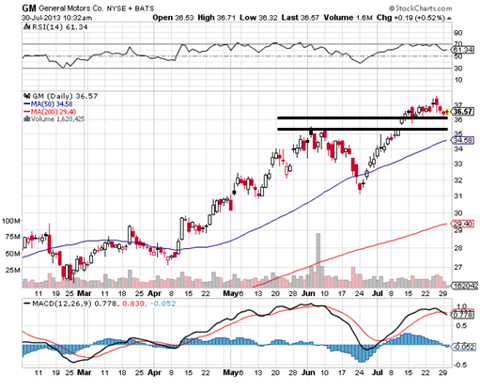 Technical Review
General Motors shares have also had a very solid year, rising almost 27% YTD. The RSI is bouncing off of the 70 level, indicating that upside may be limited in the near term. If sales results come in below expectations the first level of support is $36, followed by $35.40 and ultimately the 50-day SMA near $34.60. If sales surprise to the upside, look for resistance near $37 followed by recent 52-week highs of $37.71.
Estimates Vs. July 2012
TrueCar.com: 22.9%
Kelley Blue Book: 19.3%
Edmunds.com: 19.2%
Disclosure: I have no positions in any stocks mentioned, and no plans to initiate any positions within the next 72 hours. I wrote this article myself, and it expresses my own opinions. I am not receiving compensation for it (other than from Seeking Alpha). I have no business relationship with any company whose stock is mentioned in this article.
Disclaimer: By using this report, you acknowledge that Selerity, Inc. is in no way liable for losses or gains arising out of commentary, analysis, and or data in this report. Your investment decisions and recommendations are made entirely at your discretion. Selerity does not own securities in companies that they write about, is not an investment adviser, and the content contained herein is not an endorsement to buy or sell any securities. No content published as part of this report constitutes a recommendation that any particular investment, security, portfolio of securities, transaction or investment strategy is suitable for any specific person.