I was an aggressive buyer of high quality smallcap and microcap shares during the past several months. However, recent speculative excesses, and my conviction that another wave of the financial crisis lies just ahead, has led me to take profits now in most of my stock positions.
One of the few companies I have recently bought is SeraCare Life Sciences (NASDAQ:SRLS). As a bankruptcy recovery story which has just returned to profitability ahead of expectations, I believe that this share will rise or fall on its own merits in the coming year, without dependence on the ¨beta¨ of a rising market to generate gains for investors.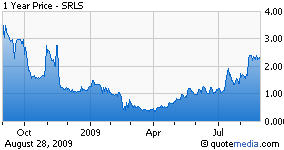 SeraCare serves the life sciences industry by providing products and services to facilitate the discovery, development and production of human and animal diagnostics and therapeutics.
SeraCare's customers include intravenous drug manufacturers; health labs; blood banks; biotech companies involved in the discovery, development and commercial production of human and animal therapeutics and vaccines, as well as veterinary companies and academic and government research organizations. The company was founded in 1984 and is headquartered in Milford, Massachusetts.
The following are my reasons for recommending investing in SeraCare now:
The company entered bankruptcy as an ongoing concern in March of 2006, and emerged in February of 2007 with a clean balance sheet, a very experienced new management team, and the vast majority of its customer base intact. The bankruptcy was the result of an an accounting scandal involving inventories and broken bond convents. The company was recently featured in the highly respected ¨Turnaround Letter¨ by George Putnam, one of my favourite sources of new investing ideas.

On Augu

st 11th, Ser

aCare announced quarterly earnings of four cents per share, surprising on the upside by a wide margin and marking the return to profitability after a long string of losses. Given the recurrent nature of revenues in the business, and the excellent operational control exercised by the management team, it is likely that the sequential increase in revenue and wide margins (over 35% on sales) will be maintained as new products are introduced in the coming year.

The current share price gives Seracare a price/revenue ratio of approximately one, with both annual sales and market capitalization of about 45 million dollars. Given the almost debt free balance sheet, future growth expected from new products already in the pipeline, and the recurrent nature of SeraCare's sales, this is a low number, considerably below that of SeraCare's competitors. Research coverage has been initiated with a buy rating by Dawson James of Boca Raton, who gave a $3 price target in 12 to 18 months.

SeraCare operates in a very interesting market segment which should demonstrate above average growth in the coming years whatever the overall economic circumstances. The complexity of new therapeutics is causing increased demand for products and services that simplify experimental workflow. Additionally, single use kits such as those provided by SeraCare reduce the risk of contamination and the need for sterilization. Health care research was given a large boost by the stimulus plan approved with such haste in January, and some of these funds will eventually reach SeraCare's customers in the coming months and years. This should provide an additional tailwind for this microcap value and growth opportunity.

Finally, SeraCare is a very small company in relation to its main competitors, such as BioRad Laboratories (NYSE:BIO), Life Technologies Corp. (NASDAQ:LIFE) and Millipore (MIL). If Seracare is able to demonstrate consistent growth in the future through successful new products as I expect, this agile minnow among whales will become a tempting acquisition target.

Disclosure: The author currently holds a long position in SeraCare common shares.