Even as gold moves toward its largest monthly gain in 18 months, Goldman Sachs Group analysts and gold exchange traded fund traders remain pessimistic.
Gold futures are trading around $1,330 per ounce or up 8.6% so far this month, heading for their biggest monthly gain since January 2012, reports Joe Richter for Bloomberg.
Nevertheless, gold is moving toward its first annual loss in 13 years after investors turned away from the precious metal as a store of value and jewelry purchases slowed during the July rally.
"Gold has made a terrific recovery, but there's going to be resistance from people who got caught before, so there's not too much to the upside for now," Donald Selkin, chief market strategist at National Securities Corp, said in the article. "People are going to wait and see what the Fed is going to do."
According to Bloomberg, traders are the least bullish on bullion in four weeks, with thirteen analysts surveyed expecting higher prices this week, 10 were bearish and seven neutral.
Jeffrey Currie, Goldman's head of commodities research, expects gold prices to further decline as the U.S. economy expands, which would trigger a "less accommodative monetary policy stance."
Money managers have been exiting gold funds. The SPDR Gold Shares ETF (NYSEARCA:GLD) saw $218.2 million in net outflows in the week ended July 26, according to IndexUniverse, even as the ETF gained 2.9% over the last week and rose 8.9% over the past month.
In an interesting turnaround, the Market Vectors GOld Miners ETF (NYSEARCA:GDX), one of the worst performing areas so far this year, saw $277.8 million in asset inflows in the week ended July 26.
SPDR Gold Shares ETF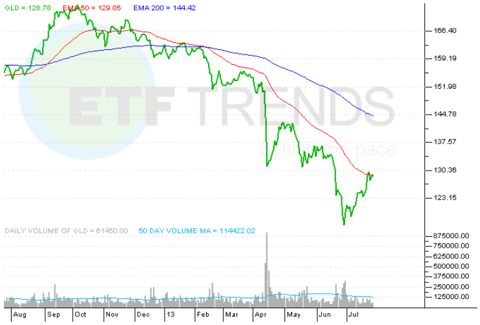 Max Chen contributed to this article.
Disclosure: I am long GLD. I wrote this article myself, and it expresses my own opinions. I am not receiving compensation for it. I have no business relationship with any company whose stock is mentioned in this article.