By Marie Daghlian
The stock market lost some steam during summer wound down and kept trading thin. The euphoria of Federal Reserve Chairman Ben Bernanke's positive spin on the economy gave way to the reality of continued high unemployment and dwindling personal finances. Biotech companies, however seemed to be in a deal making mood with collaborations and agreements the order of the day. There were even rumors that Seattle biotech Omeros is thinking pulling the trigger on an initial public offering within the next month. The company wouldn't divulge its plans, but originally announced its intention to go public in the beginning of 2008 as the window was clamping shut.
The week was highlighted by one big acquisition and several smaller deals. After searching around for almost a year for a buyer, Procter & Gamble (NYSE:PG) sold its global pharmaceuticals business to specialty drugmaker Warner Chilcott (NASDAQ:WCRX) for $3.1 billion in cash.
P&G's pharma business had not been very profitable and the sale of the unit will allow the company to focus on its consumer healthcare business. Warner plans to retain most of P&G's 2,300 pharma employees.
Canada's Biovail (BVF) beefed up its neurology pipeline with a Parkinson's drug licensing agreement with Swiss company Santhera Pharmaceuticals (OTCPK:SPHDF) worth up to $192 million for Santhera. Biovail acquired U.S. and Canadian rights to develop and commercialize Santhera's JP-1730/fipamezole, a first-in-class compound which showed positive results in a mid-stage clinical study for the treatment of dyskinesia in Parkinson's disease.
Under the terms of the agreement, Biovail will make an upfront payment of $8 million, a further payment of $4 million upon the successful closing of Santhera's acquisition of Oy Juvantia Pharma, and will pay up to $35 million in potential development and regulatory milestones associated with the initiation of a late-stage study, regulatory submissions and approvals of JP-1730/fipamezole. Santhera is also eligible for up to $145 million in sales milestones, and royalties. Santhera will retain co-promotion rights in the United States. Santhera could get an additional $20 million if Biovail pursues a second indication and it is approved.
Biovail will fund the remaining clinical development programs and costs in the U.S. and Canada. The companies have also agreed to collaborate on the development program and Santhera will have the right to use and sublicense data generated for development and commercialization purposes outside of North America. Initiation of the first late-stage study in the United States is scheduled for 2011.
Endo Pharmaceuticals (NASDAQ:ENDP) licensed exclusive rights to commercialize Fortesta, ProStrakan's (OTC:PKNGF) testosterone gel. The FDA is currently reviewing the U.K. company's application to market its hypogonadism treatment. Under the terms of their agreement, Endo Pharmaceuticals will make an upfront payment to ProStrakan of $10 million, with the potential for up to $40 million more in milestone payments by the end of 2010 for regulatory approval and the achievement of certain commercial milestones. ProStrakan is also eligible for an additional $160 million upon the achievement of certain sales targets.
Fortesta is marketed across Europe by ProStrakan and is out-licensed to Bayer Schering Pharma (OTC:BYERF) in 147 countries. The deal is a good fit for Endo because in many countries, Fortesta is planned to be promoted alongside Nebido, Endo's testosterone long-acting injectable product, currently under regulatory review with the FDA in the United States.
Facet Biotech (FACT) and Trubion Pharmaceuticals (TRBN) signed a worldwide collaboration agreement to jointly develop and commercialize TRU-016, a product candidate in early-stage clinical development for chronic lymphocytic leukemia. TRU-016 is Trubion's proprietary CD37-directed small modular immuno-pharmaceutical protein therapeutic. The collaboration agreement also includes TRU-016 in all indications and all other CD37-directed protein therapeutics.
As part of the collaboration, Trubion will receive an upfront payment of $20 million and may receive up to $176.5 million in additional contingent payments upon the achievement of certain development, regulatory and sales milestones. The companies will share equally the costs of all development, commercialization and promotional activities and all global operating profits. In addition, Facet will purchase 2.2 million shares of newly issued Trubion common stock for an aggregate purchase price of $10 million.
It seems as the race is on to see which third-generation sequencing company will be the first to sequence the human genome for $1,000. Mountain View, California-based Complete Genomics secured $45 million in private equity financing, closing its Series D funding round with new investors Essex Woodlands Health Ventures and OrbiMed Advisors joining existing investors Enterprise Partners Venture Capital, OVP Venture Partners, Prospect Venture Partners and Highland Capital Management. Complete Genomics neighbor and competitor Pacific Biosciences just closed a $68 million round two weeks ago. The companies have different business models. While Pacific Biosciences is developing a commercial version of its sequencing technology, which it hopes to launch in the second half of 2010, Complete Genomics says it can sequence the entire human genome for as little as $5,000 and plans to allow its customers to purchase the genome data without having to purchase and operate an expensive and complex machine. The company is currently building the world's largest commercial human genome sequencing center in the heart of Silicon Valley.
Cambridge, Massachusetts cancer drug developer Gloucester Pharmaceuticals has raised $29 million in a Series D financing. The money will be used to support the ongoing development of romidepsin, a novel histone deacetylase (HDAC) inhibitor for the treatment of T-cell lymphomas and other hematologic malignancies. New investor Novo A/S led the financing with participation from current investors Apple Tree Partners, ProQuest Investments, Prospect Venture Partners and Rho Ventures.
Gloucester has filed application with the FDA to market romidepsin in cutaneous T-cell lymphoma that is under FDA review with a the agency expected to act on the application by November 12.
Finally, Ligand Pharmaceuticals (NASDAQ:LGND) has agreed to acquire troubled biotech Neurogen for an estimated $11 million in stock and contingent value rights on the sale or licensing of certain Neurogen assets and the achievement of a specified clinical milestone. The deal comes out to 16 cents per share, well below Neurogen's opening stock price of 22 cents on August 24, the day of the announcement. Although both companies' boards have approved the sale, it still requires Neurogen shareholders' approval.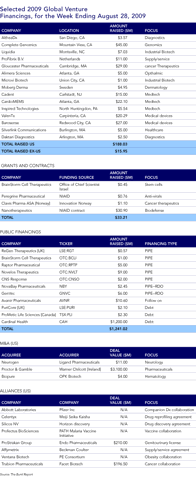 Click to enlarge