More than 1,100 companies have released earnings at this point in the second-quarter reporting period and as shown below, 65.1% of these companies have beaten earnings per share estimates. We are now more than halfway through the season, so the current beat rate will become more and more sticky as the reporting period winds down. If 65.1% holds, it will be the highest beat rate in 10 quarters going back to Q4 2010.
Click to enlarge
The top-line revenue beat rate remains stubbornly low at 56.3%. If this level holds, it will be higher than three of the last four earnings seasons, but still below the readings in the 60s seen earlier during the current bull market.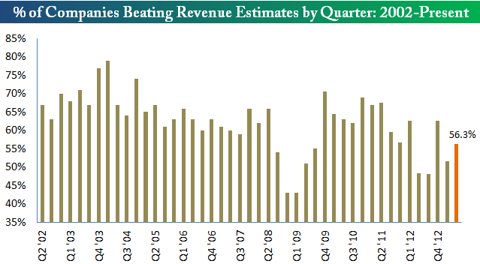 Click to enlarge
Stocks have been doing very well on their earnings report days over the last week or so, and the average one-day change on earnings for all stocks that have reported this period now stands at +0.34%. If the average one-day change can remain positive through the end of the season, it will be the fifth consecutive quarter in which stocks have reacted positively on their report days. This would be the longest streak of gains since at least 2000.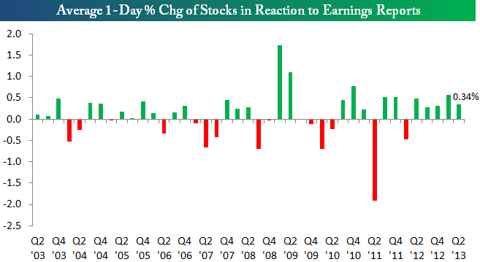 Click to enlarge