The explosive move in shares of Facebook (NASDAQ:FB) over the last week since its earnings report has set in motion a move back into mobile advertising stocks. The surge in mobile advertising revenue for FB should be a wake up call to investors that there is, indeed, profits to be had in the mobile advertising sector. Mobile ad revenue is only going to increase as smartphone prices drop and mobile use increases. This makes for a huge revenue opportunity for those companies that are established in the mobile advertising sector right now. A stock that traders should closely consider is Voltari Corporation (NASDAQ:VLTC). You may remember this stock as Motricity Inc before the name change and reverse split back in April.
VLTC provides mobile data solutions. Its software enables its customers to implement marketing, merchandising, commerce, and advertising solutions to engage with target customers and prospects through mobile devices. VLTC employs predictive analysis in its mobile advertising campaigns. As you can see from the VLTC website they are used by many of the largest corporations to run mobile ad campaigns. The unique thing about VLTC is its ability to modify mobile ads real time based on its data mining, a distinct advantage for its customers. The chart below shows how the mobile ad market is still in its infancy and poised for a large increase.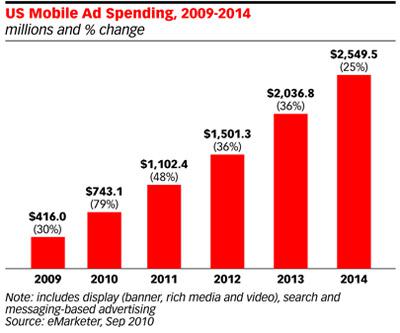 Many traders are unaware of the fact that VLTC is majority owned by Carl Icahn. He currently owns 30.7% of the company after purchasing 95% of their preferred share offering a few months ago. VLTC currently has 4.63m shares outstanding with a very small 3.9m available float. Short interest is a staggering 15.9% and a recipe for a large price movement in the stock price on a short squeeze. With an average daily volume of only 21k shares it would take 30 days for shorts to cover. This would add tremendous upside momentum to the stock. Over the last few days we have seen what low float USEC, Inc (USU) has done with its 24% short interest and a higher float. The stock has moved from $3 to $29 in a week. With strong interest in mobile ad stocks and the equally high short interest and low float situation, shares of VLTC could see a large upward move.
Let us look under the hood now at VLTC earnings to see if it qualifies for an investment for those with a medium to long term bias. On May 15th, 2013 VLTC reported revenue of $18.4 million, as compared to $22.8 million in the first quarter of 2012. Net income from continuing operations was $196,000, as compared to net loss from continuing operations of $(4.0) million in the first quarter of 2012. So far this is looking very attractive. VLTC has turned in a profit on its new focus on mobile ad revenue on lower sales. As we look at cash it seems VLTC is also outperforming there, generating $2.8m in cash, leaving the company with $54.2m in total cash. With $22.9m in debt VLTC is trading with a market cap of only $18.4m approximately. With a net cash balance of $32m this leaves VLTC trading $12.77m UNDER its cash value with EPS and cash flow generation. Simply based on this metric VLTC looks like a very attractive investment. With an annual revenue run rate of approximately $72m, based on the last quarters numbers, VLTC appears to be trading at a substantial discount to sales and profits. Investors should also note that all of VLTC debt is owned by Carl Icahn, another positive.
If we look at the VLTC chart we see the stock has firmed a bottom over the last month in the $4 range. A breakout above $4.20 should lead to a quick move to the 200 day moving average at $4.73.
We have read much lately about the difficulty of social websites to monitize the huge move to mobile that is underway. VLTC is deeply involved in this sector and is already turning a profit at this early stage. The company is trading $12m under cash, it is generating cash flow and it is profitable. It is in a sector that is getting tremendous investor attention right now based on the mobile revenue gains by FB. Carl Icahn owns 30.7% of the company. Based on these facts it seems to me that VLTC is very much undervalued at this time and could reap tremendous upside rewards for investors here. Over the last month shares of MeetMe, Inc, (NASDAQ:MEET), have gained 80% on its gains in mobile ad revenue. With $44m in annual sales MEET is trading with a market cap of $70m and not profitable. If we apply the same market cap metric to VLTC then we arrive at a fair value of $16 per share. The mobile ad future looks very bright for VLTC.
Disclosure: I am long MEET, FB, VLTC. I wrote this article myself, and it expresses my own opinions. I am not receiving compensation for it (other than from Seeking Alpha). I have no business relationship with any company whose stock is mentioned in this article.