The purpose of this series is to highlight stocks that are undervalued, profitable, underperformed the market, and have a favorable technical outlook. On a short side note, I did not have a stock pick last week because I was gone on vacation. The stock that I will be covering for my undervalued series this week is MRC Global (NYSE:MRC). MRC stock has dropped 6.34% in the last month and has significantly underperformed the S&P 500 (NYSEARCA:SPY) year to date. I believe MRC is a solid undervalued long-term choice to gain exposure to the build-out of energy infrastructure worldwide. MRC serves as the "middle man" and distributes products that are used in every step of the process of getting oil & gas out of the ground, and transporting it to its end destination of a refinery or processing plant, as the chart from a recent investor conference presentation showed. The products MRC supplies to oil & gas companies are fitting, flanges, valves, line pipe and tubing.

Value
To value MRC I will be using a DCF calculator, with data for earnings and growth coming from Zacks.com, benchmark data from longrundata.com, and CPI data from the BLS. The DCF table below shows shares of MRC are undervalued by 58.86%, which represents a potentially significant price appreciation opportunity for shares of MRC.
EPS [ttm]: $2.00
Long-term Growth Rate: 15.00%
Earnings grow for next: 5 years
Level off: to 1% after
Benchmark return: 10-year annualized SPY return of 7.55%+1.8% inflation= 9.35% benchmark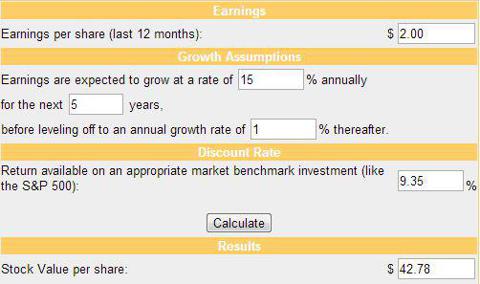 Technical Outlook
The chart below shows that shares of MRC have been steadily rising since the middle of last year when the stock hit a low of $19.04, and have held long-term support [Blue Line]. In addition, MRC has a another level of horizontal support at just under $26, which represents the close the day before shares broke out to new highs in November 2012. Based on the chart I believe shares of MRC are poised to hold the two levels of support and move higher in the long term.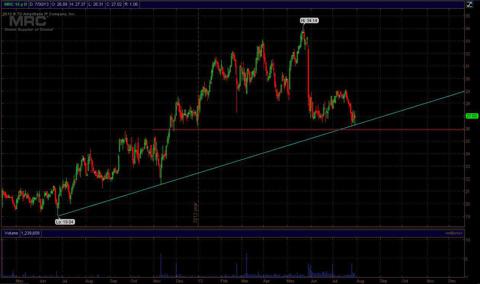 Catalyst
The biggest long-term catalyst for MRC is the continued build-out of energy infrastructure. The chart below from the investor conference presentation shows that global Capex spending on exploration & production is expected to grow roughly 30% by 2015. MRC has two short-term catalysts; the first is earnings, which MRC is reporting on Thursday August 1. The second catalyst that could drive shares of MRC higher is the approval of the Keystone Pipeline. If the pipeline were to be approved for construction, this would be a huge opportunity for MRC to distribute products to companies constructing the pipeline.

Risks
The biggest risk to MRC is the other side of the Keystone Pipeline catalyst. In an 8-K filed at the end of May MRC warned that sales for pipe would be down. The two reasons the filing gave were lower natural gas prices, which led to less drilling, and "the permitting environment for new crude oil pipelines has slowed, resulting in the continued use by many customers of rail and trucks to transport oil." Therefore, the combination of lower natural gas prices, with government red tape could be a risk for shares of MRC.
Closing thought
I believe shares of MRC are poised to move higher from current levels, because the stock is undervalued, near two levels of support the stock has previously held, and because of the continued growth in energy infrastructure build-out. I believe MRC might report a rough quarter due to the continued drop in natural gas prices as well as the regulatory environment, but I believe these issues are relatively short term and if the shares do fall after earnings, but the stock holds one or both of its support levels I believe shares can move higher long term. The long-term trend in its underlying business is towards increased spending on energy infrastructure and because of that, I believe shares in the long term will move higher to my fair value estimate of $42.78.
Disclosure: I have no positions in any stocks mentioned, and no plans to initiate any positions within the next 72 hours. I wrote this article myself, and it expresses my own opinions. I am not receiving compensation for it (other than from Seeking Alpha). I have no business relationship with any company whose stock is mentioned in this article.