Today, July 31, the FOMC released its policy statement, which occurred at the end of its two-day meeting spanning July 30 and July 31. At the end of this paragraph, I have cut and pasted that statement and bolded the portions that I believe are relevant for traders and investors. In short, I have confidence that tapering fears are overblown at this point in time. Before the Fed tapers, I believe that it will stop investing the proceeds of its maturing securities in its existing portfolio. Additionally, with a weak global economy anchored by a struggling China, and a post-traumatic Europe, the Fed appears concerned about the current low inflation readings. If you read between the lines in its latest statement, and compare this memo to past Fed communications, it becomes apparent that the Fed is leaning toward a more dovish policy for a longer period of time. This should be the green light that triggers the outperformance of emerging market and commodity stocks. Without further ado, let's examine the policy statement:
Information received since the Federal Open Market Committee met in June suggests that economic activity expanded at a modest pace during the first half of the year. Labor market conditions have shown further improvement in recent months, on balance, but the unemployment rate remains elevated. Household spending and business fixed investment advanced, and the housing sector has been strengthening, but mortgage rates have risen somewhat and fiscal policy is restraining economic growth. Partly reflecting transitory influences, inflation has been running below the Committee's longer-run objective, but longer-term inflation expectations have remained stable.

Consistent with its statutory mandate, the Committee seeks to foster maximum employment and price stability. The Committee expects that, with appropriate policy accommodation, economic growth will pick up from its recent pace and the unemployment rate will gradually decline toward levels the Committee judges consistent with its dual mandate. The Committee sees the downside risks to the outlook for the economy and the labor market as having diminished since the fall. The Committee recognizes that inflation persistently below its 2 percent objective could pose risks to economic performance, but it anticipates that inflation will move back toward its objective over the medium term.

To support a stronger economic recovery and to help ensure that inflation, over time, is at the rate most consistent with its dual mandate, the Committee decided to continue purchasing additional agency mortgage-backed securities at a pace of $40 billion per month and longer-term Treasury securities at a pace of $45 billion per month. The Committee is maintaining its existing policy of reinvesting principal payments from its holdings of agency debt and agency mortgage-backed securities in agency mortgage-backed securities and of rolling over maturing Treasury securities at auction. Taken together, these actions should maintain downward pressure on longer-term interest rates, support mortgage markets, and help to make broader financial conditions more accommodative.

The Committee will closely monitor incoming information on economic and financial developments in coming months. The Committee will continue its purchases of Treasury and agency mortgage-backed securities, and employ its other policy tools as appropriate, until the outlook for the labor market has improved substantially in a context of price stability. The Committee is prepared to increase or reduce the pace of its purchases to maintain appropriate policy accommodation as the outlook for the labor market or inflation changes. In determining the size, pace, and composition of its asset purchases, the Committee will continue to take appropriate account of the likely efficacy and costs of such purchases as well as the extent of progress toward its economic objectives.

To support continued progress toward maximum employment and price stability, the Committee today reaffirmed its view that a highly accommodative stance of monetary policy will remain appropriate for a considerable time after the asset purchase program ends and the economic recovery strengthens. In particular, the Committee decided to keep the target range for the federal funds rate at 0 to 1/4 percent and currently anticipates that this exceptionally low range for the federal funds rate will be appropriate at least as long as the unemployment rate remains above 6-1/2 percent, inflation between one and two years ahead is projected to be no more than a half percentage point above the Committee's 2 percent longer-run goal, and longer-term inflation expectations continue to be well anchored. In determining how long to maintain a highly accommodative stance of monetary policy, the Committee will also consider other information, including additional measures of labor market conditions, indicators of inflation pressures and inflation expectations, and readings on financial developments. When the Committee decides to begin to remove policy accommodation, it will take a balanced approach consistent with its longer-run goals of maximum employment and inflation of 2 percent.

Voting for the FOMC monetary policy action were: Ben S. Bernanke, Chairman; William C. Dudley, Vice Chairman; James Bullard; Elizabeth A. Duke; Charles L. Evans; Jerome H. Powell; Sarah Bloom Raskin; Eric S. Rosengren; Jeremy C. Stein; Daniel K. Tarullo; and Janet L. Yellen. Voting against the action was Esther L. George, who was concerned that the continued high level of monetary accommodation increased the risks of future economic and financial imbalances and, over time, could cause an increase in long-term inflation expectations.
The Market's Reaction
The daily charts I've selected show the market's reaction to the FOMC announcement. To illustrate the reaction across several markets, I have chosen the SPDR Gold Shares (NYSEARCA:GLD), the Market Vectors Gold Miner ETF (NYSEARCA:GDX), the SPDR S&P 500 (NYSEARCA:SPY), the iShares MSCI Emerging Markets (NYSEARCA:EEM), the iShares Barclays 20+ Year Treasury Bond (NYSEARCA:TLT) and the Powershares DB US Dollar Index Bullish (NYSEARCA:UUP) as follows: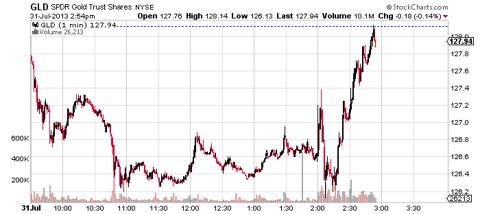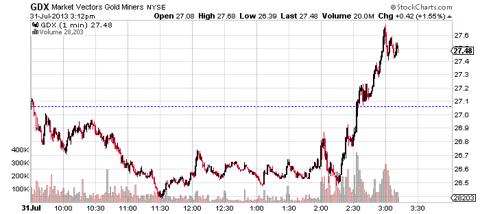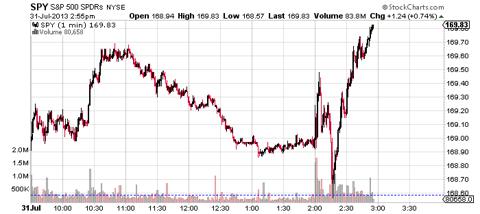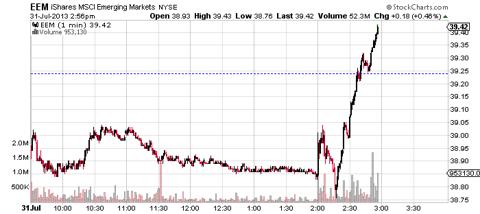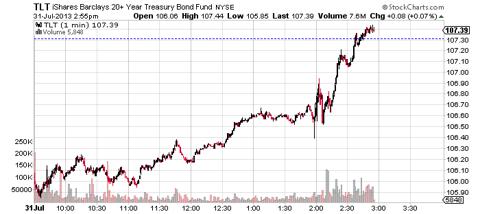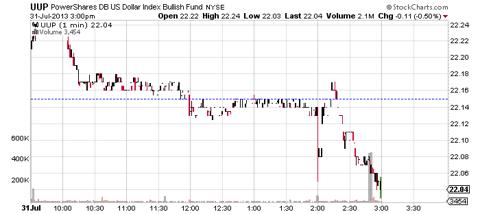 After the Fed's announcement, all risk assets rallied, with GLD and GDX leading the charge on a percentage basis, from their levels immediately prior to the announcement. Not surprisingly, the dollar fell in value, as indicated by the UUP. As global markets digest the FOMC announcement, and come to the conclusion that the Fed is not ready to taper decisively, I would not be surprised to see bond yields come back down, giving up a decent portion of their recent rise. Additionally, I anticipate that commodities and commodity stocks, led by gold and gold stocks, will continue their recent outperformance. In summary, the short-term moves after the FOMC announcement are likely to be a window into the future, forecasting the intermediate moves ahead of the markets.
Bottom Line - The Fed Will Not Taper In September
Ever since Bernanke introduced the word "tapering" into the lexicon of the financial media, his stance on commencing it has generated wide gyrations in market values. While a majority of pundits have focused closely on the FOMC's views on tapering, they have missed the fact that both the domestic and global economic recoveries remain stuck in neutral, and inflation readings, however distorted they may be, remain at the bottom of the Fed's hoped for range. Tepid economic growth and low levels of inflation mean more quantitative easing. In a renewed dovish environment, U.S. Treasury bond yields will fall, the dollar will decline, emerging markets will outperform the S&P 500 on a relative basis, and commodity stocks will outperform. More specifically, discounted precious metals, particularly the decimated shares of precious metals mining companies, offer a terrific opportunity as fears of tapering remain overblown.
Disclosure: I am long GDX, GLD. I wrote this article myself, and it expresses my own opinions. I am not receiving compensation for it (other than from Seeking Alpha). I have no business relationship with any company whose stock is mentioned in this article.