Editor's Note: This article covers a micro-cap stock. Please be aware of the risks associated with these stocks.
The Market Vectors Junior Gold Miners ETF (NYSEARCA:GDXJ) was trading as high as $155.20 in April 2011. The index is currently trading at $41.09 or 73.5% below the April 2011 peak.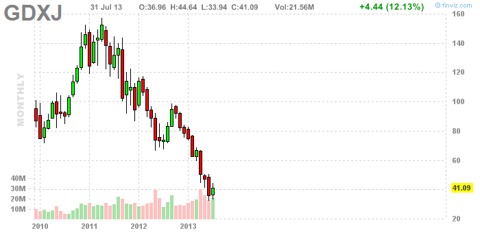 In this article, I will feature one junior gold miner that has seen intensive insider buying during the last 30 days. Intensive insider buying can be defined by the following three criteria:
The stock is purchased by three or more insiders within one month.

The stock is sold by no insiders in the month of intensive purchasing.

At least two purchasers increase their holdings by more than 10%.
Almaden Minerals (NYSEMKT:AAU) engages in the acquisition, exploration, and development of mineral properties in Canada, the United States, and Mexico.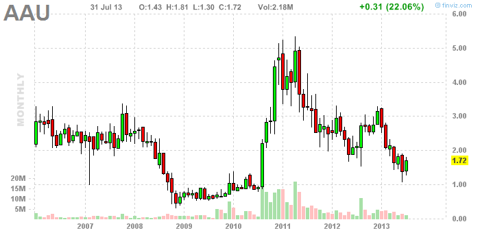 Insider buying by insider (last 30 days)
Mark Brown purchased 20,000 shares on July 17 pursuant to a private placement. Mark Brown currently controls 30,000 shares or less than 0.1% of the company. Mark Brown serves as a director of the company.
Gerald Carlson purchased 16,000 shares on July 17 pursuant to a private placement. Gerald Carlson currently holds 49,000 shares or less than 0.1% of the company. Gerald Carlson serves as a director of the company.
Ernesto Echavarria purchased 2,800,000 shares on July 17 pursuant to a private placement. Ernesto Echavarria currently holds 7,028,009 shares or 10.9% of the company.
Duane Poliquin purchased 40,000 shares on July 17 pursuant to a private placement. Duane Poliquin currently holds 2,275,837 shares or 3.5% of the company. Duane Poliquin is Founder & Chairman of the company.
Insider buying by calendar month
Here is a table of Almaden Minerals' insider trading activity by calendar month.
| | | |
| --- | --- | --- |
| Month | Insider buying / shares | Insider selling / shares |
| July 2013 | 2,876,000 | 0 |
| June 2013 | 9,000 | 0 |
| May 2013 | 0 | 0 |
| April 2013 | 36,700 | 0 |
| March 2013 | 11,000 | 0 |
| February 2013 | 122,600 | 0 |
| January 2013 | 0 | 0 |
There have been 3,055,300 shares purchased and there have been zero shares sold by the insiders this year.
Financials
The company reported the first-quarter financial results on May 7 with the following highlights:
| | |
| --- | --- |
| Revenue | $55,209 |
| Net loss | $1.7 million |
| Cash | $13.7 million |
On July 17, the company closed a private placement. Following completion of this private placement, Almaden has approximately $16.9 million in cash. In addition, Almaden has equity holdings valued at approximately $5.4 million and 1,597 ounces of physical gold in inventory currently valued at approximately $2.1 million.
Outlook
Almaden has sufficient cash on hand to conduct its exploration and development plans for the next fiscal year. Almaden has set significant milestones including the following:
Mexican projects:
Ixtaca - Having announced the resource calculation and metallurgical results in late January 2013, the company continues to drill as part of its on-going exploration drill program with the objective of expanding the resource and seeking new zones of mineralization elsewhere on the property.
El Cobre - The company started a small exploration drill program but decided to suspend it to focus available funds on the Ixtaca program.
Others - The company is advancing a regional pipeline of projects along trends identified from the company's extensive past exploration programs.
Nevada, USA projects:
Willow - a first stage drill program is planned to test both a high sulphidation epithermal gold target and a porphyry copper-gold target. This will depend on availability of personnel and budgets.
Canadian projects:
Merit - drilling is expected in 2013 by the optionee.
Competition
There is competition from other mining exploration companies with operations similar to those of Almaden's. Many of the mining companies with which Almaden competes have operations and financial strength many times greater than that of Almaden. Such competitors could outbid Almaden for such projects, equipment or personnel, or produce minerals at a lower cost, which would have a negative effect on Almaden's operations and financial condition.
Conclusion
There have been four different insiders buying the shares and there have not been any insiders selling the shares during the last 30 days. The company's mineral resources are 3.6 million gold ounces. Almaden has enough cash for this year's exploration program. I have a cautiously bullish bias for the stock currently based on the intensive insider buying.
Disclosure: I have no positions in any stocks mentioned, but may initiate a long position in AAU over the next 72 hours. I wrote this article myself, and it expresses my own opinions. I am not receiving compensation for it (other than from Seeking Alpha). I have no business relationship with any company whose stock is mentioned in this article.