Novell, Inc. (NASDAQ:NOVL), a leading technology software company reported mixed third quarter results with revenue slightly below expectations and adjusted EPS marginally over.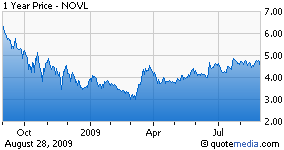 Revenue of $216.1 million in the quarter decreased 11.9% from the year-ago period and was 0.9% below the Zacks Consensus estimate. Adjusted EPS of 7 cents reported in the quarter did manage to edge out the Zacks Consensus Estimate by 1 cent.

EPS increased 40.0% from the 5 cents reported in the year-ago period due to cost-cutting efforts. As a result of lower operating expenses, which fell 20.0% year over year, non-GAAP operating margin improved to 15.3% in the quarter from 9.9% in the year-ago quarter.

Revenue declined due to a sharp drop in software license revenue, which fell 49.0% year over year as sales of identity and security management and systems and resource management software each declined in the quarter. Services revenue also declined 30.1% year over year, which was partially offset by a growth of 5.0% in maintenance and subscription revenue.

The foreign currency exchange rate negatively impacted revenue by $6 million and positively impacted operating expenses by $8 million and operating income by $2 million in the quarter.

By product line, Novell's revenue from Linux Platform Products was up 22.0% year over year, revenue from Identity, Access and Compliance Management was down 16.0% and revenue from Systems and Resource Management was down 15.0%. Workgroup product revenue decreased 12.0% year over year.

Revenue from Linux products fell due to declining service shipments and increased virtualization, which negatively impacted Linux demand. Additionally, the Linux business is dependent on large customers such as Microsoft (NASDAQ:MSFT) which have been impacted by the weak economy.

Total headcount at the end of the quarter was 3700, down from 3900 in the prior quarter primarily due to an outsourcing agreement with Affiliated Computer Services, Inc. (ACS). The company also expanded its partnership with Dell Inc. (NASDAQ:DELL) which will be positive for its growing virtualization efforts.

Novell's balance sheet remains sound with no debt. The company exited the quarter with $921.5 million in cash and equivalents, down $146.3 million from the previous quarter due to retirement of its outstanding convertible debentures. Cash flow from operations for the quarter was $35.0 million, up $6.0 million from the year-ago period.

Novell expects to maintain double-digit adjusted operating margins for full year 2009. The company expects fourth quarter revenue run rate to be slightly below third quarter levels, but also expects the identity business to remain positive.

While the current outlook and weak demand continue to reflect the adverse and uncertain economic conditions currently affecting Novell's businesses, we believe this is only a temporary phenomenon, and the long-term growth story remains intact. We remain positive on Novell's strong operating margins and continued focus on cost reductions. We have a Neutral rating on NOVL shares.