Micros Systems (NASDAQ:MCRS) designs, manufactures, markets, and services enterprise information solutions for the hospitality and specialty retail industries. Last week, the company posted better-than-expected results for the fourth quarter of fiscal 2009.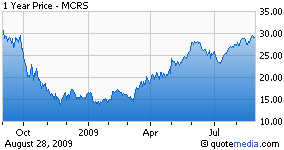 Revenue of $224.2 million was down 12.7% from a year earlier but up 8.7% sequentially. Gross margin for the quarter came in at 53.7%, almost flat with the year-ago period. Net income was $24 million, or 29 cents per share, compared to $30.1 million or 37 cents per share, last year.
During the quarter, Micros recorded a one-time restructuring charge of $3.8 million and an impairment charge of $1.3 million related to investments in auction-rate securities. Excluding non-recurring items, earnings per share (EPS) came in at 36 cents easily beating the Zacks Consensus Estimate of 29 cents.
For fiscal 2009, revenue of $911.8 million was down 4.4% from a year ago. Net income came in at $99.3 million, or $1.21 per share, compared to $101.3 million, or $1.21 per share, in 2008. Excluding non-recurring items, EPS was $1.38.
During the reported quarter, Micros repurchased $30 million shares and almost completed the two million buyback authorized by the Board of Directors in February. The Board has approved an additional share repurchase program of two million shares.
Going forward, management is encouraged by improving business conditions like the positive GDP growth in France, Germany and Japan along with increased factory output and consumer confidence, receding jobless claims and the jump in sales of new homes. None of the company's customers have canceled any ongoing rollouts.
However, management remains cautious as unemployment continues to rise. Most of the positive news in the economy is tied to stimulus spending by the government.
Most Micros customers are either in the hospitality or specialty retail industry. Consumer spending is not expected to improve unless the government creates more jobs. We would like to remain on the sidelines till we have better clarity of its fiscal 2010 growth prospects, given the fact that economic recovery is going to be a slow affair.