Nearing the end of its Q2 2013 earnings conference call [see SA transcript], Capella Education Company (NASDAQ:CPLA) chairman and chief executive officer, J. Kevin Gilligan, offered a simple yet profound response to a question from an analyst regarding the current competitive environment in the on-line education industry:
Peter Appert, senior research analyst, Piper Jaffray Companies - Can you just give us a snapshot of how you're assessing the competitive environment and how you see it evolving?
J. Kevin Gilligan - I think the environment continues to be intensely competitive and expect it to remain that way for the foreseeable future. We've got a situation where demand remains weak, and we've got a lot of people chasing the demand. So you have to be able to win through execution and differentiation. So that's the environment… we expect will carry into '14, and we're going to plan accordingly.
Following its earnings release and conference call on July 23, 2013, Capella's stock price jumped 13%. Although a value proposition of execution through differentiation in a crowded online education market was a positive take-away from the call, right now the company may be more of a technical trade or growth play as opposed to a longer-term value investment.
What the Numbers are Saying
Revenue and Income
For the three months ending June 30, 2013, Capella reported an EPS of $0.83, which beat analyst consensus by $.17. Revenue was $103.7 million, beating estimates by $1.04 million, but was down 2.3% from Q2 2012. Compared to Q2 2012, Capella University total enrollment decreased 0.9% to 36,003, and new enrollments increased by 12.7%.
Operating income for the company was $17.5 million, compared to $18.1 million in Q2 2012. Operating margin was 16.8%, compared to 17.0% in Q2 2012. Net income attributable to the company for Q2 2013 was $10.4 million, compared to $11.4 million in Q2 2012. Net income per diluted share was $0.83, compared to $0.85 in Q2 2012.
For the six months ending June 30, 2013, Capella reported revenues of $208.9 million, a 3.1% decrease from $215.6 million for the same period in 2012. Operating income for the six-month period ending June 30, 2013 was $32.6 million, or 15.6 percent of revenue, compared to $36.0 million, or 16.7% of revenue during the same period in 2012. Net income attributable to the company was $19.2 million, or $1.54 per diluted share, compared to $22.7 million, or $1.67 per diluted share for same period in 2012.
Balance Sheet and Cash Flow
As of June 30, 2013, Capella Education had cash, equivalents, and marketable securities of $144.8 million, compared to $115.5 million at December 31, 2012. The company reported no debt for both periods. Cash flow from operating activities for the six-month period was $41.6 million compared to $35.6 million in the same period a year ago. 43.3% of revenue was spent on education services and 39.9% of revenue was spent on general sales and admin, generating an EBITDA of 16.8%.
The company reported bad debt of 3.2% as a percentage of revenue.
Graduate and post-graduate student populations, which collectively represent 70% of total active enrollment, were down 3.3% and 5.7%, respectively. But the lesser undergraduate student population, representing about 30% of total active enrollment, was up 28.9%.
Here are the CVCR Charts* for Capella Education Company: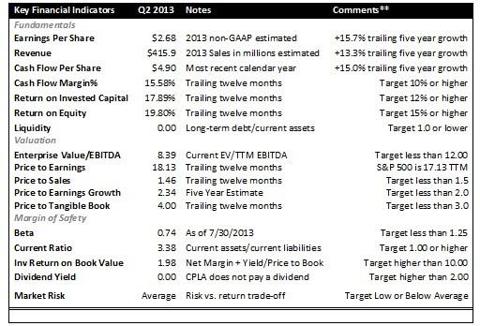 Click to enlarge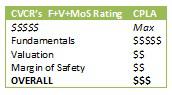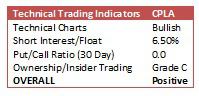 Sources: Charles Schwab & Co/Thomson Reuters/S&P Capital IQ/Market Edge **Targets are generalized to market; not to CPLA or education industry.
*Disclaimer: CVCR Charts are produced by Country View Capital Research, LLC. The specific indicators used in the above charts are based on David Waldron's for own account personal portfolio and investment philosophy that has returned a cumulative 107.95% since inception on 7/1/2004 vs. 42.28% for the S&P 500 during same period (as of June 28, 2013). His personal equity portfolio consists of a basket of large cap global companies supporting an investment objective of buying and holding dividend paying, well managed, financially sound companies that produce easy to understand products/services, have enduring competitive advantages, enjoy strong free cash flow, and are trading at a discount to their intrinsic value. The CVCR F+V+MoS chart, technical trading indicators, and personal investment objective are for illustrative purposes only and not meant as investment advice nor as a recommendation to buy/hold/sell or short CPLA or any other security. Readers should always engage in further research and/or consider consulting a certified financial planner, licensed broker/dealer, or registered investment advisor before making any investment decisions.
What Management is Saying
Guidance
According to the company's Q2 2013 earnings release, for the third quarter ending September 30, 2013, Capella University's new enrollment growth is expected to decline in the mid-single digit percentage range compared to previously reported stronger new enrollment performance in the third quarter of 2012. Total enrollment is expected to decline by about 2% to 4% and consolidated revenue is expected to be flat to up 1% compared to third quarter 2012.
Capella's guided consolidated operating margin is anticipated to be approximately 8% to 9% of total revenue for the third quarter of 2013, and about 13% to 14% of total revenue for the fiscal year 2013.
"We continue to expect quarterly volatility in new enrollment growth in the current market environment," said Steve Polacek, senior vice president and chief financial officer. "We are balancing this volatility with new learner success improvements. Our focus remains on diligent cost management, returning to total enrollment growth and investing in our business to drive both short- and long-term performance."
Conference Call
On the earnings conference call, CEO Gilligan and CFO Polacek stressed competency based learning models are key to Capella's differentiation oriented business model. Gilligan did emphasize new enrollment growth, which was more positive than the flat total enrollment picture. But in deference to the less spectacular total population growth, he discussed initiatives to improve student persistence (retention), which invariably expands total active population. A mandatory student orientation program recently implemented by the company should contribute to this metric as engaged students are more likely to persist. This is especially true early on in a student's tenure.
The overall message from both Gilligan and Polacek was continued development of innovative sustainable models to differentiate Capella in an increasingly competitive online education market.
What the Analysts are Saying
During the customary Q&A at the end of Capella's Q2 2013 earnings conference call, the participating brokerage analysts focused questions on SOPHIA, the company's wholly owned upstart modeled after the MOOC (massive open online course provider) phenomenon, but set apart from MOOCs in that it offers credit transfer courses; its recent partnership with Knowledge Delivery Systems, or KDS, giving the company broader access to the K-12 market of educators seeking professional development; its mandatory student orientations; and the pending federal approval of its FlexPath acceleration program, each designed to improve persistence and graduation rates.
Also queried by the analysts were capital spending, which the company projects at 5% for 2013; student inquiry to enrollment conversion rates, which according to the company are improving; non-Capella University revenues that Polacek said are trending from 3% in 2012 to as high as 5% in the second half of 2013; the company's intent to remain focused on graduate level training despite the recent jump in undergrad enrollments; and updates on Capella's branding campaign that Gilligan classified as a necessary regular exercise of refreshing marketing messages with prospective learner motivations.
Following the Q2 '13 earnings release Gabelli downgraded Capella Education to "hold" from "buy" questioning the stock's 13% jump despite guidance and student enrollment trends to the contrary. In separate research notes to clients, Jeff Silber at BMO Capital Markets and Adrienne Colby of Deutsche Bank each raised their price targets on Capella Education to $48.00. Both analysts have similar "hold" or "market perform" ratings on the stock. Zacks Investment Research reiterated its "hold" recommendation.
Below is the analyst consensus following Capella's Q2 2013 earnings release and call: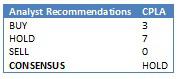 Source: Yahoo Finance: Thomson/First Call
What Isn't Being Said
I believe all education companies, including Capella, should consider increasing education services expenditures closer to 50% of revenue, while decreasing general sales and admin nearer to 30%, yielding an operating margin in the neighborhood of 20%. This holistic financial model provides opportunity to concurrently satisfy the key constituents of students, regulators, and shareholders, respectively. The industry historically struggles with a balance benefiting all stakeholders. And with operating margins in the mid-teens, Capella is certainly on the low side of industry norms.
Conversely, Capella's bad debt of 3.2% is attractive and well below the industry average. Low bad debt numbers typically reflect a stable combination of satisfied students and effective collection strategies, including Title IV financial aid processing.
Interestingly, company management remains firm in their belief that future growth for Capella University is in graduate and post-graduate enrollments, despite the significant jump last quarter in undergraduate population. Again, this apparently plays into their stated competitive advantage of differentiation, in this case post-baccalaureate offerings. As online competitors flourish, keeping tuition costs competitive will be paramount for success in Capella's relatively narrow product matrix.
According to the company's most recent Form 10-Q filing with the Securities and Exchange Commission, Capella University's three-year draft student loan cohort default rate is 10.9%, well below the 30% cap scheduled to be set by the U.S. Department of Education when finalized rates are released in September. A relatively low default rate such as Capella University's is often reflective of a quality driven institution of higher learning.
Technically oriented traders and top-down growth investors may continue to uncover potential catalysts from within Capella or the education industry on the whole, capturing opportunities for shorter-term gains in Capella's stock. But for bottom-up value investors, the story may be a bit murkier.
Company fundamentals are strong, suggesting solid management and a realistic business model. But price to earnings, growth ratios, and tangible book imply the company might be currently rich in valuation. In attempting to calculate Capella Education's intrinsic value, an investor could deem its margin of safety as suspect when reviewing potential return from net profit margin, dividends (or lack thereof), and market risk.
It can be argued that beyond shorter-term trading opportunities, investors may need to wait for yet another black swan event within the education industry or from the overall general market to bring Capella's stock price to an acceptable entry point. It appears to be a quality company with a believable business model and a grasp on how to leverage its competitive advantages in the online education space.
But for investors inclined toward a longer view, patience may well be essential to ultimately accumulating the stock at reasonable prices.
Disclosure: I have no positions in any stocks mentioned, and no plans to initiate any positions within the next 72 hours. I wrote this article myself, and it expresses my own opinions. I am not receiving compensation for it. I have no business relationship with any company whose stock is mentioned in this article.