To put it mildly, American Capital Agency Corp. (NASDAQ:AGNC) has seen better days. AGNC has now posted back-to-back abysmal quarters. Not only did AGNC lose 12% of its book value, but the company also lowered its dividend 15% to $1.05 per share per quarter. However, things could have been worse. AGNC was fortunate in that its hedges buffered some of the declines it saw in MBS prices. At current prices, AGNC offers an 18.50% yield, but do note that this dividend is not set in stone and may very well fluctuate quarter to quarter.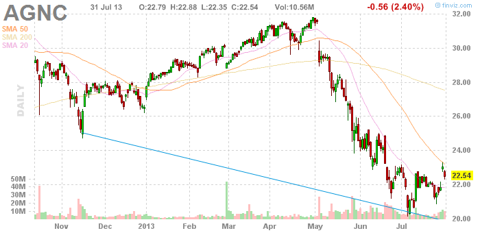 Click to enlarge
Earnings, Book Value and Dividend per Share
On July 29, AGNC reported its Q2 2013 results. For the quarter, the company reported a total comprehensive loss of $936M, or $2.37 per common share. AGNC's book value, or BV, declined $3.42, or 11.8%, to $25.51, from $28.93 last quarter. As noted above, this is the second consecutive quarter where AGNC suffered severe BV declines. AGNC's economic return, which it defines as dividends plus the net change in book value, was negative 8.2% for the quarter, or a ghastly negative 32.9% when annualized.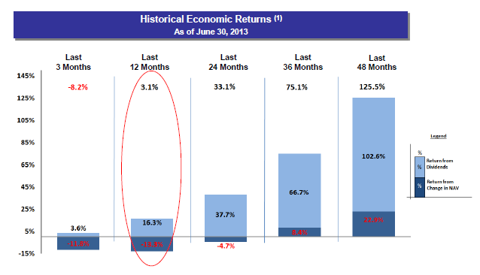 Click to enlarge
On June 18, AGNC declared a $1.05 per share quarterly dividend, down 16% from the previous level of $1.25 per share. The dividend was more than AGNC's estimated taxable income per share of $1.04, but less than its net spread and dollar roll income per share of $1.15, of which $0.49 was from dollar roll income. Do note that AGNC's net spread income includes a $0.14 per share benefit related to changes in its projected constant prepayment rate, or CPR, estimates.
There was much speculation about AGNC's dividend and a reduction was widely assumed. Some analysts' estimates went as low as $0.90 per share, with the average ranging near $1.00. In general, AGNC's quarterly dividend for Q2 came in slightly above estimates.

Click to enlarge
Net Interest Rate Spread
For the quarter, AGNC reported an annualized net interest rate spread of 1.86%, of which 37 basis points were from estimated TBA dollar roll income, down slightly from the 1.87% last quarter. Do note that about 29 basis points of this came from the above-mentioned benefit from changes in projected CPR. Excluding the TBA dollar roll income, AGNC's net spread was 1.49%, down slightly from the 1.52% reported in Q1 2013.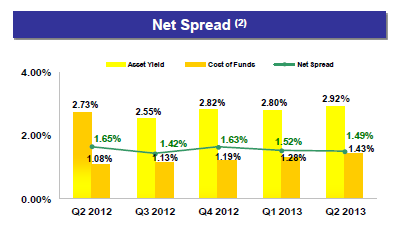 Investment Portfolio: Pay-Up Risk is now Minimal
In the conference call, AGNC's CIO Gary Kain mentioned an interesting nugget regarding the company's asset composition. Essentially, AGNC's pay-up risk has declined drastically. If pay-ups drop to zero, the result to AGNC's BV would be less than 2.5%.
We reduced the size of our asset portfolio, adjusted our asset composition to be more consistent with a higher rate environment, and materially increased the duration of our hedges. As a result of these actions and evolving market conditions, our exposure to higher rates is lower than it has been in years and our 'pay-up' risk is now minimal.
Due to the recent increase in spreads and the interest rate volatility, AGNC has made its portfolio more defensive in nature. AGNC greatly adjusted the positions in its portfolio, namely reducing exposure to 30 year MBS and adding 15 year MBS. AGNC's total investment portfolio shrank 12% to $91.7B as of June 30. This decline in portfolio size was due in part to decline in MBS prices. As these declined, AGNC needed to lower its overall portfolio size to maintain its leverage ratio of around 8.5X. This decline in portfolio size should somewhat impact AGNC's profitability as spreads in general have increased.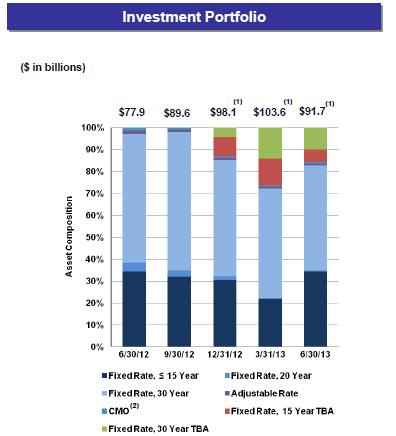 Hedges and Book Value Sensitivity
Lastly, given the volatility we are experiencing, we have taken a defensive posture and we are more hedged today than we have ever been in the past. The collective rebalancing actions that we took during the quarter have allowed us to keep our current duration gap in check and equally important have materially reduced our exposure to further rate increases.
During the Q2 2013 conference call, AGNC mentioned that it had somewhat increased its hedge ratios in response to the volatility seen in the MBS market. As a result of this and the changes in its investment portfolio, AGNC has limited its extension risk. As of quarter end, AGNC's portfolio average duration was 5.6 years. A 200 basis point move in interest rates will now extend AGNC's asset duration to about 6.4 years.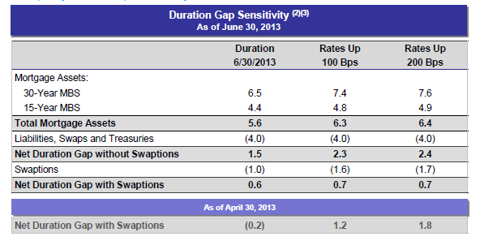 Click to enlarge
Given the recent volatility in MBS spreads, AGNC also provided an estimate regarding its BV sensitivity in response to changes in spreads between its assets and hedges. A 10 basis point decrease or increase would result in an estimated 5% change in AGNC's BV, while a 25 basis point decrease or increase would result in an estimated 13% change. Note that moves in MBS spreads have an inverse effect on AGNC's BV. Obviously, the direction MBS spreads have moved has been up, which has decimated AGNC book value.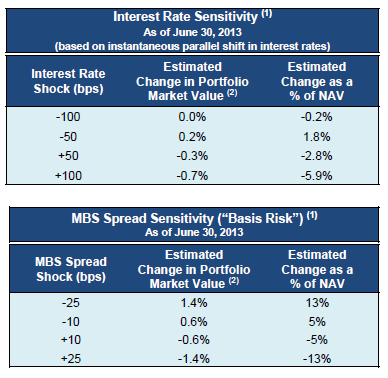 Conclusion
All things considered, AGNC handled the fears of the Fed slowing down its bond purchases (which is widely known as tapering) quite well. In fact, AGNC's reported BV decline was far less than expected, sending shares higher when it reported. To borrow a phrase from an analyst from Keefe, Bruyette & Woods, AGNC's quarter was "better than feared."
However, make no mistake, AGNC had a disastrous quarter. As a current shareholder of AGNC, I am not pleased by these results. AGNC went from nearly always trading at a premium to BV to now trading at a large discount. In addition, AGNC is unlikely to profit from this increase in spreads as it will need more hedges to combat the volatility seen in the MBS market.
Disclaimer: The opinions in this article are for informational purposes only and should not be construed as a recommendation to buy or sell the stocks mentioned. Please do your own due diligence before making any investment decision.
Disclosure: I am long AGNC. I wrote this article myself, and it expresses my own opinions. I am not receiving compensation for it (other than from Seeking Alpha). I have no business relationship with any company whose stock is mentioned in this article.
Additional disclosure: I am also long CYS, EFC, and RSO