As the long term outlook for the global economy has greatly improved over the past few months, the freeze in new energy infrastructure build out has shown signs of thawing. Companies within the engineering and construction sectors have recently reported increased bidding activity within the sector in Asia-Pacific, the Middle East and South America. A company that stands to gain from this uptick in activity in selected regions is Netherlands based Chicago Bridge & Iron Co. (NYSE:CBI), due to its track record of experience and execution in those regions.
In a report released this morning, JP Morgan analysts upgraded CBI's stock from Neutral to Overweight, raised FY10 EPS from $1.30 to $1.50 and increased its price target from $14 to $19. The increase in FY10 guidance has the stock trading at a P/E multiple of 10.4x which is a 32% discount to its peer group. The analysts cited the improving global market and increased clarity on certain overhanging issues as the reasons behind the more than 35% jump in their price target. Over the past few months, CBI has experienced delays on certain projects, specifically due to worker strikes on a project named South Hook in Wales, which resulted in a $28 million charge at the end of Q2. The latest news out of Wales is that the South Hook project appears to be back on track and is scheduled for completion in the second half of '09. Additionally, two key projects in South America also seem to be on schedule.
At the end of Q2, CBI's backlog was $4.2 billion, which was down 44% y/y and 15% q/q. The drop in backlog represents the lack of new projects entering the market. However, the next twelve months are expected to be drastically different as analysts see over $3.6 billion in new large project opportunities vs. $1.7 billion awarded over the last 12 months. Most of these projects will be located in the aforementioned markets, which places CBI on the inside track to winning the contracts.
A look at CBI's one-year chart shows a nice bottoming formation the past few months: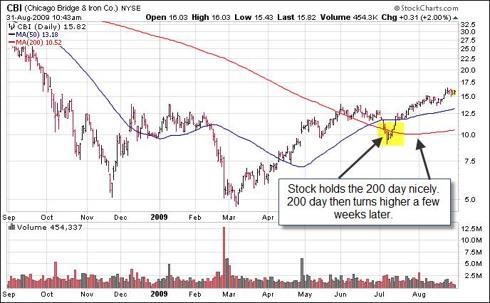 Source: Stockcharts.com
Note the series of higher highs and higher lows also, indicative of a trend that has now changed for the better to the upside, confirmed with a turn up in the stock's 200 day Simple Moving Average.
With current projects back on track, strong potential for new large contract wins over the next few quarters and a cheap valuation, we feel the stock is likely to move higher in the remaining months of 2009. We will be looking to take a long position in the stock with a move over $16.50.
Disclaimer: No Position.