It's a tough time to be a global automaker. While China's car market continues to provide robust business activity for the time being, companies that deal in international markets are facing a number of pressures that make operations an increasingly expensive proposition. There are few vehicle makers facing issues quite like Toyota (NYSE:TM), which, while currently positioned as the world's largest manufacturer of cars and trucks by some accounts, could be in for some tough times ahead if the global economic environment deteriorates further.
Unpacking the cause for these troubles - and shining some light on recent pressures in Toyota's stock - requires some extensive economic analysis that goes beyond simple fundamentals. Circumstantial evidence suggests that unless improvements are made to lower costs and improve customer outreach, Toyota could suffer the same fate that befell American automakers like General Motors (NYSE:GM) as brand atrophy settled in.
Let's look at the positives first, as the horizon isn't completely black for Toyota moving forward. Abenomics - the moniker for the Japanese government's monetary and fiscal stimulus programs - has boosted profits for Toyota during a time when it needs it the most. Bloomberg News reported in late July that Toyota is expected to announce a net income growth of 430 billion yen ($4.3 billion) for the first quarter of this year. If realized, this will bring the company closer to its fiscal-year net income growth goal of 21 percent, according to Bloomberg.
Yet despite its success in Chinese and American markets, the aftermath of the 2011 tsunami and subsequent nuclear meltdown has carried costs that are difficult - and in some cases, painful - to quantify. Its domestic customer base remains concerned about future economic prospects. The Japanese Finance Ministry reported on July 29 that household spending is down 0.4 percent for the year - much lower than the anticipated 1.2 percent boost. Although Abenomics has delivered relief in the stock markets, the real economy - where people are actually buying cars and trucks - is still depressed by socio-financial problems.
Toyota is also embroiled in litigation surrounding accelerator problems. A California judge has approved a motion to move forward with jury selection in a case that could add considerable costs to the $1 billion the company has already spent settling other complaints. While Toyota's position as a profitable car company allows it a degree of legal cushioning, the lawsuit represents a dark cloud during a time when it needs clear skies to thrive.
With these pressures in mind, how should investors react? If you take a look at the graph, you'll see that [TM] has been experiencing downward price pressure since May of this year, when concerns over the Abe administration's actions were putting pressure on Japanese companies first began.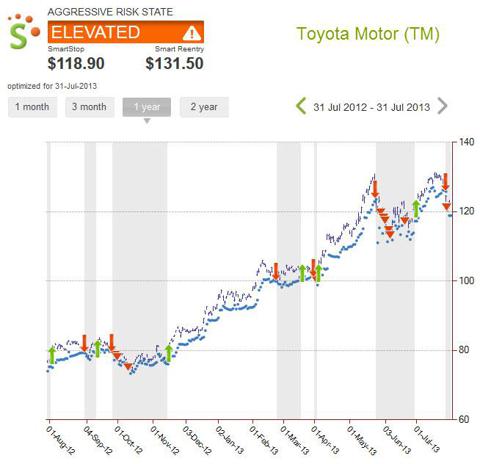 Source: SmartStops.net
This suggests that Toyota is particularly susceptible to the ebb and flow of Abenomics, and indicates that at least some of the company's success is dependent on the administration's stimulus actions. Investors will be able to tell for themselves how true this is if Prime Minister Shinzo Abe is forced to withdraw some of the market support if interest rates -- currently suppressed - begin to spike.
TM's recent dip is more complex to divine. A simple answer would be that markets are responding negatively to the acceleration problem lawsuits, as this shows the automaker is in a vulnerable position. Additionally, a global economic slowdown could hit Toyota especially hard as Japan's domestic economy remains hindered by a lack of consumer activity and negligible growth. It's possible that investors are looking at these events as a confluence of problems rather than individual ones, all of which combine to form an impression that Toyota is ill-equipped to handle a low-growth economy five years after the financial crisis first flared up.
Conclusion
Toyota's history as a growth-oriented automaker shouldn't be ignored. However, given the multifaceted and amorphous nature of the post-Great Recession global economy, investors can't take anything for granted. It may be prudent to manage your risk and protect any investment in Toyota by placing stops or hedging your investment with options. Only by carefully evaluating risk based on fundamentals and price developments will investors avoid the types of losses that many can't afford to bear.
Disclosure: I have no positions in any stocks mentioned, and no plans to initiate any positions within the next 72 hours. I wrote this article myself, and it expresses my own opinions. I am not receiving compensation for it. I have no business relationship with any company whose stock is mentioned in this article.