During our last look at companies that comprise the S&P 500 Industrial Sector (NYSEARCA:XLK), we found defense companies in the bargain bin. Since then the defense-oriented names have largely closed the gap and our highlighted defense company, Lockheed Martin (NYSE:LMT), is up ~30% excluding dividends. While Lockheed, Raytheon (NYSE:RTN) and Northrop Grumman (NYSE:NOC) remain under the fair value line - we will spend this sector review digging a little deeper on Caterpillar (NYSE:CAT), which has hit our value radar.
While the S&P 500 continues to trade at all-time highs, Caterpillar peaked in the spring of 2011 at around $110 with a brief rebound in 2012 before settling into the low $80s today. A poor 2nd quarter including lowered guidance and the unfavorable mention from at least one famous short seller has put additional pressure on shares.
However, I would submit that based on commodity prices and overall global manufacturing activity over the past 3-to-4 years, the current pressure on shares is expected and normal. Furthermore, it is fair to be wary of the $8.8 billion acquisition of Bucyrus announced in 2010 given the potential for any future impairment charges given that of net assets acquired -- $8.5 billion is attributed to goodwill and intangible assets.
Before looking at more detail in Caterpillar, first is a review of the Industrial group valuations. Figure 1 details a large portion of the Industrial sector SPDR ETF. The Enterprise Value-to-Invested Capital (EV/IC) is a short-hand measure of the premium the market is putting on the company's capital investments. The current EV/IC can then compared to its average or normalized basis using a multi-year time frame. For value opportunities, we compare it to a theoretical value based purely on the company's estimated Return on Invested Capital (NASDAQ:ROIC) and Weighted Average Cost of Capital (OTC:WACC) or ROIC/WACC. We use the ROIC/WACC relationship to create a fair value line using a 1:1 ratio.
Figure 1: Industrial Sector Valuation Table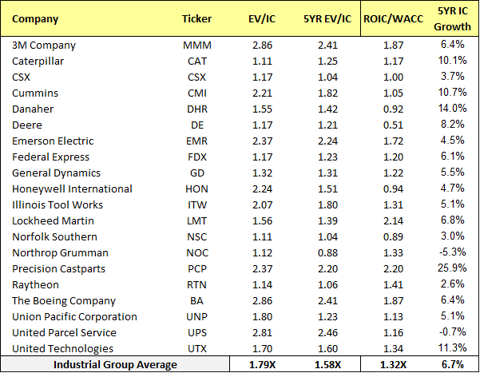 Click to enlarge
Prices as of 7/29/2013
Figure 2 takes the current EV/IC multiple and compares it to a conservative fair value using the ROIC/WACC at a 1:1 relationship. We are not as concerned about companies with multiples higher than the theoretical (which is due to growth expectations and other company or industry specific factors) but with those companies below the line.
Figure 2: Valuation Plot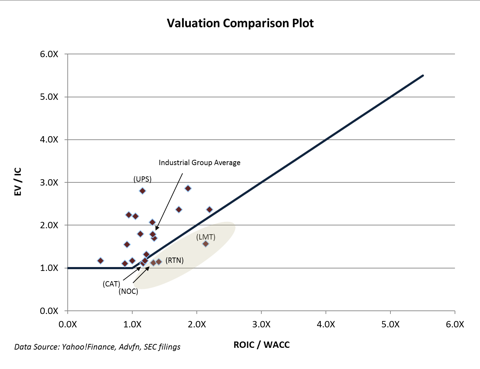 Click to enlarge
Prices as of 7/29/2013
Caterpillar Hits the Radar
With the recent disappointing quarter from Caterpillar and previous press about being a short candidate, Caterpillar has hit our value radar as the valuation is slightly below our fair value line. The company based on its normalized profitability and market premium would suggest fair value closer to $88 to $98 using the EV/IC range of 1.17X (ROIC/WACC) to 1.25X (long-term average) compared to its current EV/IC multiple of 1.11X.
From a macro-perspective, the cyclical nature of Caterpillar's business will always provide opportunities to purchase at attractive values. Given that we have been in a down cycle since 2010, it is possible that the slowing momentum has stopped and is setting a trough (globally).
Global manufacturing data indicates that industrial production has been slowing since the initial rebound after the 2007-2009 credit crisis. There was some contraction last summer which could mark the bottom of the global business cycle with growth now rebounding. However with the extreme monetary stimulus that has supported growth it will require more evidence before we can be certain in a change in trend in 2013 will remain positive.
Figure 3: Global Manufacturing Output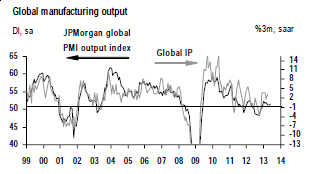 Source: JPMorgan/Markit
Secondly commodity prices look also to be stabilizing at least in the near-term. Figure 4 details a broad commodity basket ETF (NYSEARCA:DBC) that indicates that the current price of $25 is a support from back to 2009. If commodity prices in general stabilize here, it is another indicator in my opinion that the global economy is stabilizing.
Figure 4: Commodity Basket Performance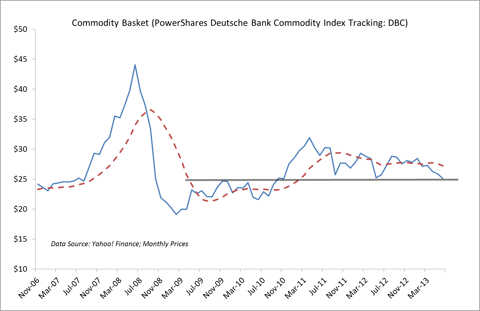 Click to enlarge
Caterpillar & Bucyrus
While the global economic cycle might be improving, one concern specifically with Caterpillar is its acquisition of Bucyrus announced in November of 2010. With any large acquisition that includes a fair amount of premium, there is concern that a) the value is lost to the shareholders of the target and b) there could be a future goodwill impairment charge. Caterpillar paid an estimated $4.9 billion in market value add (MVA) given the $8.8 billion acquisition price and estimated Invested Capital of ~$3.9 billion. In other words, Caterpillar paid approximately 2.26X EV/IC for Bucyrus compared to its own valuation of 1.4X-1.5X EV/IC.
Caterpillar has attributed $4.6 billion in goodwill to the Bucyrus acquisition and an additional $3.9 billion in intangible assets. Unfortunately the concern that this could be subject to future impairment is fair game. Caterpillar recently took a $580 million impairment charge against the $625 million in goodwill attributed to the May 2012 acquisition of ERA Mining and specifically as it related to the acquired Zhengzhou Siwei Mechanical & Electrical Manufacturing Co.
As a positive, Caterpillar has been divesting the Bucyrus distribution network to existing dealers. Through 2012, the company has sold approximately $1.8 billion to its dealer network. These distribution sales have continued through 2013 and is part of the long-term strategy for integrating Bucyrus into Caterpillar. Therefore I think it is too early to pass judgment on this acquisition.
Caterpillar by the Numbers
Caterpillar's estimated ROIC was 8.8% for the quarter compared to its 5-year average of 10.8%. The profitability was aided by the fact that Invested Capital declined during the quarter. A key will be where profitability stabilizes. The company's recent trough ROIC was at 7.1% in 2009. Note that the market premium in 2009 rebounded before profitability did.
Figure 5: Caterpillar Enterprise Value and ROIC Trend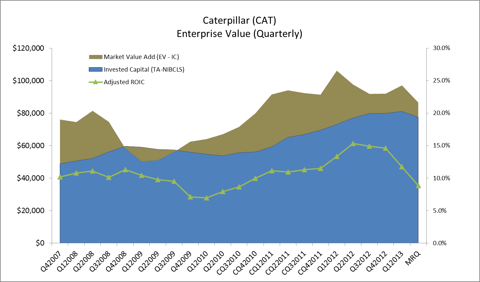 Click to enlarge
Valuation Expectations
Caterpillar's current valuation reflects modest expectations. The current valuation can be reached assuming no long-term or terminal value, a 5% growth in Invested Capital and a 10.8% ROIC for next 10 years (Figure 6). To reach the 5-year average 1.27X EV/IC multiple or $98 per share, would require adding discounted economic profits at 10.75% as a terminal value but still no growth in perpetuity (Figure 7). Note that these discount valuations are equivalent to discount models based on Free Cash Flow to the Firm (FCFF) and then adjusted for an equity value.
Figure 6: Expectations Value Scenario 1

Click to enlarge
Figure 7: Expectations Value Scenario 2

Click to enlarge
Conclusion
As the global business cycle is impacted by aggressive monetary policy across the world, it is difficult to assess the attractiveness of the economically sensitive industrial group. Valuations in the group suggest modest outlooks as the group trades just above its 5-year average, which is typical with other sectors we have reviewed recently. While the defense sector has reverted back to more normal valuations - Caterpillar has moved to a modest undervaluation in the low $80s.
Despite a reasonable valuation based on low expectations - Caterpillar's margin of safety is still modest as there are some risks to the downside based on a slowing global economy, further downside in commodity prices, and the potential of future goodwill write-offs related to the Bucyrus acquisition. However as most pragmatic investors know, the market can overly discount bad news and become too pessimistic which presents opportunities. Therefore, on balance, Caterpillar is a solid candidate for an investor's watch list but I wouldn't jump in quite yet.
Disclosure: I am long LMT. I wrote this article myself, and it expresses my own opinions. I am not receiving compensation for it (other than from Seeking Alpha). I have no business relationship with any company whose stock is mentioned in this article.
Additional disclosure: Additional Disclosures:Clients of Smith Patrick Financial Advisors own Lockheed Martin at the time of this writing. This is article is written for informational purposes and we believe investors should perform their own due diligence before making investment decisions.