Clean Energy Fuels (NASDAQ:CLNE) is focused on the natural gas industry in the USA. The company is building a series of LNG stations in the country to take advantage of the price difference between LNG and gasoline. The company has built around 50% of the planned stations and is currently making losses as its infrastructure is not being fully utilized. Major fleet owners and companies are still watching the LNG market before making a decision on switching their fleets to the alternate fuel. Westport Innovations (NASDAQ:WPRT) is currently testing out new LNG engines with major truck makers such as Ford (NYSE:F), which would increase efficiency and range. Besides constructing LNG stations, Clean Energy Fuels also has a couple of LNG bottling plants and runs CNG stations. Clean Energy Fuel needs to survive till the "tipping point" is reached in LNG vehicle adoption. Till then CLNE has to continue its capex program, which allows the major continental routes in USA to be supplied by LNG. The company has got excellent backers in the form of General Electric (NYSE:GE) and Chesapeake Energy (NYSE:CHK) which have provided CLNE with infrastructure and money. CLNE and Westport have increased their collaboration in the recent past. Both the companies are joined at the hip as they need one another to succeed.
Westport gives a leg-up to Clean Energy Fuels
1. Joint Marketing - Westport and Clean Energy Fuels recently signed a deal to start the joint marketing of LNG vehicles. This marketing deal will involve Clean Energy Fuels by contributing 750,000 GGEs of CNG to Westport for free, while Westport will contribute $5 million for this venture. These companies will also support each other's sales and marketing efforts as well as industry activities and policy positions.
2. Westport buys 2 Clean Energy subsidiaries - Their collaboration has extended with WPRT buying 2 Clean Energy Fuel subsidiaries. This will help WPRT gain access to CNG conversion for Ford vehicles. Westport already installs power systems for Ford trucks and this will help extend it for CNG conversion as well. Westport is giving $25 million to buy CLNE's subsidiaries.
Westport Innovations Inc. (TSX:WPT) , the global leader in natural gas engines, today announced that it has acquired BAF Technologies, Inc. (NYSE:BAF) and its subsidiary, ServoTech Engineering, Inc. (ServoTech), subsidiaries of Clean Energy Fuels Corp. for $25 million in Westport stock. Westport and Clean Energy also announced a $5 million joint marketing and sales program.

Source - Seeking Alpha
Is a Clean Energy Fuels and Westport Merger possible?
CLNE and WPRT are starting to increase their collaboration rapidly through joint marketing and cross selling of products. Both the companies are dependent on the success of the other company, which in general would make up the ground for a possible merger. However, both the companies are currently making losses. A merger would also create some confusion in investor minds about whether the combined company is a utility play or a technology play. Both the companies are doing well to support the other through partnerships in different areas such as marketing, sales support etc. I don't think it's a good idea for the companies to merge and I think the company managements also think the same way.
Clean Energy Fuels Advantages
Strong Partners - Clean Energy has strong backers. GE has given a loan of $200m to CLNE to build 2 LNG plants using GE's micro-LNG technology, while Chesapeake Energy has committed a serious amount of cash. CLNE also has agreements to supply NG fuel to big fleet customers such as FedEx, Frito-Lay, Covanta , Pilot Flying J etc. Other big fleet customers are also seriously examining the conversion to LNG as it will result in substantial cost savings over the long term. LNG prices are expected to increase at a smaller pace than gasoline.
LNG is clean and cheaper - Virginia has signed an agreement with CLNE to convert all of the state- and municipal-run fleets to natural gas. Other states are too moving towards adopting NG transportation. If additional states give similar contracts to CLNE, then it will serve as a strong positive catalyst for CLNE's stock price.
CLNE is upstream integrated - CLNE is present in segments such as constructing CNG stations in partnerships with airports, refuse companies etc. The company also produces biomethane and LNG. This allows the company to provide fuel to its network of CNG and LNG stations internally. The company also manufactures NG equipment for vehicles.
LNG is cheaper than gasoline - Clean Energy Fuels mentioned that NG has an advantage of almost 40% in fuel terms over gasoline-powered engines. Even without considering the climate change angle, adopting NG makes a huge amount of economic sense. In our world today, the cleantech companies that have been successful are those that provide economic benefits rather than green benefits.
Clean Energy Fuels Risks
Capex Heavy Business - Clean Energy Fuels is making losses as its LNG stations have not reached the breakeven point as there are not enough LNG trucks. The company is still going ahead with its ANGH expansion plan and hopes to complete 150 stations by the end of 2013. The risk for a small company is that it will run out of cash before it becomes profitable. There is also a risk of equity dilution in case the company has liquidity issues.
Westport Dependence - Westport Innovations is going to introduce LNG engines for 12 and 13 liters trucks in 2013. CLNE will be negatively affected if WPRT fails to bring out these engines on time, as it will slow down the adoption of LNG engines by its main customers.
NG Price Shock - Natural gas prices are quite volatile, though they have been subdued in recent times due to the shale gas revolution in USA. NG prices have doubled from its all time low of $2/mmbtu reached last year. There is a substantial cost advantage in using LNG over gasoline, but that might dissipate if we see a sharp increase in NG prices. It might become impossible to convince fleet owners to convert, if there is not enough fuel price difference.
Future Outlook for Clean Energy Fuels
Clean Energy's expansion plans should get finished by 2014 and the company should reap the benefits from its capex investments during late 2014 and 2015. WPRT developed LNG engine powered trucks should also see a ramp up in the next couple of years and more fleet customers will adopt LNG fleets once they see the success of the initial adopters. CLNE should start showing profits by 2015. The company is not for the short term speculator looking to make quick profits. It is a long term play on the growth of the natural gas transportation industry for the patient investor.
2013 and 2014 Analyst Estimates
Analysts currently estimate that CLNE will make losses in both 2013 and 2014, even though they expect sales to rise by more than 25 % in 2014 to reach $468 million. The company is going to report its Q213 results on 8th August when more clarity about its current situation should be available.
Stock Performance and Valuation
Clean Energy Fuels has been stuck in $11-16 range over the last year, as investors are waiting for the company's fundamentals to improve. The company is neither cheap nor expensive with a P/S ratio of 3.2x and P/B ratio of 2x and currently does not generate any profits.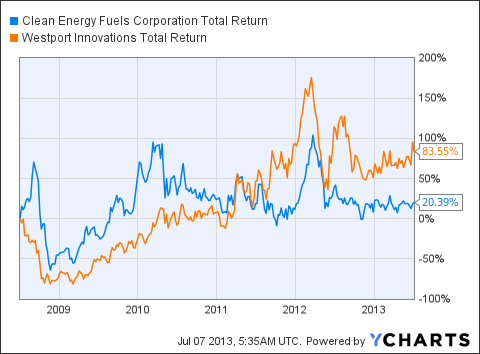 CLNE Total Return Price data by YCharts
Summary
Clean Energy Fuels is a bet on the growth of the LNG transportation industry. The company is investing heavily to build out the infrastructure for the industry and is collaborating closely with the main enabler of this industry. Recent trends indicate that the major companies are starting to see the benefit of LNG fuel and are converting their fleet to this fuel. The entry of other players such as Conoco Philips (NYSE:COP) and Enn Energy is also positive, since it reduces the fuel anxiety of customers. The company will need a couple of years to be profitable but its business model seems to be sound. More and more vehicles are now using NG for fuel as there are substantial cost savings. CNG stations are ubiquitous in countries such as Pakistan and India. In fact, all buses in India's capital run on NG under a court order. NG is cleaner than diesel and it costs less as well. LNG stations will need some more time to become profitable but when they do CLNE will be well positioned to capitalize on this opportunity. However investors will have to be patient with the CLNE stock, as the company is in the investment phase. You can also consider buying Westport Innovations, if you are looking for a strong technology company in the NG industry. The stock has performed better than CLNE over the last 5 years.
Disclosure: I have no positions in any stocks mentioned, and no plans to initiate any positions within the next 72 hours. I wrote this article myself, and it expresses my own opinions. I am not receiving compensation for it (other than from Seeking Alpha). I have no business relationship with any company whose stock is mentioned in this article.