I have to say, I am quite thrilled with the timing of my decision to get the heck out of (Chinese) dodge on July 24th; if you nail something within a week in the markets, that precision is Goldman Sachs-like but without the ability to move the markets after making a call. [Jul 24, 2009: Bookkeeping - Selling China Exposure as Chinese Run In] This was the chart then and frankly there were zero reasons to sell from a technical analysis point of view, but I laid out my case, as repeated below.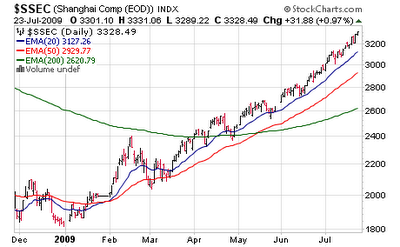 I am still waiting for the Shanghai index chart to be updated with overnight data on stockcharts, but to make a long story short, we saw 2 things happening in late July that actually marked a top in China in 2007...
So now we have had in the past week nearly half a million new Chinese brokerage accounts opened... and the largest global IPO since Visa (NYSE:V) almost 18 months ago.
The retail brokerage accounts exploding is now almost a universally-seen situation regardless of country - a great contrarian indicator. In fact that week, half a million new accounts were opened, and the following week, over 600,000 were opened, bringing the 3 week total to 1.5 million new speculators into the Chinese stock market.
And trust me, institutions are humans too with the same lemming-like chasing behavior... at the time we wrote
Funds investing in the so-called BRIC nations of Brazil, China, India and Russia added $2.1 billion for an 18th straight week of gains, EFPR said. China funds posted the largest gains, adding $243 million, while Indian funds attracted $148 million.
Shanghai was rich at the time...
Shanghai overall is now at 36x earnings

Still, the rally has made Chinese stocks the most expensive since January 2008, Bloomberg data shows. At the peak in October 2007, the benchmark index traded at 48.7 times profit,
... still it is not cheap but certainly a 25% haircut is a good place to start. Also keep in mind, if you are new to that market, it trades in a parallel universe unto itself.
our really long-time readers will know the Chinese market is "closed" (i.e. no shorting, no foreign money) so its a bit of a parallel universe. [Oct 13, 2007: Shanghai - the Mystical Land of Premium Valuations] The same stocks that trade in Hong Kong are traded many times for 50-100%+ higher valuations in Shanghai. (well back in late 2007 it was more like 150% higher - its since "cooled down" hah)
Jim Rogers agreed with our view:
I don't like buying when things are going straight up and China has been going straight up for nine months," Jim Rogers, chairman of Rogers Holdings and the author of books including "Investment Biker" and "Adventure Capitalist," said in a Bloomberg Television interview in Singapore today. The nation's stock market may have "gotten ahead of itself," he said.
The closest parallel to Shanghai is Hong Kong; as many shares trade on both markets as this market finally broke a support level overnight.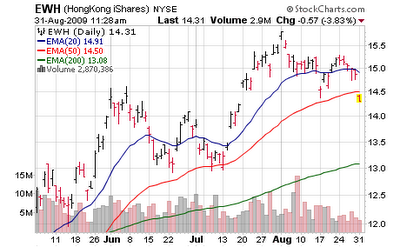 That said, I exited just about all of my Morgan Stanley China A Share Fund (NYSE:CAF) on the 24th, noting I am a big fan of China and greater Asia for the long run, but it was all starting to get frothy at the time, so I wanted out.

Much like Jim I'm a 10-20 year bull on China. The next 10-20 days? Taking the safer route.
Now let me be clear, China could turn around and begin a new rally tomorrow - or drop another 50% from here. But unlike the majority of invesors nowadays who buy high and sell higher, I do like it when things get cheaper. I sold CAF just under $37 at the time, and now it has dropped to $30 - so I can get part of my position back at nearly a quarter off.
CAF chart when I sold - (I'll explain why it looks so different than the Shanghai index chart via July below)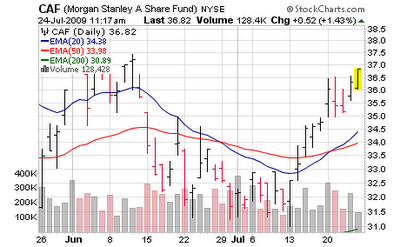 The chart is putrid, but since this part of a long-term incremental purchase, I am going to start to rebuild this position slowly. It is obviously not a purchase on technical reasons. My hope is China drops much more from here, and I'll try to buy 20% partial positions along the way down. I'd like to buy around $27-$28 with the next batch. I could see that Hong Kong ETF dropping to $13 which would imply more downside to come for China as well...
For today, we simply are taking the position back up to about a 1% allocation. CAF has another variable going for it (which is why it lagged the Shanghai index so badly earlier this summer) in that it is a closed end fund which trades at a premium or discount to NAV. It had traded at a discount to NAV for much of 2007 and first half of 2008, whereas this spring it traded as high as a 33% premium to NAV. That is a huge swing and impacts the fund substantially; the current premium is about 3% after turning negative in July. So it's in the middle of the range - the perfect scenario to buy more is for both the Shanghai index is to fall, and the fund to trade at a 10 to 20% discount to NAV; so we have to keep an eye on both situations with such a vehicle.

Long Morgan Stanley China A Share Fund in fund; no personal position