The last 36 hours or so have been incredibly volatile for global Potash producers and to a lesser extent, the agricultural industry in general. By now, most have heard the news about Uralkali (OTC:URALL) breaking its joint venture with Belaruskali and how this has affected the potash industry. Seeking Alpha has had superb coverage on the industry move and I will discuss the impact for Potash Corporation of Saskatchewan (NYSE:POT) as well as overall Potash pricing. This is widely seen as a move that will liberalize the industry and could make producers much more independent and thus make production decisions on the micro level. This is also expected to drive Potash prices lower, which will hurt producers, especially those higher up on the cost curve. Interestingly, Uralkali enjoys some of the lowest costs per ton of production in the industry.
Obviously, adding supply to the market will put pressure on prices. I believe that many are overly bearish on the future of pricing of the commodity, especially with the $300/mt possibility, which has been mentioned by Uralkali management. Of course, Uralkali has a duty to protect shareholder value, yet as they are aimed at pursuing a volume over price strategy in the future, they will also be hurt by lower Potash prices. This makes me curious as to their motives. It seems as if the bold statements, which have sent shockwaves throughout the industry may have been made to assert dominance and take the upper hand in negotiations with competitors, such as Belaruskali. There is no evident proof to this theory, however it remains possible and Uralkali certainly does not want to see lower prices over the long term.
Time will tell how the recent trends will impact Potash pricing, however in the near term shares of producers of the commodity, especially Potash Corp have sold off significantly and present an opportunity to investors who are focused on the long-term fundamentals of the industry.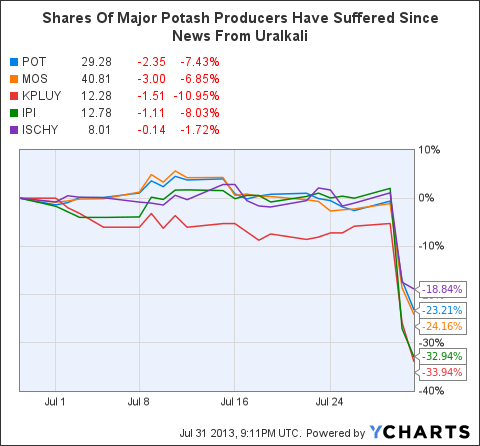 POT data by YCharts
Industry Impact
The market reaction to the news from Uralkali has been substantial and shares of most major Potash producers have traded significantly lower. The sell-off has been widespread as Potash Corp, Mosaic (NYSE:MOS), K+S (OTCQX:KPLUY), Intrepid Potash (NYSE:IPI) and Israel Chemicals (OTCPK:ISCHY) have all sold off significantly in light of the recent industry developments, as is illustrated by the above chart. Many investors are expecting a precipitous drop in potash prices soon, however it might not be such a drastic or one-way move for a few key reasons. Firstly, the trading of Potash is rather illiquid and is mostly done by actual producers and actual distributors of the commodity. This is vastly different than how other commodities such as Oil and Gold trade. While this has both negative and positive implications, the structure keeps many speculators out of the market and subsequently can diminish unwarranted volatility in the market. This is key for Potash producers currently as they may face the troubles of a potential decline in commodity pricing. In theory, since this market is independent it is much more likely to be trading on fundamentals than on speculation of traders as is evident in other cases. As such, a potential decline in Potash prices will not be felt in a matter of hours or days but over a longer time horizon as market fundamentals change. This brings me to my second point.
Many are assuming that just because Uralkali has said that it will increase production by a few million metric tons per year that i: they are able to do this and ii:they are able to do this in a short period of time and iii: they are able to do this in a short period of time with reasonable costs. I think that this is a fundamental misunderstanding by the market, as it is simply an unreasonable expectation. As is similar with many other commodities, production is not simply turned on or off at the touch of a button. It takes time. Uralkali has briefly discussed the matter but many are assuming that this production will significantly impact the supply picture for Potash in the near term. It is my belief that over the time that the industry ramps up production, consumers of Potash will provide support with increased demand, assuming that they decide to go through with the announced production increases.
Thirdly, Potash is a rather price-elastic commodity, which will provide significant support for demand and ultimately prices should they fall over the medium to long term. While farmers in developed countries, such as the U.S. can either afford or are able to finance large purchases of Potash and other agricultural goods, many emerging market farmers are unable to do this. Potash is used to increase crop yield for farmers. Thus, if prices decline by any substantial amount there will most likely be a very strong support for demand as consumers lower down on the pricing curve are able to afford it and consumers higher up are able to purchase more. Additionally, if prices do eventually decrease, it will incentivize large purchasing regions or countries such as China to hoard and stockpile the commodity for future use. The above-mentioned rational leads me to believe that near-term downside for Potash is limited and over the medium and long term, there are strong tailwinds for the industry which should lead to much more favorable pricing than what the market is currently pricing in.
Potash Corp Is Well Positioned For The Long Term
My favorite way to play the recent large-scale sell-off is through common shares of Canadian producer Potash Corporation of Saskatchewan, which I recently purchased in my personal investment portfolio. It is an industry-leading company with a $25 Billion market cap. As a member of Canpotex, an exporting and marketing collaboration between Potash Corp, Agrium and Mosaic, it also has significant pricing power and dominance over the industry. The company is currently trading for around 11x TTM earnings. Potash Corp currently sports a 4.8% dividend yield in addition to a share buyback to the tune of $2 Billion, which was just approved by the Toronto Stock Exchange and is set to go into effect on August 2nd of this year. The company also has rather upbeat guidance for the year, as it expects to ship between 8.5 and 9.2 million tones of Potash and earn between $2.45 and $2.70 per share for 2013. Additionally, the company has stated that it had around $6.8 Billion or $8 per Potash Corp share in investments as of July 24, of this year. However, this value has likely changed since the end of the quarter as a large portion of the investments are minority interests in other Potash-related companies such as the Arab Potash Company, Israel Chemicals, Sociedad Quimica y Minera de Chile (NYSE:SQM) and Sinofert (OTCPK:SNFRY). The stock has traded down rather significantly since the news from Uralkali, however over the long term the company should be able to benefit from strong industry trends and continue to provide value for shareholders.
Conclusion
The recent developments in the Potash industry have had far-reaching implications. However, investors can find opportunity within this turmoil and benefit from the growth of the industry over the long term. Potash Corporation is poised to benefit from these trends and its strong market position should serve the company and shareholders well if Potash prices face pressure in the short or medium term.
Disclosure: I am long POT. I wrote this article myself, and it expresses my own opinions. I am not receiving compensation for it (other than from Seeking Alpha). I have no business relationship with any company whose stock is mentioned in this article.